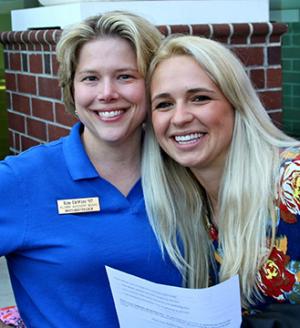 "If you want a school that loves you, wants to nurture you, wants to support you and see you grow, this is the place you should be. I give back to Brevard College because I want to give people the opportunity to go to Brevard who otherwise would not be able to," Kim said. "I believe in the College and what it stands for. The Brevard College experience is not replaceable, and I believe in how it has impacted my life and how it will impact others in the future."
Kim DeWitt, an active member of the Brevard College Alumni Advisory Board (AAB), currently works as a nurse practitioner in Columbia, South Carolina.
As a Brevard College student, she was ambitious and driven. Despite a busy course load, Kim immersed herself in both student life and academic culture. She served as a student ambassador and in Student Government, participated in campus worship and the Fellowship of the Christian Athletes, and was inducted into the Phi Theta Kappa Honor Society.
After graduating from Brevard College Magna Cum Laude in 1997 with an associate's degree in science, Kim continued her education at Clemson University, where she earned a bachelor's degree in nursing. While at Clemson, she visited Brevard College nearly every weekend, fostering the relationships that began when she was a student here.
While working as a nurse, Kim obtained her master's degree in nursing from the University of South Carolina.  She currently works at South Carolina Oncology Associates, a state-of-the-art radiation technology, diagnostic and treatment facility.
As a member of the Brevard College's AAB, Kim helps promote the College by sponsoring on-campus events for students and regional functions for alumni.  During her return trips to campus, she can often be found helping new students and their families during Move in Day or providing packets of goodies for students studying for exams.  Kim also recently established the K.M. Dewitt Annual Scholarship to provide financial support for Brevard College students, so that they too will receive a strong education.