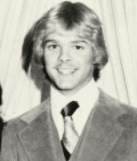 "Brevard College was so influential in shaping me as a person and has had such a significant influence on my life, character, and success in the working world that it is a no-brainer to give back," says Calvin.  "I can't over-emphasize how important of a springboard

BC

was for me."
As a Brevard College student, Calvin Harrelson '81 was actively involved on campus.
He served as a dormitory mentor, worked on the Pertelote yearbook committee and participated in the College's intramural sports program.  As a sophomore, he escorted Homecoming Queen Jane Miller, and even played the part of August in the College's spring production of "The Matchmaker".
After graduating from Brevard in 1981, Calvin earned a bachelor's degree in Psychology from Presbyterian College in Clinton, S.C.  He now lives just outside of Charlotte, where he works in sales management at Capital Group, an investments management firm.
Calvin continues to play a role in the life of BC.  Since graduating, he has helped promote the College by serving on the Alumni Advisory Board.  He also created the Sonny and Nell Harrelson Memorial Scholarship – in memory of his parents – for deserving BC students with financial needs.