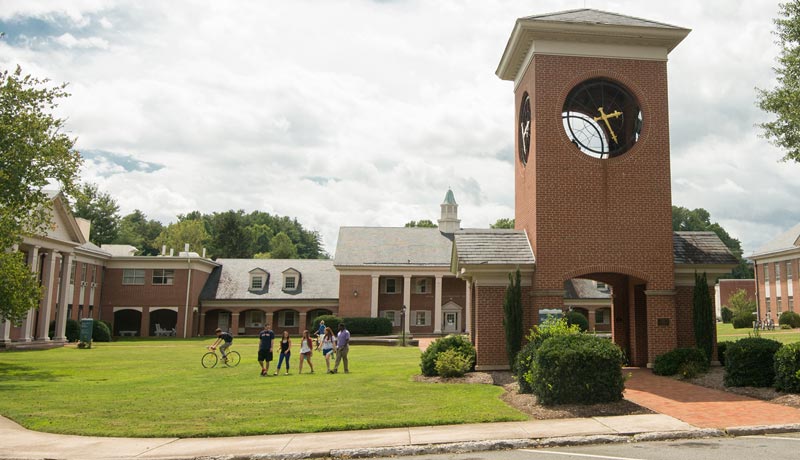 Brevard College is pleased to announce that on Sept. 29, the Brevard branch of the American Association of University Women presented a $25,000 endowed scholarship to the College.
The local AAUW is no stranger to helping female students offset the cost of their education: the organization already provides financial assistance for several students through the AAUWAnnual Scholarship. However, by providing an endowment, the group will leave a lasting impact for women who attend Brevard."We wanted to do an endowment" so we set up a long-range plan," said Linda Thompson, one of the group's members. "That allows us to provide funds for students in perpetuity."
Many young, deserving female students would be unable to attend Brevard College without the financial assistance provided through the AAUW Annual Scholarship and now, through the AAUW Endowed Scholarship, according to Vice President for Philanthropic Development Susan Cothern.
"To be part of a group that creates a scholarship that will exist forever more perfectly demonstrates the commitment of its group of women, and we are incredibly appreciative for their support," Cothern said.
The selection criteria for The AAUW Endowed Scholarship are as follows:
The recipient must be a full-time student (A full-time student must maintain at least 12 semester hours).
The recipient must be a female graduate from Brevard High School or Rosman High School, or must have three years of documented residency in Transylvania County.
The recipient must have demonstrated financial need (as determined by the

FAFSA

).
Preference should be given to students who are

STEM

(Science, Technology, Engineering, Math) majors.
Scholarship recipients are expected to attend one meeting of the

AAUW

 Brevard Branch, per academic year, to provide a brief report on their progress, academic interests and future goals. The time and date will be jointly determined by the recipients and the Branch.
The recipients may retain this scholarship as long as they continue to meet the above criteria, and demonstrate scholarship success through academic history, good citizenship and motivation to learn.
Racial discrimination for scholarship award is not tolerated.
The AAUW has been empowering women as individuals and as a community since 1881. For more than 130 years, it has worked as a national grassroots organization to improve the lives of millions of women and their families. The Brevard branch of the AAUWconsists of 150 members, which is the highest membership ever for the group."The AAUW – Brevard Branch is made up of a group of passionate, visionary and hardworking women who not only see the needs of young women, they work to help meet those needs," said Cothern.
Brevard College is committed to an experiential liberal arts education that encourages personal growth and inspires artistic, intellectual, and social action.