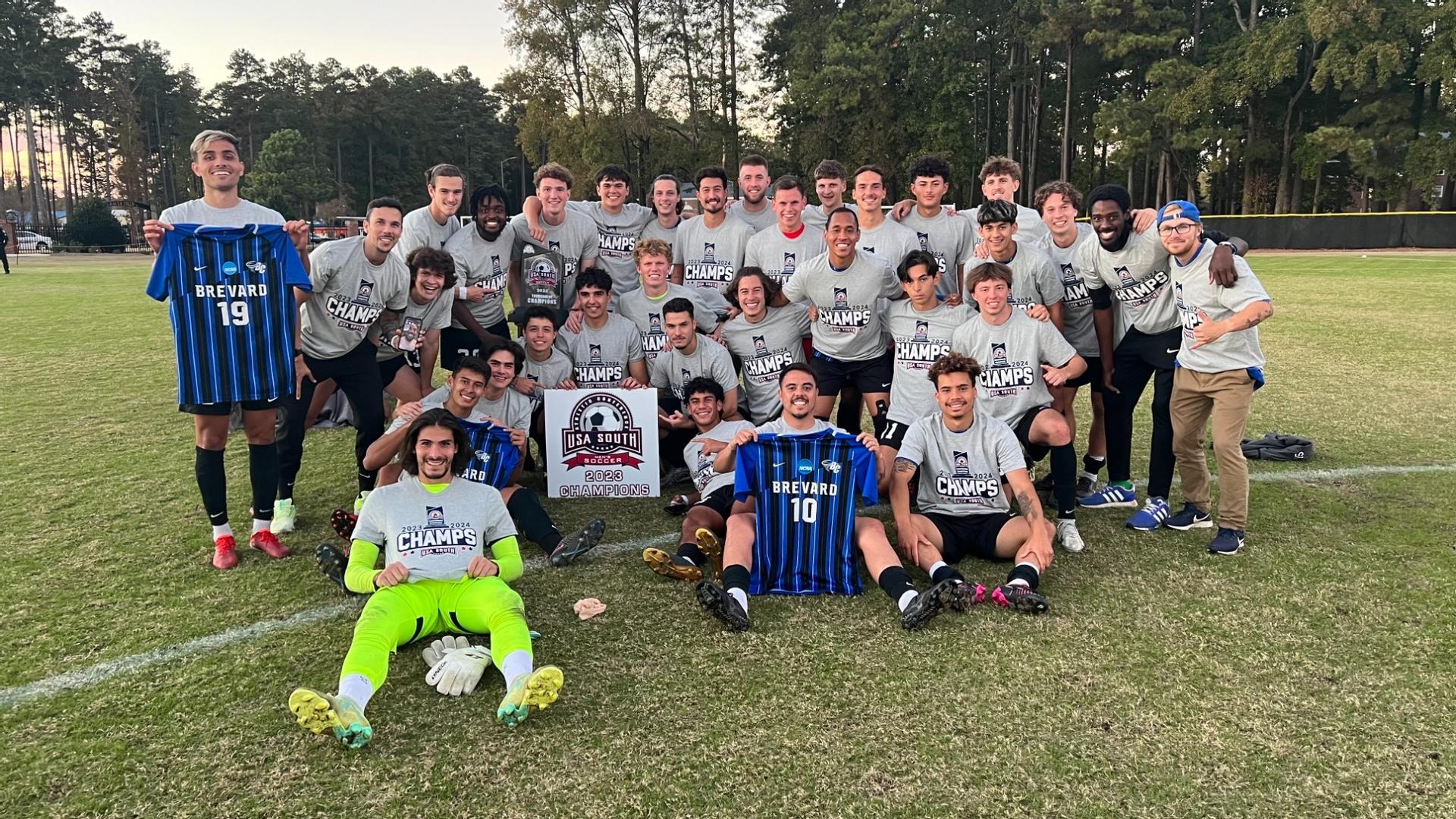 The fourth-seeded Brevard College men's soccer team (7-8-4) captured its second consecutive USA South Conference championship with a dramatic 8-7 penalty kick shootout win over host and no. 2 seed N.C. Wesleyan (9-6-4) after a 1-1 draw on Saturday afternoon in Rocky Mount, North Carolina.

Freshman Jerick Moreno scored the championship-clinching penalty kick that set off an ecstatic celebration for Brevard student-athletes, coaches and fans alike. To set up the game-winning opportunity, sophomore goalkeeper Matheus Rossi made the only save of the shootout with the score tied 7-7 in penalty kicks. Junior defender Adan Miller scored Brevard's lone goal off a corner kick from senior Ryan Lynch in the 17th minute.

Lynch was named the tournament's Most Valuable Player. Rossi, Miller, senior Rocco Barbon, senior Marcos Silva and sophomore Caue dos Santos were also named to the USA South Conference All-Tournament Team.

BC men's soccer becomes just the third team in Brevard's NCAA history to win a conference championship (2010 BC Men's Basketball, 2022 BC Men's Soccer), and the men's soccer program becomes the first program to ever appear in consecutive NCAA Tournaments in school history.

With the victory, Brevard earns an automatic bid to the NCAA Division III men's soccer championship tournament for the second straight year. BC will learn its matchup in the national tournament with a selection show on Monday. First and second rounds of the tournament are scheduled for Saturday and Sunday, November 11-12 at campus sites.

On Saturday in the conference championship game, Brevard was forced to come from behind as NCWU's Bastien Dechamps scored the game's first goal off an assist by Pierre Leo in just the 14th minute of action. Less than three minutes later, Miller hammered home a goal, assisted by Lynch off a corner kick. It marked the second career goal for Miller, both of which have come in this year's USA South Conference Championship Tournament.

The match remained tied 1-1 through regulation, forcing overtime. Neither team scored in the overtime periods either, setting up a penalty kick shootout. It marked the second PK shootout of the tournament for the Tornados who won the First Round with a 5-3 shootout win over fifth-seeded Pfeiffer this past Tuesday.

N.C. Wesleyan shot first in the shootout and made its initial attempt. Lynch then shot first for the Tornados and promptly tied the shootout 1-1. The two teams went on to each make their next six penalty kicks with not a single player from either side off target. In addition to Lynch, sophomore Daniel Morgan, Silva, junior Rodrigo Garcia, dos Santos, freshman Luis Portillo and freshman Jose Felipe Garcia all delivered for the Tornados to match NCWU on every segment and make the score 7-7 through 14 penalty kicks.

Tied 7-7, NCWU's Dechamps faced off against Rossi who made a diving save to set up the match-winning opportunity for Brevard. Moreno, a native of Statesville, North Carolina, scored for the first time in a collegiate uniform with a perfectly placed ball past the outstretched arms of NCWU goalkeeper Rafael Farina.

Brevard's championship run began with a first round victory on Halloween night, also in penalty kicks, over Pfeiffer. Two days later, the Tornados traveled to Fayetteville, North Carolina to take on no. 1 seed Methodist in the semifinals. BC came through with a 4-2 victory as senior Rocco Barbon scored two goals to go along with goals by Sam O'Callaghan and dos Santos. The win over Methodist set up the championship matchup with the Tornados again having to go on the road to face a higher seed, this time second-seeded N.C. Wesleyan.

Outside of each team's goals in the first half, the match was a defensive showcase with just ten shots taken between the two teams. N.C. Wesleyan attempted six shots with three on-goal, while Brevard shot four times with just one shot taken in the second half. In the two overtime periods, neither team recorded a shot. Both goalkeepers – BC's Rossi and NCWU's Farina – played the entire 110 minutes, each allowing one goal and recording two saves.

It marked the second straight conference championship for Brevard College. In 2022, BC won the USA South title with a PK shootout win to go along with two overtime victories.

The 2023 USA South champion Tornados will return to the Brevard College campus and next turn their attention to the NCAA Division III Men's Soccer Tournament which begins with the first round on Saturday, November 11.

The 2023 NCAA DIII men's soccer selection show and bracket release will stream live on NCAA.com at 2 p.m. ET on Monday, Nov. 6.

The national tournament consists of a classic 64-team field, dedicating 41 slots to automatic qualifiers and the remaining 23 berths to at-large candidates chosen by the selection committee. Four semifinalists will advance to Kerr Stadium in Salem, Virginia, where Roanoke College will host the final two rounds of the tournament on Dec. 1 and Dec. 3. The first and second rounds will take place on Saturday, November 11 and Sunday, November 12.

To follow the latest news and updates surrounding Brevard College Athletics, follow the Tornados on Twitter and Instagram @bctornados, subscribe to 'Brevard College Tornados' on YouTube, follow 'Brevard College Tornados' on SoundCloud, and 'Brevard College Athletics' on Facebook. In addition, follow 'brevardcollege' on Flickr for photos from Brevard College.