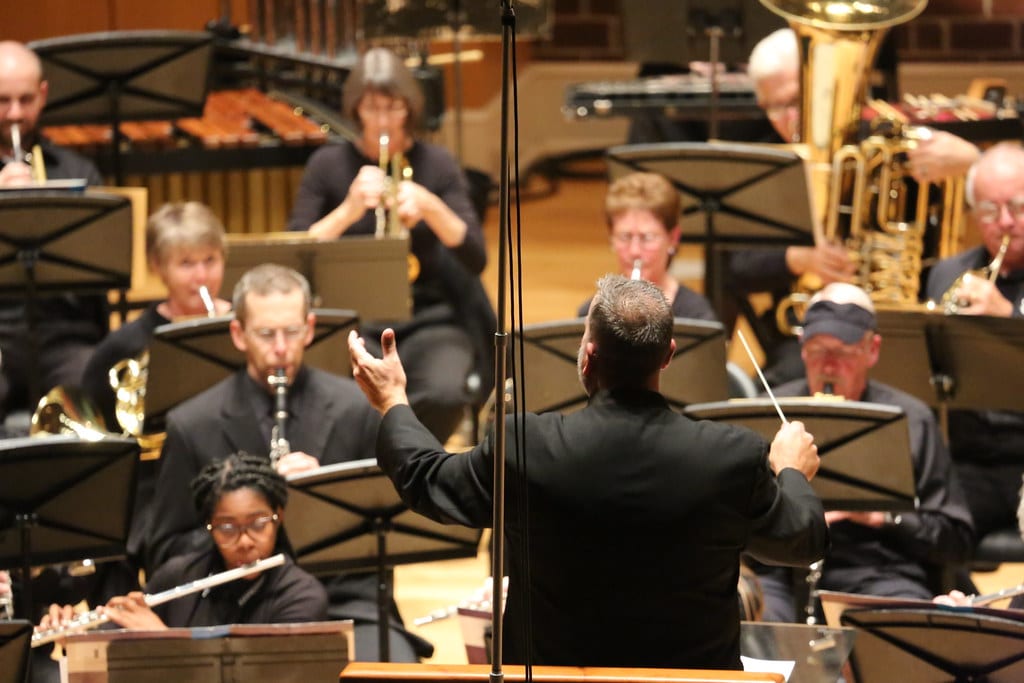 The Brevard College Wind Ensemble will present a concert Thursday, April 21 at 7:30 p.m. in Scott Concert Hall at the Paul Porter Center for the Performing Arts. Special guests will include the Blue Ridge Symphonic Brass under the direction of Jamie Hafner. The Blue Ridge Symphonic Brass is a 28-piece brass ensemble of outstanding players from the Brevard, Hendersonville, Asheville, and Greenville areas.
The Blue Ridge Symphonic Brass will open the program with Giovanni Gabrieli's "Septimi Toni" from the Sacrae Symphonae. Famous for the pioneering use of specific dynamic markings for specific instruments and singers, Gabrieli's lasting innovation was the strategic placement of choirs or cori spezzati throughout the church sanctuary. The stereo or surround sound effect created stunning acoustic and textural sonorities. The Brevard College Wind Ensemble will perform Jack Stamp's "Gambol" followed by the premiere of Brevard College music major Elijah Bloom's "The Night Sky."
Maestro Jamie Hafner will lead the Blue Ridge Symphonic Brass in an impressive array of selections for brass and percussion including an adaptation of Percy Grainger's "Lincolnshire Posy" for brass ensemble, and Isaac Albeniz's "Sevilla." The concert will conclude with the Blue Ridge Symphonic Brass joining the Brevard College Wind Ensemble for a performance of Tyler Grant's "Panoramic Landscapes," William Himes' beautiful setting of "Amazing Grace," and Leonard Bernstein's "America" from "West Side Story."
The concert is free and open to the public; Porter Center Scott Concert Hall doors will open at 7:00 p.m.
For more information, please contact Administrative Assistant to the Fine Arts, Alisha Carland at 828.641.0605.