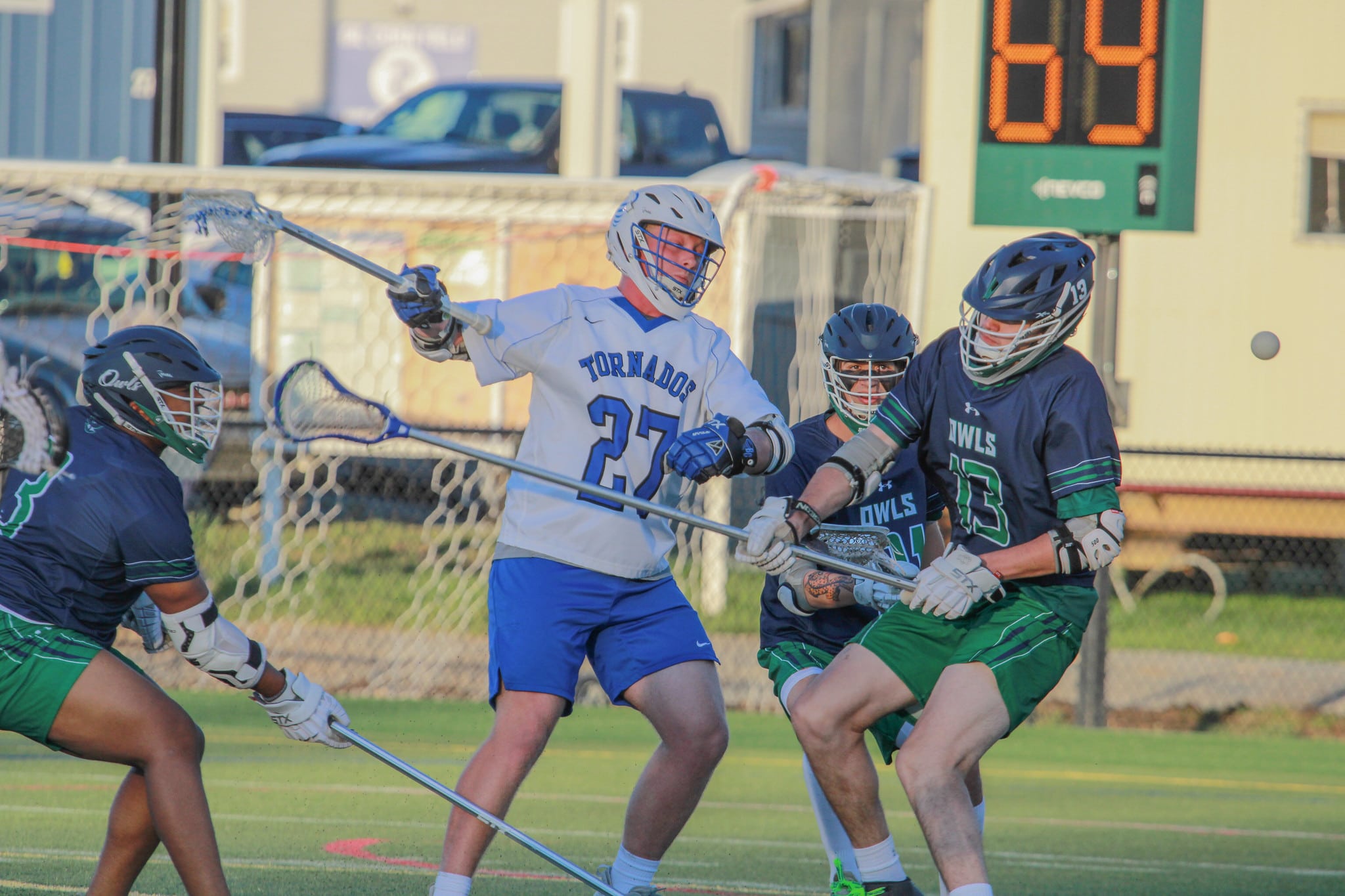 Sophomore attacker Andrew McDonald scored four goals with two assists, while senior midfielder Nate Ellen totaled a hat trick with three goals as the Brevard College men's lacrosse team (2-10, 1-6 USA South) earned its first conference win of the season, defeating Averett University (3-10, 0-7 USAS) on a sunny Saturday afternoon at Ives-Lemel Family Field.
McDonald brought his season goal total to 25, as the first-year Tornado has totaled 39 points through 11 games played this year. Ellen's three goals marked the season-high for the senior.
Finnegan McCormack added a goal with two assists, while also grabbing five ground balls and winning seven faceoffs. Jacob Gravely caused five turnovers and logged five ground balls on the defensive end, as the Tornados forced Averett into 39 turnovers. Brevard was 22-for-26 on clear attempts and BC goalkeeper Devin McCarragher (2-6) made seven saves in the contest.
Averett was led by Parker Corbett ad Connor Taff, who each scored two goals apiece. Cougar goalkeeper Caleb Chester (3-10) made 11 saves.
McDonald got Brevard on the board first at the 7:33 mark in the first quarter, before Averett answered back with a score with 2:44 left in the first quarter. McDonald answered immediately back just 10 seconds later to give Brevard a lead that it would not relinquish for the remainder of the game.
Ellen scored on a McDonald assist to give the Tornados a 3-1 advantage at the end of the first period. Brevard blanked Averett, outscoring the Cougars 3-0 in the second period with goals from Ellen, McDonald, and Trystan Wallace as Brevard took a 6-1 lead into the locker rooms.
Both teams scored two goals apiece in the third period, as McCormack and McDonald both found the back of the net for Brevard, who held an 8-3 advantage heading into the final quarter of play.
The two sides traded goals through the first six minutes of play, with Ellen scoring his third of the game on Will Scoggins' assist. The Cougars attempted a late comeback bid, scoring consecutive goals to bring it to a three-goal margin with 2:37 left to play, however, the Tornados held onto their advantage to clinch their first conference win of the season, 9-6.
Brevard makes a trip to Buena Vista, Virginia next Saturday, April 23 to face Southern Virginia University, with first faceoff scheduled for 1 p.m.