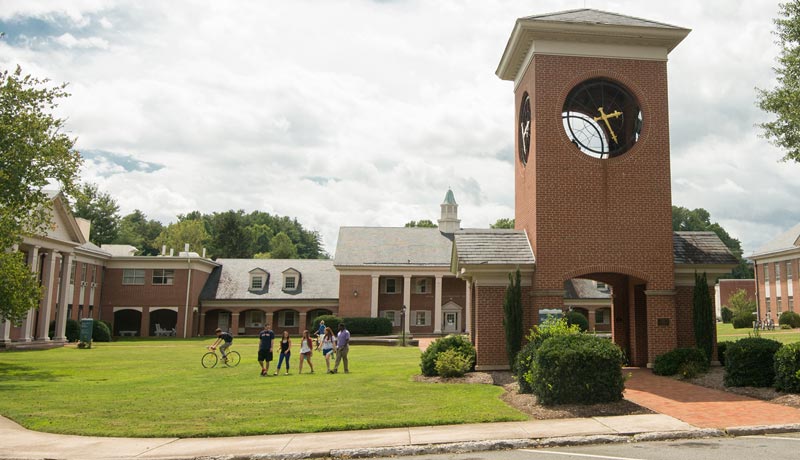 On May 14, Bill's Boiler House quietly opened its doors on the Brevard College campus. The brand-new coffee shop – a second location for local vendor Appalachian Coffee Co. – is open to the public as well as the campus community.
"We share similar interests, such as high-quality products and experiences and building community. Appalachian Coffee Co. is all about good coffee and also caring for people and creation," said Appalachian Coffee Co. owner David Schnitzer about the company's partnership with Brevard College. "We hope all of our customers feel welcomed and at home in our shop."
For Brevard College President David Joyce, the feeling is mutual.
"We're pleased to be partnering with a company that really shares our values of sustainability, community and service," Joyce said. "I don't think we could have found a better fit for the College and Brevard."
The old boiler house was built in 1961 and served as a heating plant for several campus buildings before the College shut it down due to inefficiency. The brick building sat empty for six years, until students, faculty and staff suggested its renovation and transformation into a coffee shop.
"Transitioning the space into a coffee shop couldn't have been a smoother process," said Joyce. "The old boiler house already had such a natural, industrial feel to it. David (Schnitzer) and I shared a similar vision for how we saw the space turning out, and we were fortunate to have a building and design team that knew just how to see that vision through."
The College received three anonymous gifts totaling $171,124 for the project in addition to donations of architectural services from Al and Parker Platt.
Inside the shop, a mountain-lodge feel meets industrial furnishing – interior design that is thanks to the creative eye of Lynne Joyce.
"I can't count the number of times customers comment on the amazing interior design – it's chic and cozy and really fits with the College," said barista Maddi Holt, who is also a BC student. "I think everyone is very impressed with the amount of work and creativity that Lynne put into making it such a cool space."
Natural light streams through the windows, bringing a warm, welcoming vibe. Soft, soulful music fills the background, as several coffee drinkers place their orders. Hot drinks, cold drinks, and bear claws – Bill's has it all.
Since its soft opening, Bill's has already seen a lot of business from community members as well as Brevard College staff. They are anticipating a jump in business when students return to campus in August.
The College has set a fundraising goal of $90,000 to complete an outdoor plaza that will include an area for outdoor entertainment and a fire pit.
One of the College's and Appalachian Coffee Co's shared goals for the coffee shop is that it will become a common ground between the College and the community.
"Bill's has already become part of my morning routine, and I love the sense of community I feel whenever I walk through the doors," Joyce said. "I think it's just really special to have a place where students, staff and the community can come together in a relaxed atmosphere."
Summer hours for Bill's Boiler House are 8 a.m. to 5 p.m. Monday through Saturday and 9 a.m. to 5 p.m. on Sunday. The coffee shop is happy to offer free WiFi for customers.