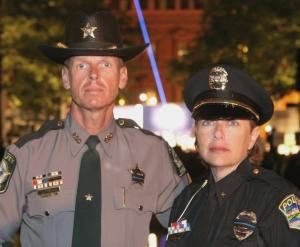 By Shannon Summitt '19
BREVARD –  A new scholarship is being offered to Brevard College students pursuing a degree in the criminal justice program, thanks to Tim and Patricia Powers.
"We felt compelled to create the scholarship because we believe education should be the cornerstone of criminal justice professionals and wish to show our support for aspiring criminal justice majors," said Patricia Powers.
Dr. Tim Powers, assistant professor of criminal justice and coordinator of the criminal justice major, has been instrumental in bringing experiential education into the criminal justice classrooms at Brevard College. Students in the program have the opportunity to accompany local law enforcement on ride-alongs, practice tactical scenarios, and attend the Blue Ridge Police Academy.
Tim and Patricia are both retired law enforcement officers. Tim began his career as a military policeman in the army in 1980 and retired in 2015 as a special operations division commander with the Pasco Sheriff's Office in Florida. During the latter part of his career, Tim began attending college and did not stop until he obtained his Ph.D. In 2015, he began his new career as a professor, first with St. Leo University and now at Brevard College.
Patricia, after graduating from Indiana University with a bachelor's degree in Forensics, began her law enforcement career in 1980 with the Temple Terrace Police Department in Florida. Patricia served in both patrol and detective divisions, rising to the rank of deputy chief and serving as the interim police chief prior to her retirement in 2010.
"Their creation of this scholarship is the epitome of the old saying 'Putting your money where your mouth is,' and we are incredibly appreciative of their overwhelming dedication and generosity," said Susan Cothern, executive director of development at BC.