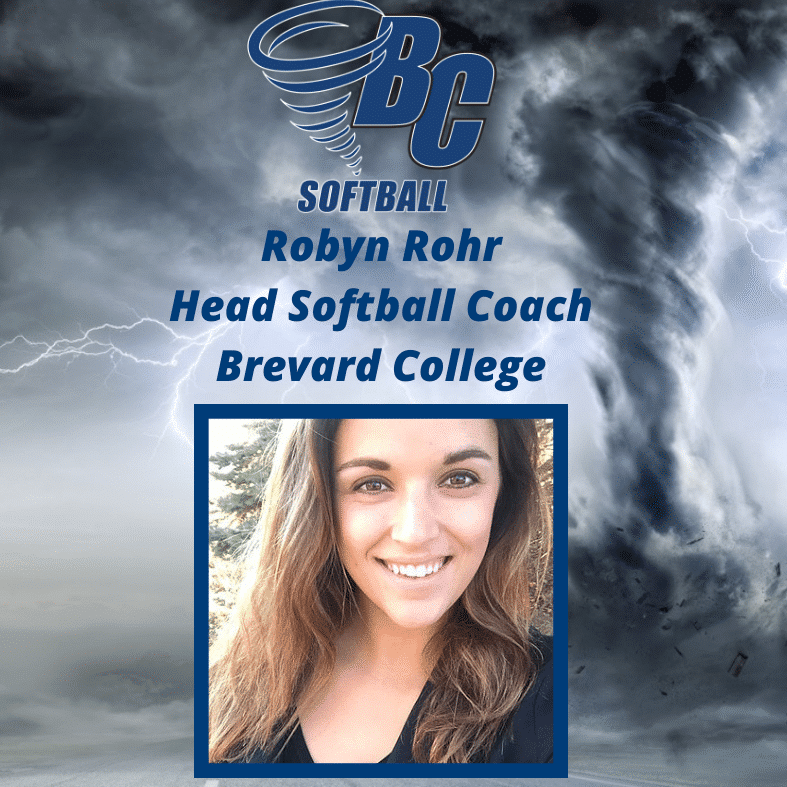 Robyn Rohr has been named Head Softball Coach at Brevard College, announced Director of Athletics Myranda Nash.
"After an extensive search for our next Head Softball Coach, we are very excited to welcome Coach Rohr into the Tornado family," said Nash. "Robyn's leadership ability, as evidenced by her success as a coach and a student-athlete, will be a major asset for the Brevard College softball program moving forward."
Rohr joins Brevard College after most recently serving as Assistant Coach for Dakota County Technical College in Rosemount, Minnesota. Rohr will begin her duties as Head Coach of the Tornados on January 6, 2020.
"I am honored to be offered the Head Softball position at Brevard College," said Rohr. "I would like to thank Myranda Nash and the entire search committee for entrusting me with the future of the Tornado softball program. During this process, I was captivated by the clear passion and deep respect they showed for the softball program. My intentions are to build the Tornado program using the cornerstone of "Rise and Shine," instilled in me by Coach (Colleen) Powers of St. Catherine University. This philosophy helps display my love of the game that will move this program forward."
Rohr served as the Assistant Coach and Pitching Coach for the Dakota County Technical College in 2019. In addition to coaching at the NJCCA level, Rohr has served as the Head Coach for under-14 and under-12 club teams in Minnesota, assisting several young student-athletes in the early stages of the college recruiting process.
Prior to embarking on her coaching career, Rohr was a highly successful softball student-athlete at NCAA Division III St. Catherine University in St. Paul, Minnesota. She was named the university's Athlete of the Year and was a nominee for the NCAA Woman of the Year in 2016. Rohr set several school records including single-season batting average (.526), on-base percentage (.575) and hits (59).
Rohr also was named the Minnesota Intercollegiate Athletic Conference (MIAC) Player of the Year after leading the conference in several statistical categories. In 2016, she also achieved a 41-game hit streak, the third longest streak in NCAA history. Rohr's production at St. Catherine translated to team success as the Wildcats finished the season with the best overall record (34-11) in school history and the program's first trip to the NCAA tournament.
Prior to her career at St. Catherine, Rohr played softball as a student-athlete at Dakota County Technical College where she was named All-Region in 2013 and 2014, while also receiving the school's Presidential Academic Award.
Rohr holds a Baccalaureate degree in American Sign Language Interpreting from St. Catherine University as well as an Associate degree in Individualized Studies: Business Management from Dakota County Technical College.
In addition to her softball career, Rohr also works as an American Sign Language Interpreter for Convo Communications where she facilitates communication for deaf and hard of hearing individuals via technology.
The Brevard College Softball begins its 2020 season on Monday, February 10 with a doubleheader at Belmont Abbey in Mount Holly, North Carolina. The home opener for the Tornados is set for Wednesday, February 12 with a doubleheader vs. Bluefield College beginning at 1 p.m. at Ives-Lemel Family Field on the campus of Brevard College.
Brevard College is consistently recognized as one of the best liberal arts colleges. The College's focus on experiential learning, small class sizes, and location in the mountains of Western North Carolina near Asheville make Brevard a top choice college for students around the world.