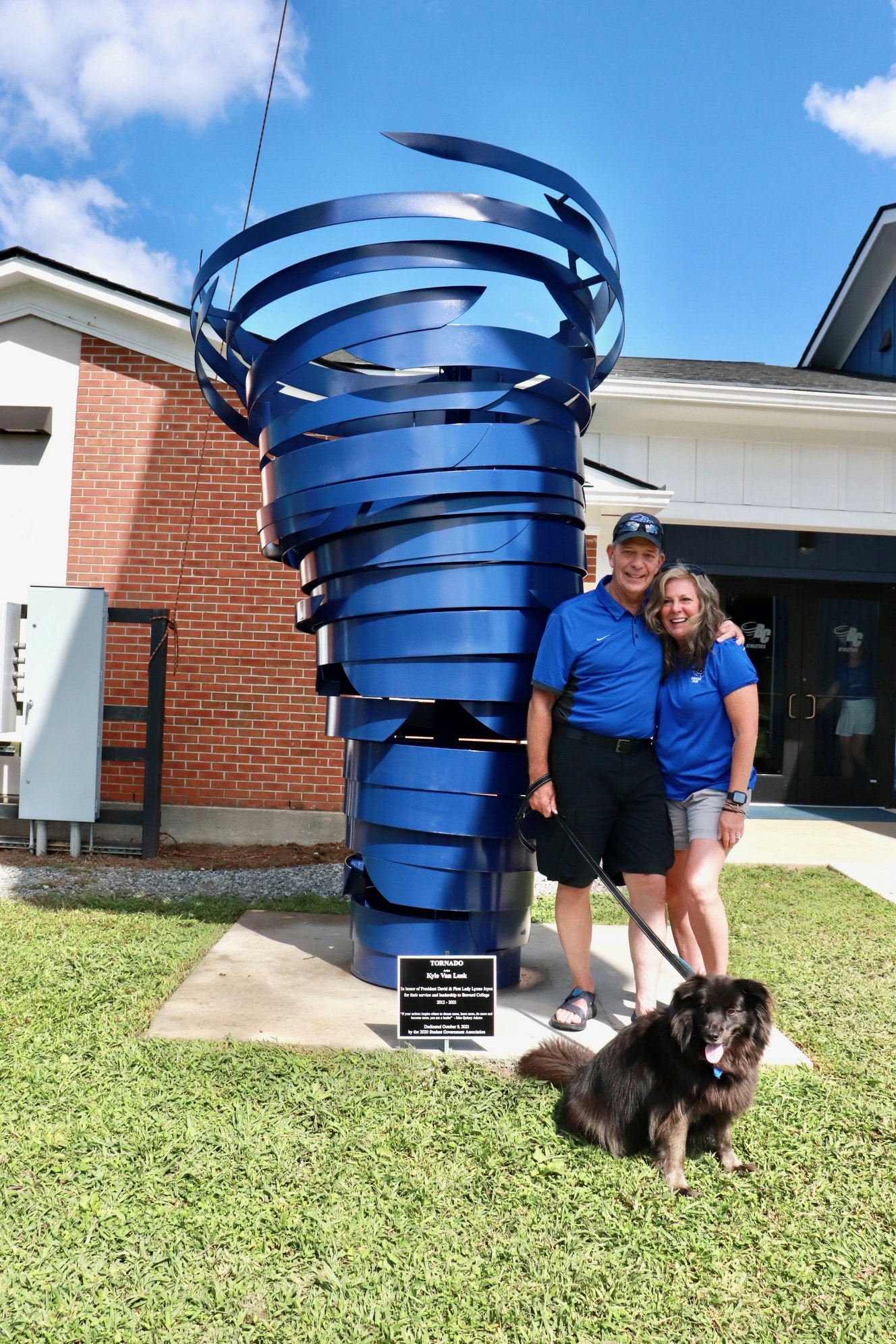 A new sculpture on the Brevard College campus was unveiled Saturday at Homecoming to celebrate the decade-long tenure and accomplishments of Brevard College President, The Rev. Dr. David C. Joyce and First Lady Lynne Joyce.
The sculpture, entitled Tornado, was created by Brevard College Professor of Art Kyle Van Lusk and dedicated by the Student Government Association prior to the Tornados' Homecoming football game. It is located beside the new Brevard College Field House, adjacent to Ives-Lemel Family Field.
Weighing approximately 1,100 pounds, Tornado is fabricated from plate steel and has a deep blue powder-coated finish. It is approximately 10 feet tall and is one of six permanent art installations located on the campus.
In attendance at the dedication ceremony were Brevard College faculty, staff, students, and alumni, along with the Board of Trustees and members of the Brevard community. Chloe Proffitt, 2021 Student Government Association President, spoke at the dedication, "On behalf of the SGA, the student body, and the Brevard College community we would like to thank you for always being supportive through our journeys in athletics, the arts, and academics. You both have always been positive role models to so many young people. To display our gratitude for the mark you have made on BC we are proud to present a very special gift to honor you both and the legacy you have left for all of us who are Tornados."
Joyce has been a transformational leader in his tenure as Brevard College's 13th presidency which began on January 1, 2012. During his leadership at the institution, Brevard College has accomplished balanced budgets, record enrollment and enrollment growth, and increased student retention.
Numerous building projects which modernized the campus were completed in the last decade, including the William C. and Nancy B. Stanback Hall, expansion of the Villages residential halls, renovation of the academic quad, revitalization of the campus's entryway, Bill's Boiler House (coffee shop), Ives-Lemel Family Field, Frank and Donna Patton Track, the Barn Theatre renovation into house the Wilderness Leadership & Experiential Education program, and addition to the new Field House.
Under Joyce, a key strategic initiative was the transition of the College's athletic programs from Division II to Division III, which allowed the College to prioritize its experiential learning model and enhance the student-athlete experience.
These accomplishments are secondary, however, to the Joyces' dedication to making a difference in the lives of Brevard College students. The couple has hosted over 150 student events at their on-campus residence and attended all extracurricular events, from Fine Arts performances to Academic presentations to National Championship sporting events.
Over 3,300 students have called Brevard College home over the last 10 years. John Quincy Adams defined a leader as someone whose "actions inspire others to dream more, learn more, do more and become more." The legacy of David and Lynne Joyce is their leadership to generations of Brevard College students.
The plaque at the sculpture's base reads:
TORNADO
Artist
Kyle Van Lusk
In honor of President David & First Lady Lynne Joyce
for their service and leadership to Brevard College.
2012-2021
"If your actions inspire others to dream more, learn more, do more and
become more, you are a leader" ~ John Quincy Adams
Dedicated October 9, 2021 by the 2020 Student Government Association.