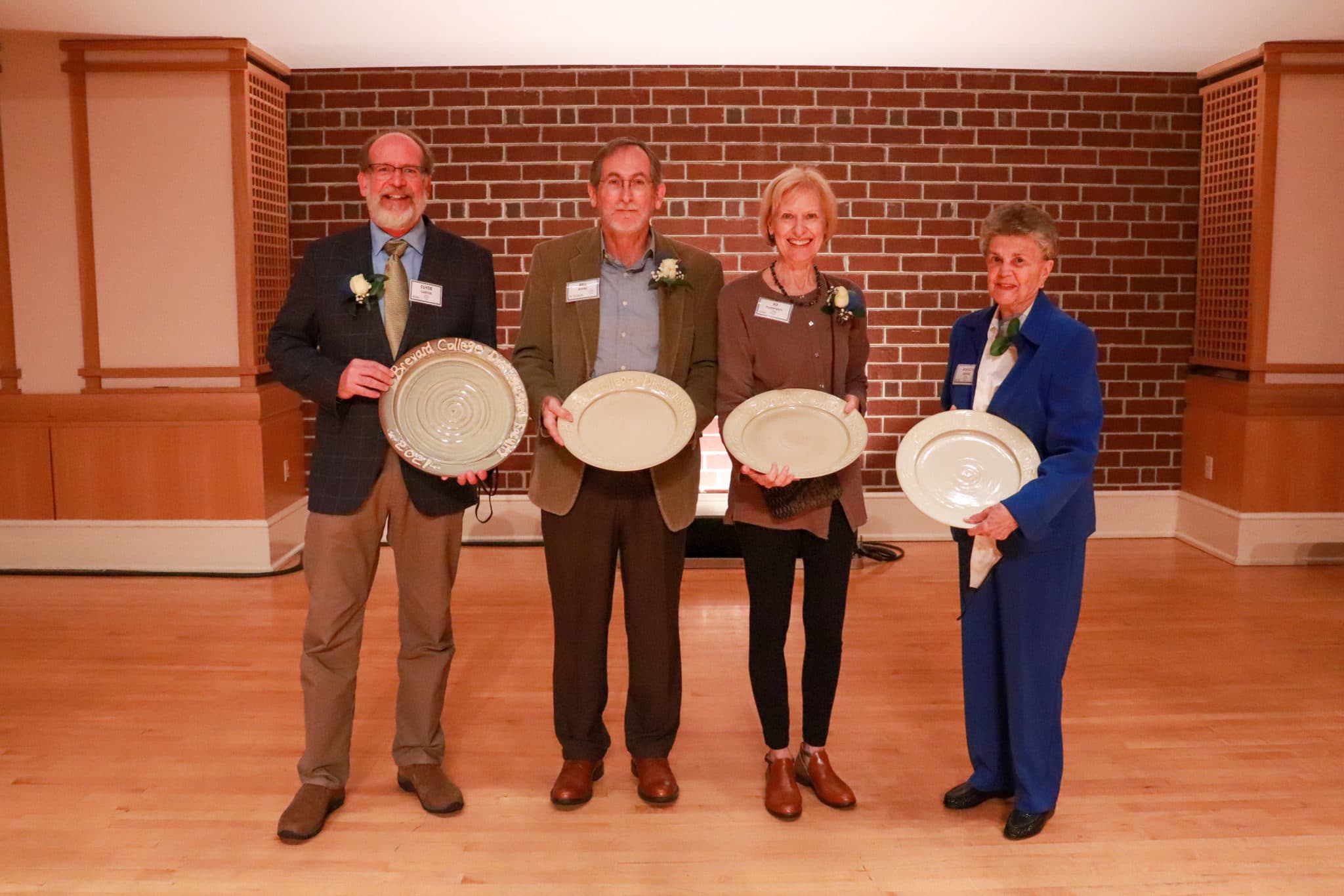 Clyde Carter, Bill Byers, Jo Pumphrey and Wanda Moser are the 2020 and 2021 Distinguished Alumni and Faculty Award recipients.
The faculty, staff and students of Brevard College were pleased to welcome back alumni to campus after 2020's Homecoming was forced to go virtual due to the pandemic. A week of rain in Western North Carolina didn't stop alumni from coming home to celebrate with one another and attendees spanned from the class of 1945 all the way to 2021.
"The people are what make this place special," said Director of Alumni Affairs Megan Shina. "Having alumni back on campus and allowing the Brevard College family to celebrate the amazing things going on at the college was worth the wait."
The celebration began Friday evening at Oskar Blues Brewery where The Blake Ellege Band treated alumni and attendees to an evening of classic rock and roll. Blake Ellege, a 2014 alumnus, stole the show with his big smile and contagious voice.
Saturday morning's festivities began with the Alumni Association honoring the 2020 and 2021 Distinguished Alumni and Faculty Award recipients and the Athletics Hall of Fame inductees. The award recipients are as followed:
Wanda Moser `45 – 2020 Distinguished Alumna
Jo Pumphrey – 2020 Distinguished Faculty
Bill Byers `72 – 2020 Distinguished Faculty
Brian Davison `07 – 2021 Distinguished Alumnus
Clyde Carter – 2021 Distinguished Faculty
2009 Cycling Team, Mountain Bike National Champions – Athletics Hall of Fame
Jeff Wentworth `80, Cross Country and Track and Field – Athletics Hall of Fame
Following the award ceremony, alumni and friends gathered to honor President David C. Joyce and First Lady Lynne Joyce with the dedication of a Tornado sculpture located beside the new Field House. Following the unveiling, the Tornado's Football team defeated the Maryville Scots on the Ives-Lemel Family Field in a 31-0.
Saturday's programming concluded with the Wilderness Leadership and Experiential Education (WLEE) Program as they performed a ceremonial ribbon cutting for the college's new home for the program in the completely re-designed Barn. Alumni and friends gathered to celebrate the new home of WLEE as well as the retirement of former faculty and program leaders Clyde Carter and Dr. John Buford.
The Brevard College Alumni Association thanks all alumni and friends who attended Homecoming weekend while following the college's COVID protocols. Save the date for next year's Homecoming to join in on the fun – October 7-9, 2022.