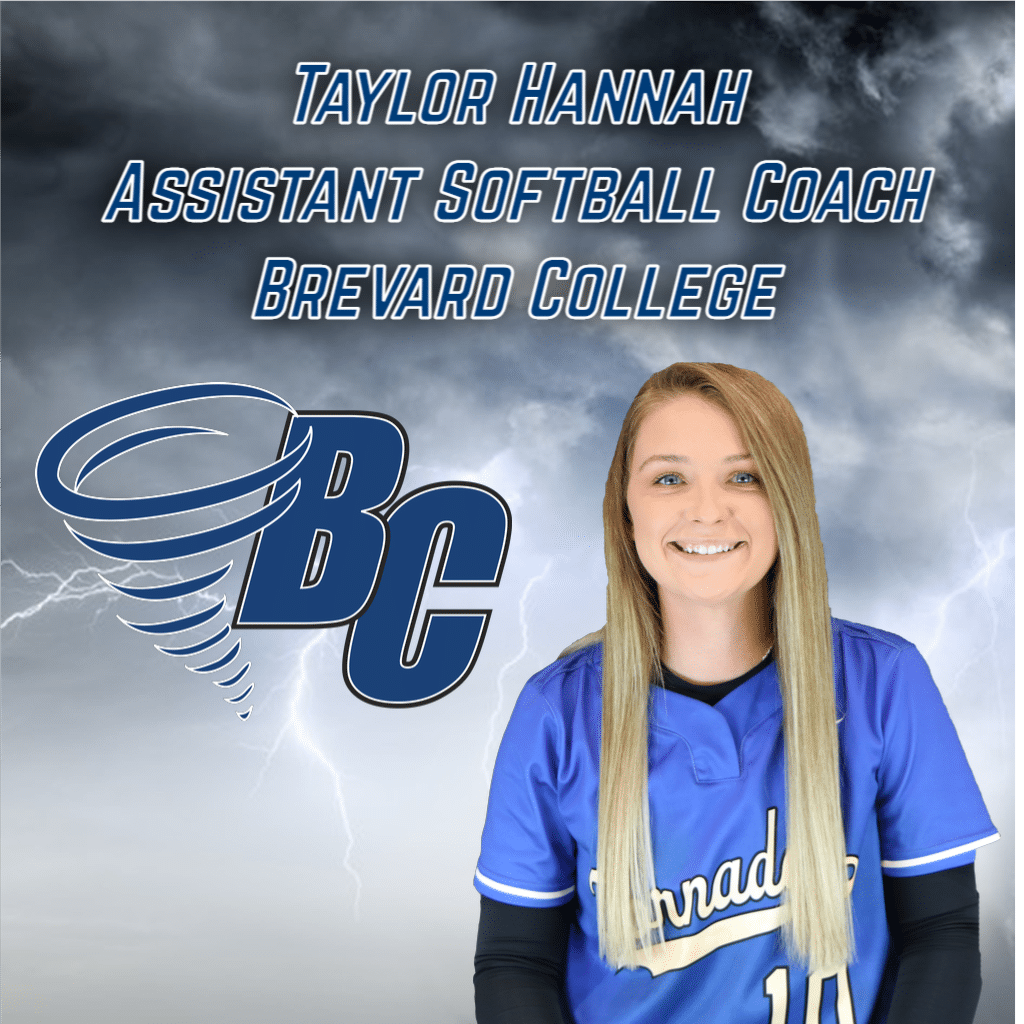 Taylor Hannah has been named Assistant Coach for the Brevard College Softball program, announced BC Head Softball Coach Bre Shearin.
"I am extremely excited for Taylor to join the BC softball staff," said Shearin. "Her high softball IQ is going to help develop our players at a fast rate. Taylor's presence will make practices smoother and our team will be stronger all-around with her knowledge. We are lucky to have her!"
On the softball field, Hannah will specifically work with the Tornado pitchers, catchers, outfielders, baserunners and slappers. She will also head up BC Softball's strength and conditioning programs.
"I am thrilled to be staying in Brevard and beginning my coaching career in such a beautiful place," said Hannah. "Brevard is special, and I am fortunate to get to start my career here."
"I am extremely grateful to Coach Bre for putting me in the position of being a Tornado as a player, and then to be able to work with her as a member of the coaching staff is an incredible opportunity," continued Hannah. "I am excited to be joining such a phenomenal program and I cannot wait to see what the next season holds for us!"
Hannah gained valuable experience this past academic year as an intern for the Brevard College Department of Athletics, serving as a Game Day Administrator and assisting with Compliance and Sports Information, amongst other duties. Additionally, she served as a Student Health Ambassador and as a member of the Student-Athlete Athletic Advisory Committee (SAAC) at BC. Prior to her arrival to Brevard, she served as a Travel Ball Coach for two seasons with the Smash House-Anderson Softball Club based in Barnwell, South Carolina.
A native of Waynesville, North Carolina, Hannah spent two seasons at Columbia College in Columbia, South Carolina as a softball student-athlete, having been recruited by and playing for Coach Shearin. Hannah transferred to Brevard in January of 2021 where she went on to play her final two seasons for the Tornados, also under Coach Shearin.
A catcher and an infielder for the Tornados, Hannah was a prolific all-around player for BC over her two seasons, playing in 47 games. She registered a .331 career batting average in a Tornado uniform to go along with eight triples, four doubles, 18 RBIs and five stolen bases.
Hannah earned a Bachelor's of Arts degree Magna Cum Laude in Exercise Science with a minor in Coaching from Brevard College in the Spring of 2022.