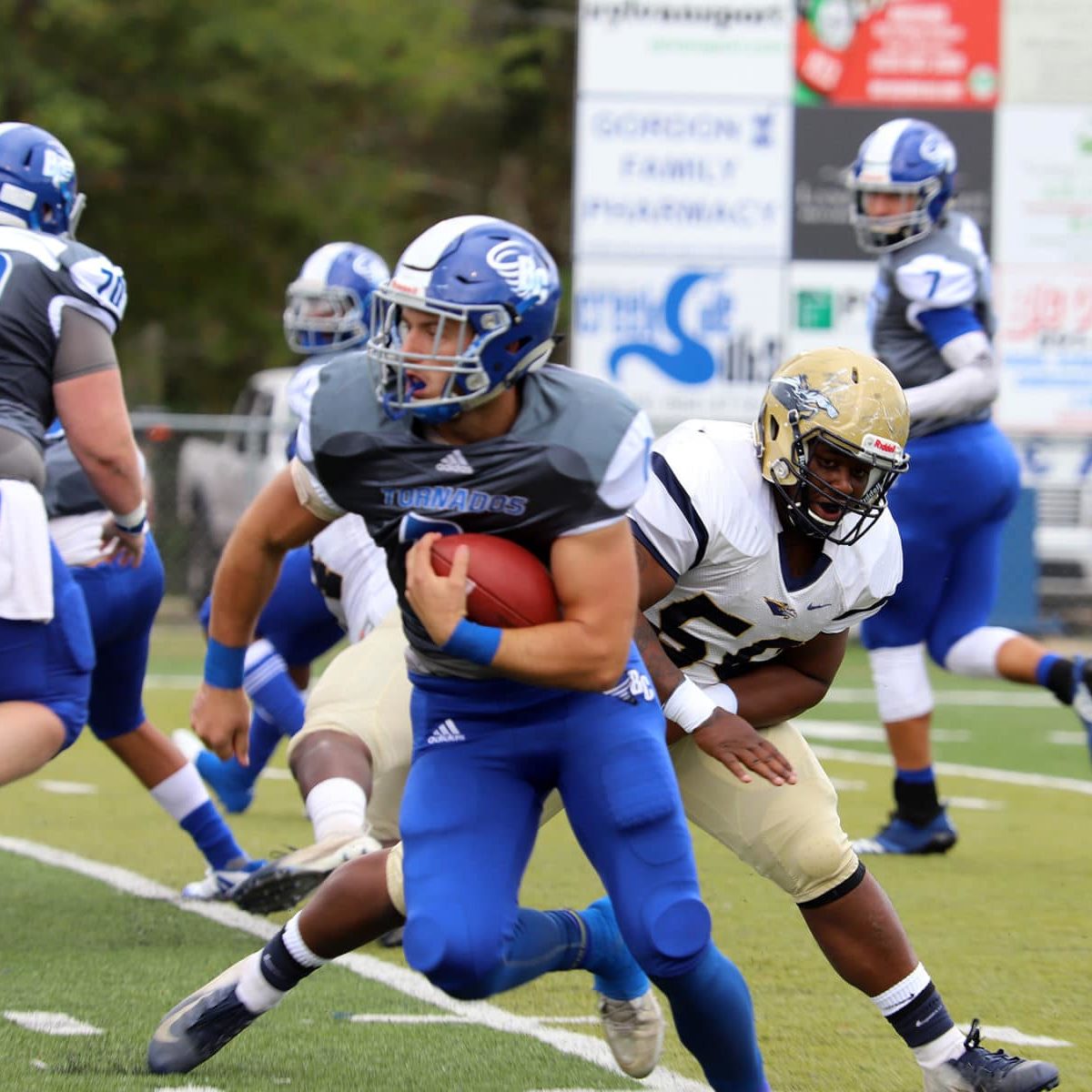 With its back against the wall, down six and in the final minutes of regulation, the Brevard College football team (6-2, 4-2 USAS) strung together an eight-play, 58-yard drive that was capped off with a 36-yard touchdown pass from sophomore quarterback Dalton Cole to fellow sophomore wide receiver Blake Taylor. Stamati Damalos' extra point followed by a game-sealing interception from junior defensive back Wesley Ross locked up Brevard's sixth victory of 2019, as the Tornados dropped preseason USA South Conference favorite Averett University (6-3, 4-2 USAS), 10-9, on Senior Night at Brevard Memorial Stadium.
With the victory, the Brevard College Tornados improve to a 6-2 overall record and a 4-2 mark in USA South play. BC's six victories thus far in 2019 are the second-most in the school's NCAA-era history, trailing only the 2009 squad who tallied seven regular-season victories. With one more game left in its regular season, Brevard College could tie the best win total in program history.
The Tornados' four wins in conference play set the program's new record for single-season conference victories. Dating back to 2018, Brevard has won nine of its last 12 games.
"That was exactly the type of game that I expected it to be – an all-out slugfest between two stout teams," commented Head Coach Bill Khayat following his team's 10-9 victory over Averett. "I am absolutely thrilled for our four seniors that they were able to achieve a win in their final home game."
Saturday's victory was sparked by a stout defense that held one of the best offensive attacks in the USA South to just nine points on three field goals. Brevard has not allowed a touchdown in its last eight quarters of action this season.
The Tornados wrap up their 2019 regular season with a Saturday, November 16 trip to in-state foe Greensboro College. Kickoff between the Tornados and Pride is set for 1 p.m.
After Brevard's regular-season finale, the Tornados will wait and see if they have qualified for an ECAC Football Postseason Bowl Game. The ECAC announcement date is set for the evening of Monday, November 18.
2019 marks the last year that Brevard College is ineligible for NCAA postseason qualification in any of the school's 17 NCAA-sponsored sports. The Tornados in 2019 can qualify for a conference championship, individual weekly awards, and postseason awards within the USA South Conference.
Brevard College is consistently recognized as one of the best liberal arts colleges. The College's focus on experiential learning, small class sizes, and location the mountains of Western North Carolina near Asheville makes Brevard a top choice college for students around the world.