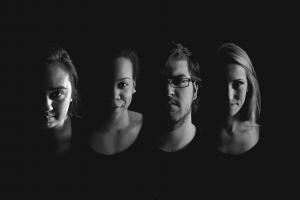 Four Brevard College art majors demonstrate the threshold of art using photography, graphic design and sculpture at this year's annual BC Senior Art Exhibition opening April 1 at 5:30 p.m. in the Spiers Art Gallery.
The event is free and open to the public.
"Brink of Artistic License" features the work of Chrisley Benton, Camille Cameron,
Courtney Carter and Samuel Moss. Benton will be exhibiting photographs, Cameron and Carter will be showing their graphic design work and Moss will exhibit both graphic design and sculpture. Each student will present a short gallery talk about at 6:00 pm.
Gallery hours for the show are 8 a.m. to 3 p.m. weekdays through April 22. Spiers Gallery is a contemporary 1,500 square foot gallery located within the Sims Art Center on the Brevard College campus. Exhibitions in Spiers Gallery are ongoing throughout the academic year and include shows by Brevard College students and faculty members as well as visiting artists from Western North Carolina and around the country.
Brevard College is committed to an experiential liberal arts education that encourages personal growth and inspires artistic, intellectual, and social action.
Photo: (L-R) Chrisley Benton, Camille Cameron, Samuel Moss and Courtney Carter demonstrate the "Brink of Artistic License" at their senior show beginning April 1 and running through April 22 in Spiers Art Gallery at Brevard College.