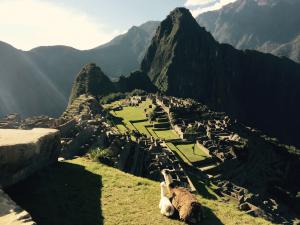 Volcanic eruptions, Galapagos turtles and Icelandic geysers are just a few of the experiences available to participants on the 2016 Smithsonian Journeys excursions led by Brevard College Geology Professor Jim Reynolds.
Reynolds will serve as the scientific expert on trips to Machu Picchu, Peru, May 31 – June 14; Galapagos Islands, Ecuador,July 19–August 2; and Iceland August 9–19. Registration is open to the public.
The three trips are part of Smithsonian Journeys., the travel arm of the Smithsonian Institution. Participants on last year's trip to Ecuador came from all over the country, he said, including Connestee Falls residents.
Due to Reynolds' status as a board member of the Galapagos Conservancy, he is personally involved in the conservation efforts to protect the World Heritage Site.
"I really enjoy communicating that passion to others," he said.
In Ecuador, after leaving the Galapagos, the group spent time exploring the old city in Quito. Overall, the group visited four World Heritage sites: Cusco, Machu Picchu, Galapagos, and old Quito. Machu Pichu was especially impressive, Reynolds said.
"For me, the real highlight was being able to observe the extraordinary volcanic eruption of Cotopaxi volcano from my hotel room in Quito, 30 miles away," he added.
Reynolds has participated in the Iceland trip four times since 2013. The itinerary includes everything that a first-time visitor to Iceland would want to see: volcanoes, a walk to a glacier, black sand beaches, a geothermal pool, magnificent waterfalls and a day in Reykjavík.
"As with the South American trip, the hotels are great, and the food is superb," Reynolds said.If you miss out on this summer's trips, not to worry, Reynolds recently agreed to once again lead the Ecuador, Peru and Iceland trips in the summer of 2017.
Smithsonian Journeys offers educational travel experiences all over the world. The trips are conducted with native tour directors and professional experts who provide exquisite cultural and historical backgrounds to the trip. For more information, visit smithsonianjourneys.org.
Photo Caption: A llama mother and her calf survey the Inca ruins at Machu Picchu, high in the Peruvian Andes. Peru is just one of the exotic locales BC Professor and expert James Reynolds will lead participants in this summer's Smithsonian Journeys.