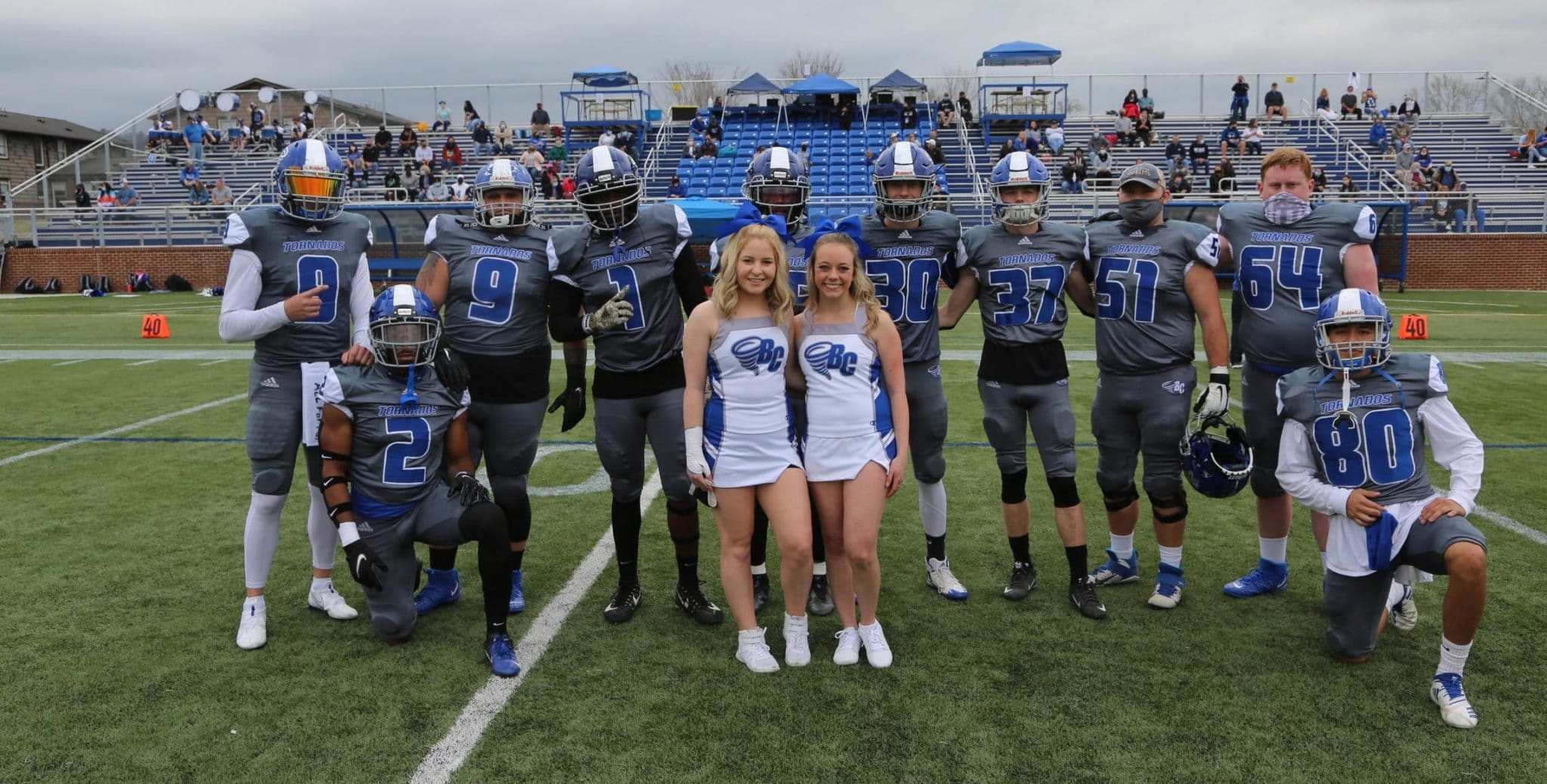 BREVARD, N.C. – Playing the first modern-era football game on the campus of Brevard College, the Brevard College football team (2-1, 1-1 USAS) christened the newly-expanded Ives-Lemel Family Field with a crucial USA South Conference victory, 27-3, in emphatic fashion over Huntingdon College (1-1, 1-1 USAS) on Saturday afternoon.
In addition to opening up its new stadium for football play, the Tornados honored 11 football and two cheerleading seniors in a special pregame ceremony held prior to kickoff.
Reigning USA South Football Offensive Rookie of the Week Eli Carr threw for a career-high four touchdown passes, as the Asheville native completed 12-of-20 for 194 yards. One of Carr's favorite targets on the afternoon, Jonathan Woods, hauled down a pair of touchdowns for 69 receiving yards on just two catches. The first-year Tornado transfer student-athlete caught 38 and 31-yard touchdowns, both coming in the second quarter, to help the Tornados extend their lead out to three possessions.
Brevard's nationally-recognized defense flexed its muscles throughout the duration of the contest, led by senior Dante Andersonand sophomore Toby Naylor. Anderson and Naylor each tallied a career-high 13 tackles, with Anderson snagging an interception and returning it 38 yards in addition to a tackle-for-loss and two pass breakups, while Naylor – a D3Football.com Team of the Week recipient – logged three tackles-for-loss and a pair of quarterback hurries.
Sophomore defensive back Joc Pledger hauled in a pair of interceptions, while senior linebacker Steffon Canady added eight tackles, one sack, and a forced fumble.
Senior tight end Gabriel Rebollar-Catalan capped off his Senior Day, hauling in his first career touchdown as a Tornado. DJ Taylorled all rushers with a career-high 73-yard performance that included a 65-yard scamper on Brevard's first drive. Travon Clevelandjumped on his first career fumble recovery on a Huntingdon muffed punt.
BC nearly doubled Huntingdon's passing effort, 194-101, while forcing four turnovers to the Hawks' one.
Huntingdon nearly got on the board first when Landon Cotney gashed BC for a 45-yard run, but a crucial holding call brought the Hawks back, forcing the visitors to punt. Taylor's 65-yard dash set up Carr in the offense on the edge of the red zone, where the A.C. Reynolds High School alum found a wide-open Aaron Bennett to give BC the early edge, 6-0.
The Hawks were able to answer back, as Will Edwards hit a 32-yard field goal on the ensuing drive to cut Brevard's advantage in half, 6-3.
BC was able to get around midfield on its next offensive possession before settling for a punt off the foot of senior Steven Hogan. With Huntingdon driving into Tornado territory, Anderson jumped in front of a Cotney pass, returning the interception 38 yards into Hawk territory. Just one play later, Carr threw a strike to Wood for a 38-yard TD, extending the Tornado lead to a 12-3 margin.
After both sides traded punts, Huntingdon went for a fourth-and-seven that was unsuccessful, giving Brevard the ball back. Being forced to punt on the ensuing possession, Hogan's 40-yard punt was muffed and covered up by Cleveland, once again setting the Tornados up with prime real estate.
One play removed from the muffed punt, Carr found Woods for a second time, as the pair of newcomers connected for a 31-yard touchdown. Carr connected with Dalton Cole on a two-point conversion attempt, giving Brevard a 17-point cushion, 20-3. Pledger then secured his first interception of the afternoon on the next Huntingdon drive before BC took a pivotal lead into the locker room.
Both sides traded a pair of punts before Cotney threw his third interception of the ballgame, as Pledger secured his second interception of the afternoon. Huntingdon was able to force their first turnover of the contest when Carr was wrangled down by Ty Brown, causing the ball to fall to the turf and be picked up by Karl Dorn.
Huntingdon's ensuing possession, an eight-play, 38-yard drive, resulted in nothing when a McReynolds run was stuffed by Ernest Smith II, causing Huntingdon's second turnover-on-downs of the afternoon. The Hawks were stopped on fourth down for the third time on a 13-play drive that extended into the fourth quarter, as pressure from Naylor and Logan Akinsforced a Cotney incompletion.
BC used up 6:48 of game clock on its next drive, capping it off with Rebollar-Catalan's first career TD off a 20-yard dart from Carr, giving Brevard a commanding 24-point advantage, 27-3.
Huntingdon's next drive ran out the rest of the clock, as Brevard clinched the pivotal USA South West Division contest.
The Tornados enjoy a bye week before closing out conference play on Saturday, March 27 against Maryville College in Maryville, Tennessee, with kickoff scheduled for 2 p.m.
For more information about Brevard College athletics, visit www.bctornados.com