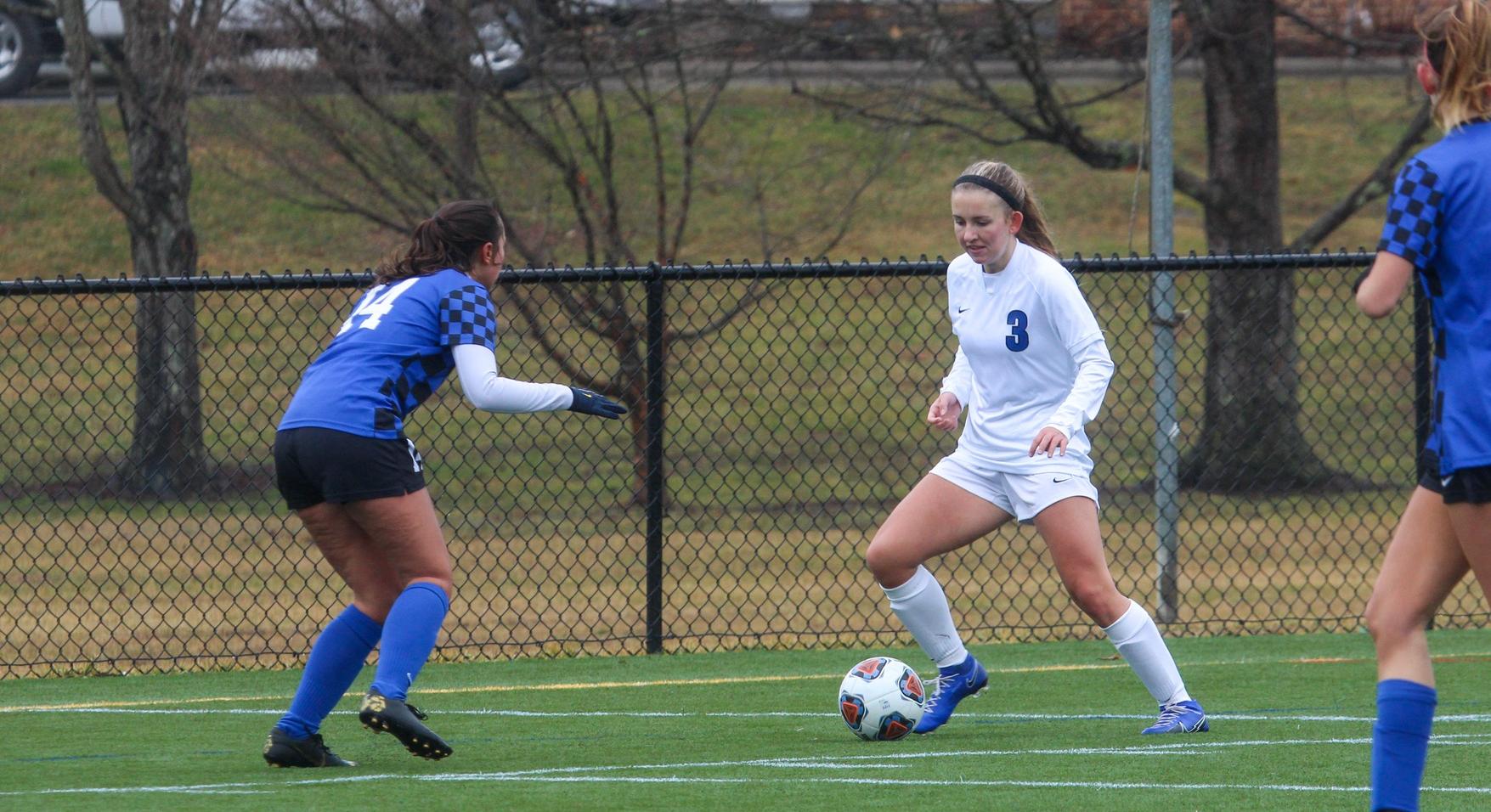 BREVARD, N.C. – Sophomore forward Ashley Royster put in a Tae Brown cross in the 56th minute to help propel the Brevard College women's soccer team (5-1, 5-1 USAS) toward its first USA South postseason berth, as the Tornados punched their ticket to the West Division Tournament with a 1-0 victory over Huntingdon College (4-3, 3-2 USAS) on Sunday afternoon at Ives-Lemel Family Field.
With the victory, BC secures its place in the USA South Women's Soccer West Division Tournament. The berth marks BC women's soccer's first as a member of the USA South, and first conference-level postseason appearance since the 2009 Food Lion South Atlantic Conference Women's Soccer Tournament. BC's last overall postseason appearance in women's soccer came in 2018 when the Tornados were selected to the ECAC DIII Women's Soccer Championship.
Royster, a forward from Mooresville, North Carolina, received a ball played in by Brown, directing the cross into the left side of the net past the Hawk goalkeeper for her first goal of the season.
Senior goalkeeper Rebeccah Rojas (5-1) registered her fourth shutout of Spring 2021, anchoring an impressive Tornado defensive effort that held Huntingdon scoreless. Rojas, a native of Murrieta, California, stopped six shot attempts en route to the victory.
Brown, Amy Juarez, Jessica Tenjhay, and Emma White all took multiple shot attempts for the Tornados in the victory. The Tornados and Hawks each took 10 shot attempts, while the two sides also stopped six shots each. Huntingdon held a 5-2 margin on corner kicks.
Both sides traded a pair of shot attempts through the first 21 minutes of play before the Tornados stepped up in attack with three shots, including a pair on-target, coming in the first half's final seven minutes.
After a pair of Huntingdon shot attempts, Brevard's Brown took a defender off the dribble one-on-one on the left side of the field, whipping in a cross that found its way to Royster. The sophomore was able to slot Brown's pass home to give BC its 1-0 lead.
Just two minutes later, Brown pressured the Hawks once again, taking a rip at goal that was stopped by Huntingdon's Kylie Kersh. Juarez capped off BC's three-straight attempts at goal with a shot that went high.
Huntingdon pressured the Tornados down the stretch, winning four corner kicks and taking three shot attempts in the final 25 minutes of action. Rojas and the BC defense were able to hold off, sealing the shutout victory and booking Brevard's trip to the postseason.
The Tornados now turn their attention to a midweek neutral-site contest at BB&T Sports Park in Winston-Salem, North Carolina against NC Wesleyan College on Wednesday, March 17 at 3 p.m. Brevard is scheduled to return home on Sunday, March 21 against LaGrange College in a 3 p.m. kickoff.
Learn more about Brevard College athletics at www.bctornados.com