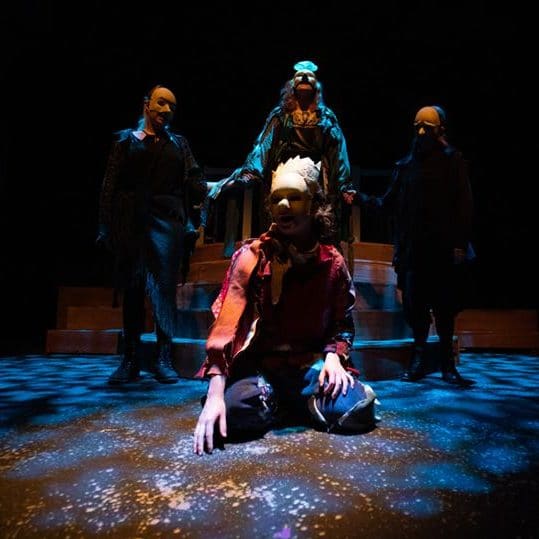 By Margaret Correll
"Look out for that separation of characters," cast member Anthony Zuniga said. "See how the story evolves with not just the play, but with the story the actors are telling." Zuniga refers to the long-awaited, three-act play "Mr. Burns, A Post-Electric Play," written by Anne Washburn and directed by Patrice Foster.
Brevard College Theatre worked long hours to prepare for this play, having to delve into a dark and rustic side of themselves. There was a lot of excitement during the final dress rehearsal when Foster, Zuniga and cast member, Lisa Arrona offered up some insight into the play on Wednesday, Nov. 20, 2019, the night before the opening performance.
"I would say the rehearsing has been very immersive, we have done some really good world-building with this play and… I don't know, it's like stepping into another dimension,'' said Arrona when talking about the rehearsal process. Zuniga agreed, adding, "You have to be able to separate yourself from each of the roles, there's three distinct acts and each act you are playing a distinct character."
Arrona and Zuniga offered a lot of first-hand experience which was intriguing yet vague, not wanting to give any important details away before the show. The two spoke about their characters with understanding and empathy. "It's really fun finding new parts of me in her and finding new parts of her in me," Arrona said about her role in the play.
While Arrona and Zuniga were sharing some of their experiences during rehearsal and production, Foster joined to offer a different perspective on the entire process. "It's been a challenging process, it's a very big play. It's a three act play and I'm new here so I don't know how things go or protocol, this was a very big play to choose as a first play to do," Foster said.
Arrona and Zuniga seemed to agree with Foster. "Enjoyable, yet challenging," Foster said.
The unpredictability of the play was a favorite of the cast and crew as well with Foster stating, "There's no one that can come and watch this play and predict what is going to happen next."
The three hoped that the hard work and effort would be recognized by the audience. Noticing the separation between the acts was their final wish to readers of the Clarion. They hoped that everyone attending would enjoy and leave the theater thinking that they had witnessed something extraordinary.
"Mr. Burns, A Post-Electric Play" debuted on Thursday, Nov. 21, 2019 at 7 p.m. at Morrison Playhouse in the Porter Center. The showtimes ran at 7 p.m. through Saturday with the final performance on Sunday, Nov. 24, 2019 at 2:30 p.m.
The Friday night showing was sold out with many people waitlisted and only a couple of empty chairs in the theater. Many friendly faces were in the audience that night, including President David Joyce and Lynne Joyce, members of the Brevard College faculty and several recent BC alumni. The cast showed stellar acting skills and showed many experienced faces and some new ones.
The cast included K'nique Eichelberger, Lisa Arrona, Claudia Dahlman, Talley Sugg, Anthony Zuniga, Clara Reichhard, Sydney Windham, Sallie Marie Watson, Rose Bricker and Jannie Kurtz.
Act One opened with several of the characters sitting around a fire, trying to remember the contents of a specific episode from the almost forgotten TV show, "The Simpsons." They go on for several minutes trying to dig deep into their brains to uncover the contents of the season five episode "Cape Feare."
This play was loaded with pop-culture references, making a note of the other famous movies and characters from before the apocalypse. After several noises are heard from the area surrounding their campfire, they load up their guns to defend their supplies. A man emerges from the woods with information and stories from cities across the country.
The audience learns that a nuclear meltdown of some kind has caused the country to go into total chaos.
Each character has a book that contains the names of their loved ones and their ages in hopes of reuniting with them at a later point. Everyone read off their names to the newcomer with a desperate tone, but he had not seen their family or friends. After this exchange, they started talking about "The Simpsons" episode again, trying to remember one specific line and then finally getting it.
Fast forward seven years to Act Two, the characters had changed and developed over time and they had created a system for making some sort of currency. The original characters have set up a playhouse and are putting on live TV shows containing what they can remember and lines that have been traded to survivors for supplies. They practice "The Simpsons," equipped with masks for the characters; they also include commercials and play music, a capella style.
The group sings songs like "Roar" by Katy Perry and "Toxic" by Britney Spears in a makeshift car, pretending that these are songs on the radio. This scene receives a loud round of applause from the audience.
There are many other groups like this, trading supplies for lines and it seems the group we are following is at a disagreement with some of the other groups. It is shown that many people are making up lines just to get food or supplies and threatening members of the group.
The scene ends very ominously, with many loud gunshots, bangs and lights falling. This made the audience jump in their seats.
After a brief intermission, Act Three started with the largest time jump yet. 75 years had passed since we had last been in this world.
Characters emerged from the darkness in long robes and masks, chanting very mysterious but sometimes recognizable words. They marched around the stage as they acted out this strange ceremony.
The curtains were pulled to reveal a large boat, which was set as the scene from "The Simpsons," weaving in some aspects of the reallife disaster to the fictional one in the episode. It seems as this world now has turned the episode from something humorous to something they worship and take very seriously.The way the episode was presented was not how the original cast thought it should look like, but over time, the content was skewed heavily.
"Mr. Burns, A Post Electric Play" ends with the completion of the episode, which contained very dark imagery and a song from Bart's character followed by chanting from the group. A sense of the story being open ended and unfinished could be felt. The audience was very impressed by the play and the actors and gave the performance a standing ovation.