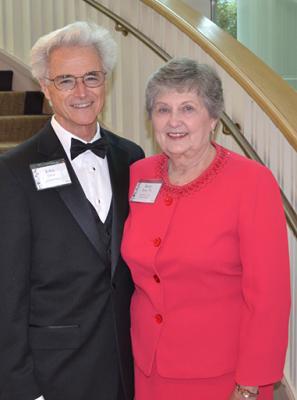 "I give back because of the opportunity that Brevard College gave me," said Betty. "I want to help give that opportunity to other students. Once you experience Brevard, there's nothing else like it. Because of Brevard College, I was prepared – not only for more advanced studies, but for life."
Soon after graduating from high school, Brevard native Betty Willingham Davis '55 realized that her family didn't have the funds necessary to send her to college.
When Brevard College offered her a work study scholarship, Betty jumped at the opportunity to pursue her dream of attending college.  As a student, she not only immersed herself in her studies but in campus life as well.  Betty joined the Drama Club, attended the Student Baptist Union, was selected to tour with the College choir and worked as a dormitory receptionist.
After receiving her associate's degree in 1955, Betty continued her education at the Women's College at the University of North Carolina, where she earned a bachelor's degree in English. Impressively, Betty wasn't finished. She chose to pursue a master's degree in Administration and Supervision from Troy University as well as a master's degree in Educational Leadership from Auburn University.
Deeply passionate about education, Betty worked as a school teacher, a principal, a director of programs and instruction, and a special education coordinator in North Carolina, Alabama and Alaska.  After more than 30 years away from home, she returned to live in Brevard.  Betty's belief in the power of a college degree and commitment to her community inspired her to create the Willingham Family Endowed Scholarship which enables deserving Brevard High School graduates to continue their studies at Brevard College.