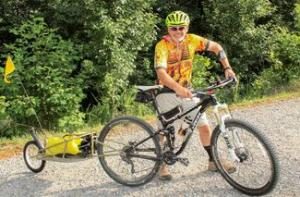 Written by Nancy Waclawek
From the Transylvania Times
Bruce Gleasman of Pisgah Forest embarks on the bike ride of his life on Aug. 1 when he and a friend take on the 2,770-mile Great Divide Mountain Bike Route along the Continental Divide.
Gleasman, 60, owner of BG Home Repair & Care, and his friend Brad Lankford, 54, a supply-chain management consultant from Austin, Texas, are taking sabbaticals from their jobs to ride the grueling Great Divide, the mostly off-road route that starts in Banff, Alberta, Canada and ends five states later near Antelope Wells, New Mexico.
The two men will meet in Calgary, Canada, and set off on the ride at 10 a.m. Aug. 1. They expect to finish sometime in October. Much depends on how they feel, how their equipment holds up and the weather.
"We won't know how our bodies will react," Gleasman said, "and we don't have to be anywhere." The duo also don't have to finish on a specific date, as Gleasman and Lankford are semi-retired. Gleasman has notified all his clients in Transylvania Countyabout his travel plans, and not to expect him to return business calls until later this fall.
Gleasman and Lankford are using their ride to benefit two charities. For Gleasman, it's the Connestee Falls Student Scholarship Program, which provides college scholarships to residents of Transylvania County. Since 1987, the program has raised more than $800,000 and helped more than 500 students afford college. Lankford is riding to benefit Helping Hand Home in Austin, Texas, a residential treatment center for children who have experienced extreme abuse and neglect. It was established in 1893.
Links to those nonprofits can be found on Gleasman's website,http://www.bghomerepairandcare.com/The_Great_Divide_Ride.html. That's also where you can follow them on their odyssey as they blog, post photos and document their progress during the two-month experience.
Lankford and Gleasman have been friends since 2005, when Gleasman and his wife, Karen, moved to Texas from Rochester, N.Y.Lankford, a long-time biker, persuaded Gleasman to join him on 100 and 100-mile rides. So, Gleasman was game when Lankford proposed this ambitious test of endurance bicycling.
Gleasman, who has lived in Transylvania County since 2010, started training for this ride on Jan. 1 and has been on a bike every day since then, riding to build up endurance. He's ridden 2,500 miles in training, and he is confident that he is ready for the Great Divide.
The men will ride 20 to 30 miles the first day out of Banff, but they plan to average 40 miles a day. Those first five days take them primarily through wilderness as they trek south toward Montana, then Idaho, Wyoming, Colorado and New Mexico. They plan to finish by mid-October to avoid unfavorable weather in New Mexico.
While they won't be completely removed from civilization – they ride through Helena and Butte, Mont .; Steamboat Springs and Breckenridge, Colo ., and Silver City, N.M.– they will be camping in the open many days. Their equipment list includes water filtration devices, camping gear, plenty of high protein/high fat food, two changes of clothing and a satellite phone. Adjusting to extreme altitude change will be an issue, as the route crisscrosses the Continental Divide 30 times and has more than 200,000 feet of elevation gain/loss – the equivalent of seven Mount Everests.
The Great Divide Mountain Bike Route was completed in 1997 by the Adventure Cycling Assoc-iation, the largest nonprofit bicycling organization in the United States. The ACA's mission is to inspire and empower people to travel by bike. It has mapped 40,000 miles of cycling routes, mostly rural and low-traffic routes. The organization has more than 50,000 members.
Gleasman is confident that he and Lankford can handle the ride. And he is looking forward to seeing the beauty of the Canadian and American Rockies, including Flathead Valley in British Columbia, Grand Teton National Park and the Great Divide Basin in Wyoming. They are hoping to see grizzly and black bears, moose and mountain lions – from a distance.
"It should be a great adventure, as long as we don't get eaten!" he said.
To follow Gleasman on his ride, go to his websitehttp://www.bghomerepairand care.com/The_Great_Divide_Ride.html. That's where you'll also find the link to the Connestee Falls Student Scholarship Program donation page. For more information about the rides offered by the Adventure Cycling Association, go tohttp://www.adventurecycling.org.
(Waclawek is a member of the publicity committee for the Connestee Falls Student Scholarship Program.)
Image courtesy of the Transylvania Times