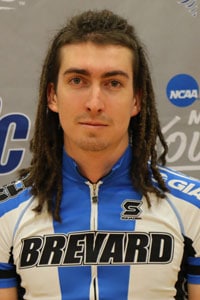 from the Transylvania Times

July 21,2016
Pisgah Forest resident Cypress Gorry has won the Under 23 mountain bike national championships for the second year in a row.
The Brevard College graduate is a sponsored rider for the Specialized/Whole Athlete, a California based team, and traveled with his team for the USA Cycling Mountain Bike National Championships, a four-day event, which brings riders from all mountain bike disciplines like cross-country, short track, dual slalom, enduro and downhill.
For the past two years, mountain bike nationals have been held at Mammoth Mountain, in Mammoth Lakes, Calif.
The race changes location every two years. Next year, the national race moves to Snowshoe Mountain, W.Va.
This is Gorry's last year to race in the Under 23 category. Next year, he will move up to race in the elite class, which won't change much for him. Gorry placed sixth overall in the pro men's short-track race last weekend as well.
Gorry said his year has been going pretty well so far, considering a nasty sinus infection that kept him from the first few races.
His competitors were able to get more miles under their legs, but Gorry managed to still come out on top.
"My first race wasn't until the end of June," said Gorry. "I wound up fifth there, which was a Pro XCT race (a domestic race series). The next weekend was in Angel Fire, N.M ., and I was able to take the win also, and then there were a couple more weeks before heading to nationals."
Gorry said the national race started at about 8,200 feet in elevation, which can be difficult for athletes who have not had time to acclimate to the elevation change.
The course climbed close to 9,000 feet in elevation, and the dry California air is a bit different than the humid Pisgah rain forest.
He and the other racers in his class rode five laps total, but it was not smooth sailing for Gorry.
Trailing in second place up the first climb, he managed to take first place on the descent and maintain the lead going into the second climb, but flatted on the second lap downhill.
"The main descent was pretty rough and rocky," said Gorry. "It was really dry and covered in powder. The pumice gets blown apart with a lot of use, and it was a rough downhill. "The second lap I gained some time on the descent, but then on the downhill on the second lap I flatted. Luckily, the pit was right near the start line, so I got a wheel change. The mechanics changed it out, and then I was in fourth. On that third lap I made the time up pretty quickly and made it back into first."
Gorry said he wound up about two minutes ahead of second place.
Gorry will head back to Brevard soon before leaving for the next three races, one of which is a World Cup race in Mont-Saint Anne, Quebec.
The World Cup race series is a traveling circuit, attracting talent from all over the world.
When the race season is over, Gorry will be starting a new job as the assistant cycling coach at Brevard College.
Gorry said he is excited to be coaching new athletes at his alma mater, and it will allow him to stay in the area.