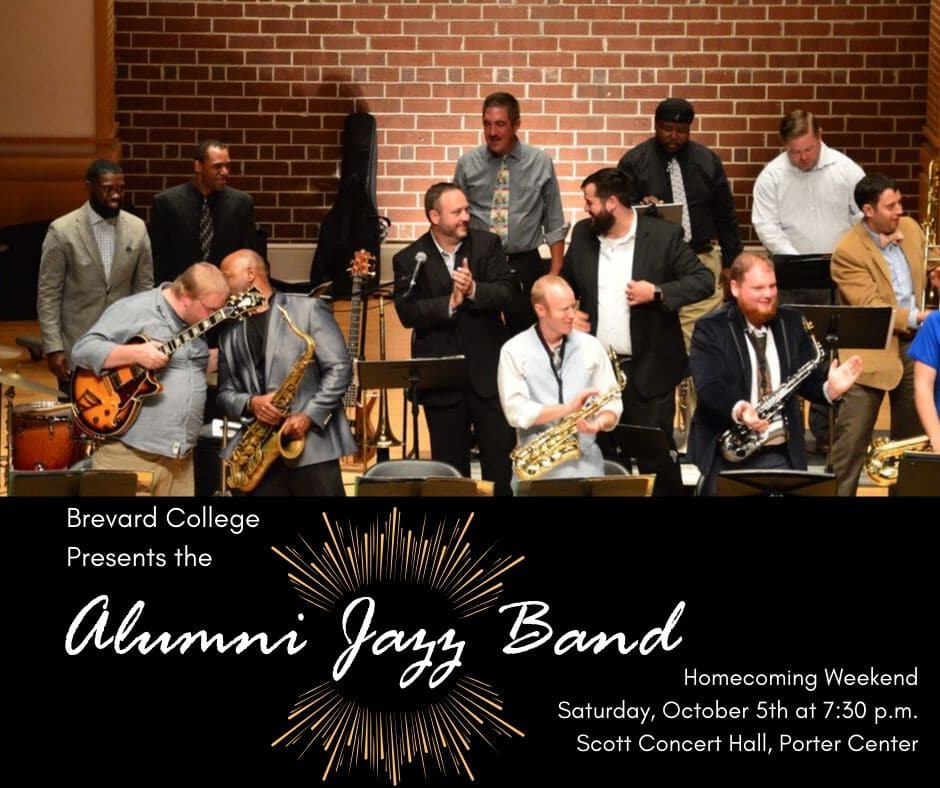 The 5th Annual Brevard College Alumni Jazz Band performs on Saturday, October 5th as part Homecoming weekend celebrations. Jamie Warren ('02) will lead a full jazz band of Brevard College alumni musicians on the Porter Center stage at 7:30 p.m. The concert is free and open to the public.
The concert will feature an 18+ member big band of working, professional musicians playing a wide variety of music from the Great American Songbook, such as "Someone to Watch Over Me" and "Fly Me to the Moon." The band will also play classic big band swing tunes such as "In the Mood" and "720 in the Books," as well as other selections from the big bands of Duke Ellington, Count Basie, Cab Calloway, and Maynard Ferguson.

Each year, Brevard College alumni musicians gather together in the spirit of fellowship to perform a free concert for Homecoming Weekend. This year's concert will be preceded by a social hour for local and visiting alumni at 6:30 p.m. in the Porter Center Pavillion.
For more information, visit www.brevard.edu/homecoming or call 828-884-8218.
Brevard College is consistently recognized as one of the best liberal arts colleges. The College's focus on experiential learning, small class sizes, and location the mountains of Western North Carolina near Asheville makes Brevard a top choice college for students around the world.