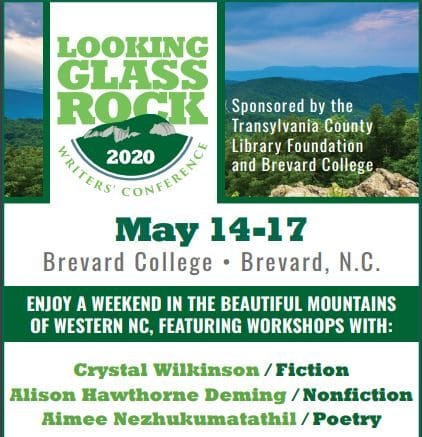 The Looking Glass Rock Writers' Conference announced their award-winning faculty members for the May 2020 conference. Alison Hawthorne Deming, Aimee Nezhukumatahil, and Crystal Wilkinson will guide a small, select group of conference attendees through nonfiction, poetry, and fiction writing workshops that explore "A Sense of Place."
Founded in 2016, the Looking Glass Rock Writers' Conference offers Transylvania County residents the opportunity to interact with renowned authors, engage in meaningful conversation about writing and place, and strengthen ties across generations by reaching out to the diverse population of Transylvania County.
Alison Hawthorne Deming will teach the nonfiction workshop in next year's conference. She has authored numerous works of nonfiction and poetry, most recently Zoologies: On Animals and the Human Spirit and the collections of poems Stairway to Heaven and Death Valley: Painted Light, a collaboration with photographer and astronomer Stephen Strom. Her work has been awarded fellowships from the Guggenheim Foundation, Walt Whitman Award from the American Academy of Poets, Stegner Fellowship, and two National Endowment for the Arts Fellowships, among other honors. Deming currently serves as Agnese Nelms Haury Chair in Environment and Social Justice and Regents Professor at the University of Arizona.
Poetry workshop faculty, Aimee Nezhukumatahil, has authored four books of poetry, including Lucky Fish, winner of the Hoffer Grand Prize for Prose and Independent Books. Poems from this collection were also awarded an NEA Fellowship in poetry, the Glenna Luschia Prize from Prairie Schooner, and the Angoff Award from The Literary Review for the best poems appearing that volume year. Nezhukumatathil serves as the poetry editor for Orion magazine. She has also been recognized for her dynamic teaching and serves as a professor of English and Creative Writing in the MFA program at the University of Mississippi.
Crystal Wilkinson, award-winning author of The Birds of Opulence, Water Street, and Blackberries, Blackberries, will teach the conference's fiction workshop. In addition to being nominated for both the Orange Prize and the Hurston/Wright Legacy Award, Wilkinson has received recognition from The Kentucky Foundation for Women, The Kentucky Arts Council, The Mary Anderson Center for the Arts, The Fine Arts Work Center in Provincetown and is a recipient of the Chaffin Award for Appalachian Literature. She and her partner own Wild Fig Books & Coffee in Lexington. Wilkinson teaches at the University of Kentucky as Associate Professor of English in the MFA Creative Writing Program.
The Looking Glass Rock Writers' Conference takes place on May 14-17, 2020, at Brevard College and Transylvania County Library. Submissions open October 1, 2019 and close December 31, 2019, with admittance decisions on or before February 1, 2020. There is no fee to apply. Brevard College students and alumni are encouraged to apply, as the college does offer one full scholarship to that demographic. For more information about The Looking Glass Rock Writers' Conference, and to learn how to submit an application, visit www.lgrwc.org.
Brevard College is consistently recognized as one of the best liberal arts colleges. The College's focus on experiential learning, small class sizes, and location the mountains of Western North Carolina near Asheville makes Brevard a top choice college for students around the world.