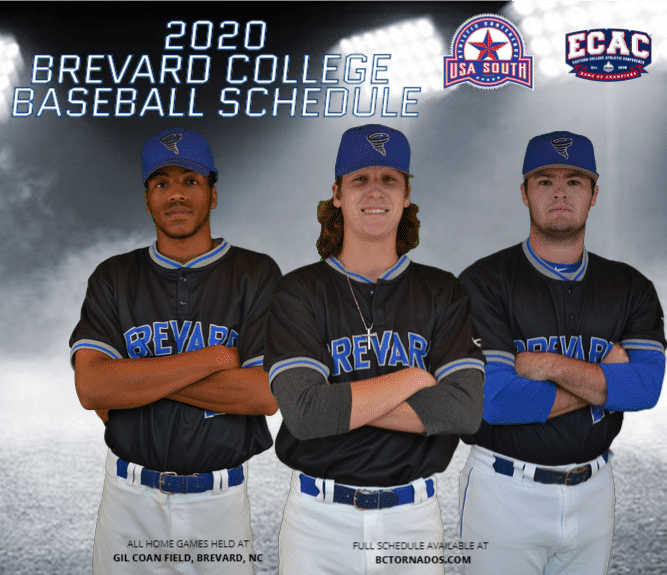 The Brevard College Baseball program has released its 2020 schedule for the upcoming season, announced Head Coach Mike Victory.
Brevard's 2020 schedule features a total of 17 home contests within the confines of Gil Coan Field. A grand total of 39 regular-season games are on the docket for BC, with 24 contests being played in the highly competitive USA South Conference.
"We start the year out with some solid competition to test our guys and get them ready for conference play," said Coach Victory. "In the USA South there are no off weekends, so we need to be ready to roll from the first game. Our guys have been working hard since our staff got on campus, and I know they are ready to get down to business and show everyone the results of their efforts."
2020 marks the first year at Brevard for Victory's staff which includes Assistant Coach Rob Julian and Volunteer Assistant Coach Steve Hucke.
Back-to-back non-conference road series kick off the 2020 season for the Tornados. Brevard begins action in Cary, North Carolina in a three-game series to be played at the USA Baseball National Training Complex. There, the Tornados will meet the Pacers of William Peace, beginning the series with a Saturday afternoon doubleheader on February 8 at 2 and 5 p.m. The series concludes on Sunday, February 9 with a 1 p.m. first pitch time.
The following weekend features another non-conference series for BC, this time against Guilford College in Greensboro, North Carolina. The Tornados and Quakers meet on the diamond for a pair of seven-inning games in a Saturday, February 15 doubleheader played at 12 and 2:30 p.m. The series finale is set for Sunday, February 16 at 1 p.m.
USA South action kicks into high gear on the following weekend, as Brevard hosts its first series of the 2020 season at Gil Coan Field. The Tornados will play host to the defending USA South regular-season champions in Piedmont College in a three-game set played over the course of three days. Brevard and Piedmont meet on Friday, February 21 at 2 p.m. prior to a Saturday, February 22 matchup at 1 p.m. BC's first conference series concludes on Sunday, February 23 at 1 p.m.
Prior to hitting the road for another conference series, Brevard will head to nearby Montreat, North Carolina for a midweek meeting against Montreat College. This WNC-area battle is set for Wednesday, February 26 at 2 p.m.
Rocky Mount, North Carolina is the destination for Brevard's next conference bouts, as the Tornados play visitor to NC Wesleyan College for another three-game series played in consecutive days. BC and NCWC kick off their USA South series on Friday, February 28 at 2 p.m. before a 1 p.m. first pitch on Saturday, February 29. The rubber match will take place on Sunday, March 1 at 1 p.m.
The month of March continues for Brevard with the Tornados hosting five-consecutive home games at Gil Coan Field. A Saturday, March 7 doubleheader versus Maryville College will kick off the homestand for BC, as the two sides will face each other at 12 and 3 p.m. before a 1 p.m. series finale on Sunday, March 8.
The Tornados will then host Hampden-Sydney College for the schools' first meeting all-time the next following day for a Monday, March 9, 3 p.m. start time. Brevard will close out its five-game homestand on Wednesday, March 11, also with a scheduled 3 p.m. start.
Brevard jumps right back into USA South Conference play with five-consecutive conference weekend series. First, the Tornados travel to Montgomery, Alabama to face off against Huntingdon College. The series-opener will be held under-the-lights on Friday, March 13 in a 7 p.m. start. Action continues on Saturday, March 14 with a 3 p.m. first pitch, while the series wraps up on Sunday, March 15 at 1 p.m.
One of the big highlights of the 2019 season came when the Tornados defeated then-nationally-ranked Huntingdon at Gil Coan Field. BC triumphed over the Hawks, 2-1, thanks to an eight-inning gem hurled by returning junior right-handed pitcher Ben Melton.
The Tornados will trek to Greensboro for the second time of the 2020 season when Brevard faces Greensboro College in a three-game conference set the following weekend. Two 6 p.m. start times open up the series on Friday, March 27 and Saturday, March 28, while a Sunday, March 29 meeting at 1 p.m. concludes action in Greensboro.
The Tornados open the month of April at home, hosting the Methodist University Monarchs for a doubleheader on Saturday, April 4 played at 12 and 3 p.m. The three-game series wraps up on Sunday, April 5 in a 1 p.m. start.
Prior to the Easter holiday, the Tornados will travel to Lookout Mountain, Georgia to face Covenant College and to conclude USA South play. Brevard and Covenant will play a single game on Friday, April 10 at 2 p.m. before a Saturday doubleheader on April 11 that will be played at 12 and 3 p.m.
The Tornados will finish their 2020 regular season with six total non-conference contests. Brevard first completes their home-and-home series against Emory & Henry by heading to Emory, Virginia for a Thursday, April 16 game at 3 p.m. Following that contest, Brevard will return to Gill Coan Field for a two-day series against Mid-Atlantic Christian College. The two games will be played on Saturday, April 18 and Sunday, April 19, and will both have a 1 p.m. first-pitch time.
To conclude the 2020 regular season, the Tornados will play a home-and-home series against Toccoa Falls College. The Tornados and Screaming Eagles will face each other on Friday, April 24 at 4 p.m. in Brevard's home-finale before trekking to Toccoa, Georgia for a Saturday afternoon doubleheader on April 25 played at 1 and 4 p.m.
Alongside the schedule announcement, Coach Victory has also set several promotional aspects of his schedule. Brevard's battle with Maryville on Sunday, March 8 will serve as BC Baseball's Junior Visitation Day, while BC's Friday, March 20 bout versus Pfeiffer will be Faculty & Staff Appreciation Day. Brevard will welcome back its numerous baseball alumni on Sunday, April 5 for Alumni Day in its game against Methodist, and Senior Day is set for BC's matchup against Mid-Atlantic Christian on Saturday, April 18.
To follow the latest news and updates surrounding Brevard College Athletics, follow the Tornados on Twitter and Instagram @bctornados, subscribe to 'Brevard College Tornados' on YouTube and SoundCloud, and like 'Brevard College Athletics' on Facebook as well as follow 'brevardcollege' on Flickr for the latest photos from all Brevard College events.
Brevard College is consistently recognized as one of the best liberal arts colleges. The College's focus on experiential learning, small class sizes, and location in the mountains of Western North Carolina near Asheville make Brevard a top choice college for students around the world.