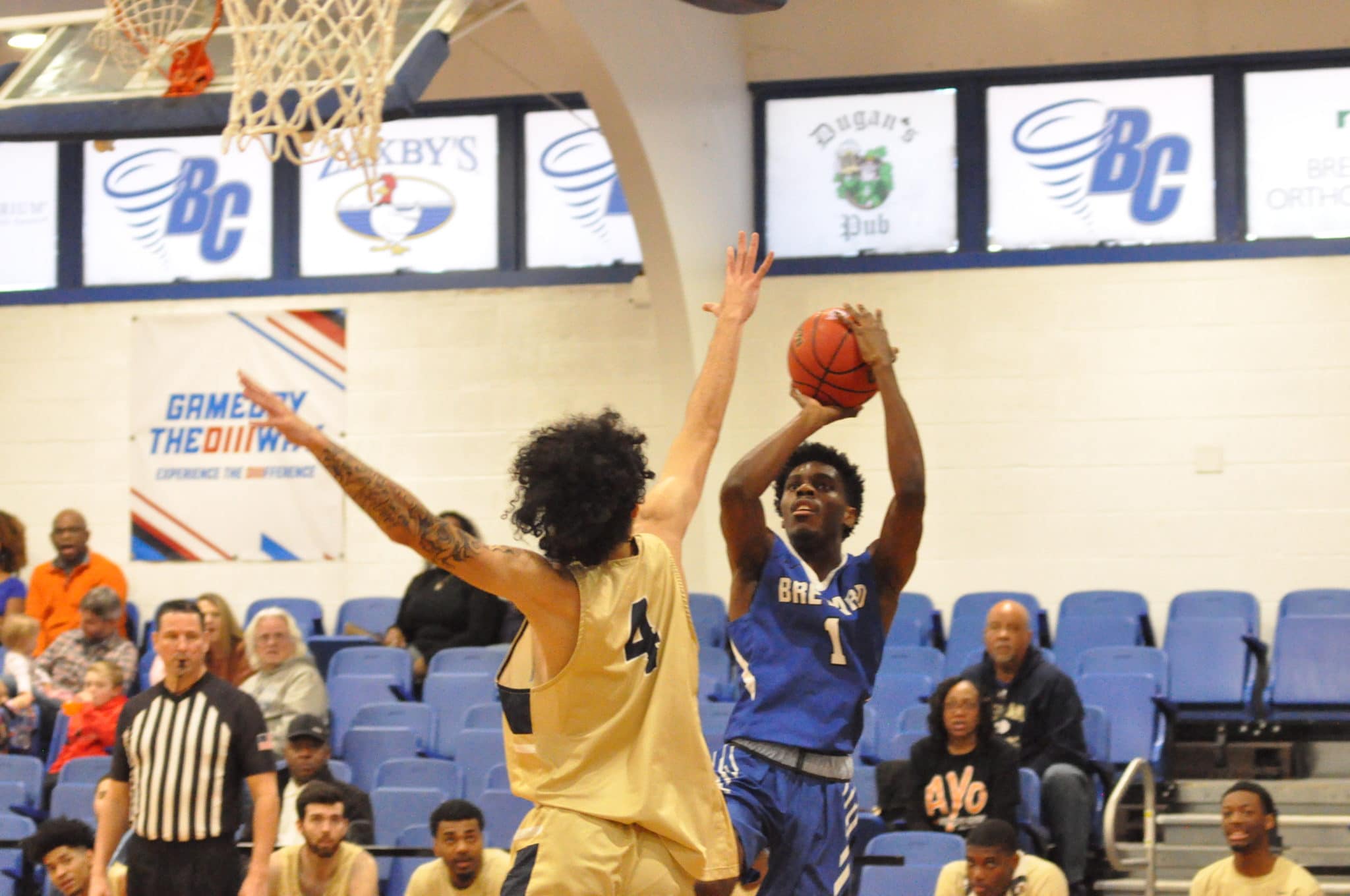 The Brevard College men's basketball team used season-best shooting performances in 3-point shooting (13-of-27, 48.1%) and free-throw shooting (18-of-20, 90%) to power past the visiting NC Wesleyan Battling Bishops, 83-79, on Sunday afternoon inside the Boshamer Gymnasium.
Senior forward Levi Lamb led Brevard's hot-shooting charge by totaling a new career-high 25 points on 8-of-16 shooting from the field. The Atlanta native had the hot hand from distance, draining a game and season-high 5-of-10 3-pointers in the victory. Demari Hopper added 18 points on 5-of-7 shooting from the field and a flawless 7-of-7 from the free-throw stripe to continue an impressive stretch of offensive production for the Gastonia, North Carolina native.
Sophomores Mike Williams (13 points) and Joshua Wilson (6 points) made key baskets for BC down the stretch, while freshman Ja'Michael Boone racked up seven points on a 3-pointer and four made free throws. Brevard's Cannon Lamb led all players in Sunday's contest with five assists.
Brevard newcomers Luke Bleynat and Paris Crawford scored their first points as members of the BC men's basketball team on Sunday and contributed to BC's offensive efforts off the bench. Bleynat – a native of nearby Asheville, North Carolina – went 2-of-2 with a 3-pointer for five points in 18 minutes of play, while Crawford – a freshman hailing from Atlanta – drained a long-range jumper for his first collegiate points and hit two free throws.
NC Wesleyan was led offensively by A.J. Frye who totaled 19 points. Frye helped lead the Battling Bishops to a staggering 56 points-in-the-paint on Sunday.
Sunday's competitive affair featured eight ties and 13 lead changes. A Williams' 3-pointer gave Brevard its largest lead of the contest, a six-point cushion of 64-58 with 10:25 left to play.
The Battling Bishops were able to come back thanks to an and-one layup that helped NC Wesleyan regain a three-point lead. Both sides jockeyed back-and-forth, leaving the score tied at 77 with 2:05 remaining in the game. After a pair of NC Wesleyan free throws, Brevard's Wilson knocked down a clutch long-range shot – Brevard's 13th of the contest – off a Cannon Lamb assist to award the Tornados with a one-point, 80-79 advantage.
Brevard made a crucial defensive stop with Cannon Lamb and Williams applying pressure that forced a turnover from NC Wesleyan's Josh Covington, giving Brevard the ball back with a one-point cushion.
On the ensuing Tornado possession, Wilson dished the ball off to Levi Lamb, who capped off his career performance with a spin move and a rising finish that pushed Brevard's lead to three points, 82-79, with just 18 seconds left to play. The Tornados were tasked with making one last defensive stop, which Brevard executed, forcing a missed 3-pointer. Fittingly, Levi Lamb was fouled and sent to the line to sink the game-clinching free throw and send Brevard to its conference victory, 83-79.
Brevard College is consistently recognized as one of the best liberal arts colleges. The College's focus on experiential learning, small class sizes, and location in the mountains of Western North Carolina near Asheville make Brevard a top choice college for students around the world.