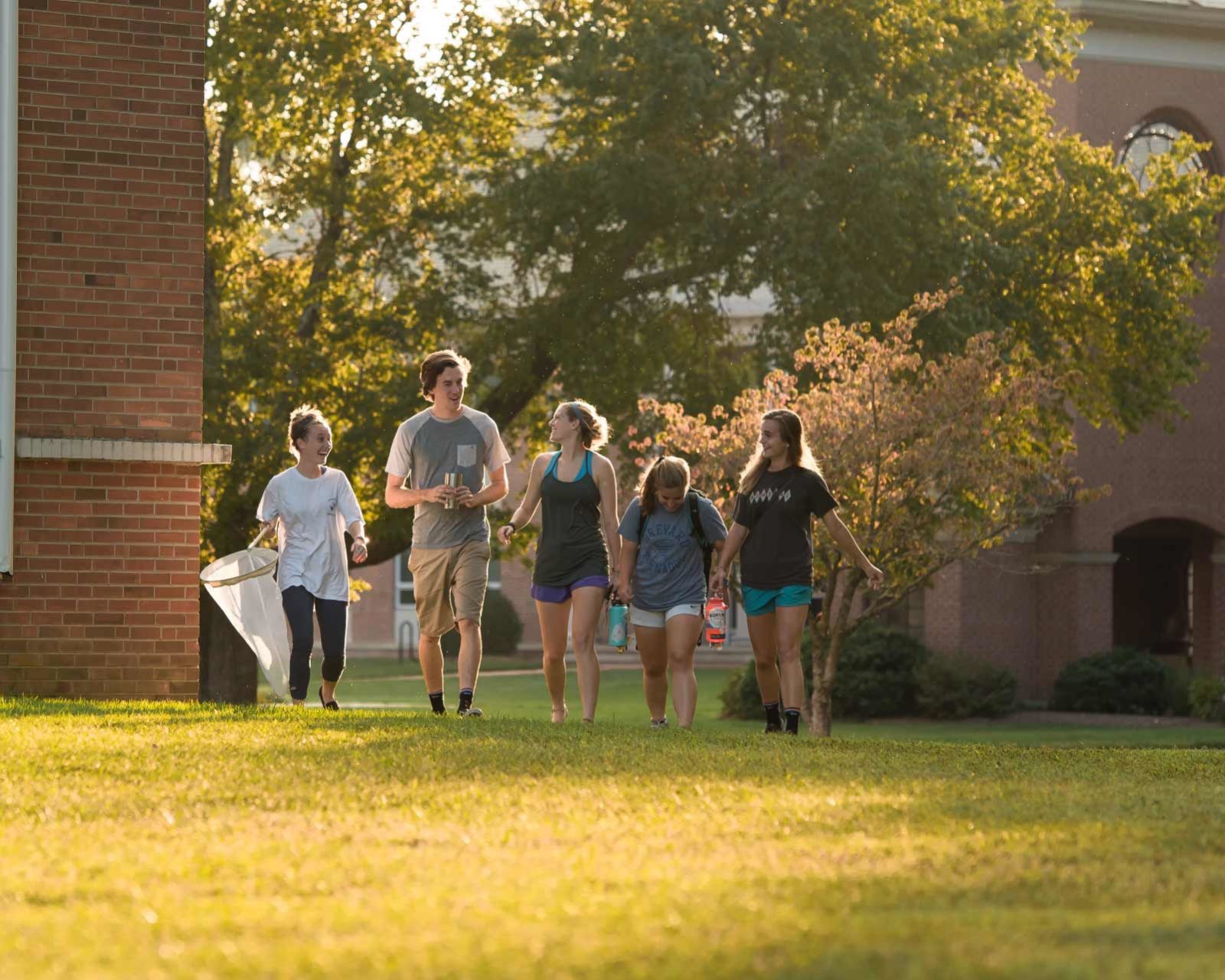 During the 2014 Homecoming Weekend, Brevard College will honor six outstanding alumni, faculty, and athletic Hall of Fame members with a special award luncheon.
Danny H. Bost '62 of China Grove, N.C and Dr. Deborah Hicks '76 of Chapel Hill, N.C. will be inducted into Brevard College's Gallery of Distinguished Alumni, while the late Dr. Emmett K. McLarty Jr., a former Brevard College President, will be added to the Distinguished Faculty ranks. Ralph "Pete" Peters '66 of Raleigh, N.C., Alexis Sharangabo '02 of the Metro D.C area and Tommy "Tiger" Jordan '71 of Blythewood, S.C. will also be inducted into Brevard College's Athletic Hall of Fame.
2014 Distinguished Alumni Inductees
Danny H. Bost '62 came to Brevard College from Kannapolis, N.C. to pursue his parents' dream of a college degree. During his time at Brevard, Bost earned a baseball scholarship and quickly became a Brevard College icon, serving as Freshman Class President, a Phi Theta Kappa member, a Men's Delphian Society member, an S.G.A. Officer, and a Methodist Youth Fellowship Member. He also earned athletic honors as the All-Conference Shortstop his freshman year and joined the cross-country team.
Bost graduated from Brevard College in 1962 and continued his education at Catawba College. He earned his Masters in Student Services from Appalachian State, then returned to Brevard in 1964 as a Head Baseball Coach, an Admissions Officer, and the Assistant Admissions Director.
Bost went on to become a higher education leader within the western North Carolina region and beyond. He took multiple education and athletic positions at institutions like Appalachian State, Blue Ridge and Rowan-Cabarrus community colleges, and the state of North Carolina. Bost also worked with youth within the Presbyterian Church as aSunday School Teacher, Youth Advisor, Trustee President, Deacon, and Ordained Elder,
"Of all my lifetime honors," Bost claims, "I am proudest of my graduation from Brevard College." Through his career and retirement, he maintains a close relationship with his Alma Mater, serving as the 1962 Class Reunion Chairman, an Alumni Association Board Member, an Alumni Ambassador, and a vital volunteer for the Brevard College Alumni Association.
Bost, who has dedicated his life to higher education and youth, challenges his fellow alumni to give back their "time, talents, and treasures" so that students like him will be able to achieve great things at Brevard College.
Author, educator, and Transylvania County native Dr. Deborah Hicks '76 built a strong foundation for her impressive social science career at Brevard College, where she earned an AAUW Scholarship. She continued her education at Northern Arizona University and Georgetown University, and earned her doctorate in Human Development from the Harvard Graduate School of Education.
After completing her formal education in 1988, Dr. Hicks taught courses in language arts, reading, literacy research, and child development at the University of Delaware's College of Education. She then taught at the University of Cincinnati from 1998 to 2009, where she worked with a low-income urban Appalachian community project that proved vital to her career development.
Since 2009, Dr. Hicks has served as a scholar, researcher, and leader at Duke University's Program in Education and the Social Science Research Institute. During her time in the Program in Education, she founded and directed the Spring Creek Literacy Project, an intensive summer educational pilot program located in Madison County dedicated to serving girls and young women in Appalachian North Carolina.
Dr. Hicks currently works as Research Scholar and Executive Director of the Partnership for Appalachian Girls' Education (PAGE), an educational initiative serving girls and young women in economically distressed parts of Appalachian North Carolina.
Dr. Hicks has served as a researcher, educator, and writer for over two decades, and has established herself as a well-known voice in the education community and an advocate for children in poor and working-class America. Her extensive career and research experience equipped her to author her most recent publication, The Road Out: A Teacher's Odyssey in Poor America, as well as two previous books and numerous research journal and magazine articles.
She and her husband, Leonard Rogoff, live in Chapel Hill, NC and return to Madison County, N.C. each year.
2014 Distinguished Faculty Inductee
Prior to his time as President at Brevard College, the late Dr. Emmett K. McLarty Jr. earned his first bachelor's degree from Duke University, followed by his Bachelor of Divinity in 1934. In 1958 he was awarded Pfieffer College's first ever Honorary Doctor of Divinity degree.
Dr. McLarty served Brevard College as President from 1957 to 1968. During his tenure, Dr. McLarty led the college to significant enrollment growth, an increased faculty, and an expanded campus. His strong leadership also inspired a sense of friendship and comradery throughout the entire campus community. Outside of the office, Dr. McLarty was highly engaged in various community activities, and was a member of the Brevard Chamber of Commerce and Kiwanis Club.
Dr. McLarty is admired and remembered for his love and respect for education, his success at Brevard College's helm, and his embodiment of the College's values and goals. At the time of his death, a Brevard College student said of Dr. McLarty: "His friendliness, scholarship, Christian spirit, and willingness to help in any situation are the things Brevard College stands for and seeks to establish in its students."
2014 Athletic Hall of Fame Inductees
As a freshman on the 1964 Brevard College Tornado basketball team, Ralph "Pete" Peters '66 averaged double-doubles of 15+ points and 12+ rebounds. He received All-Conference honors, was selected for and played on the regional All-Tournament team, and served as Brevard's Co-Captain. Peters also led his team to a ninth place national ranking at the 1964 Western Carolina Junior Conference Tournament.
As a sophomore, Peters one-upped himself within an average of 17+ points and 10+ rebounds per game. He repeated his All-Conference, regional All-Tournament, and Co-Captain honors. In 1966, Peters again led his team to victory with a regional championship, and was named the regional tournament's Most Valuable Player.
Pete finished his basketball career, which spanned the 1964-1966 seasons, as Brevard College's all-time leading scorer and rebounder. During his two years as a Tornado, his teams went 21-5 in Western Carolina Junior College Conference play. Peters was also a member of the Tornado tennis team.
After mastering pre-engineering coursework at Brevard, Peters graduated from North Carolina State with an Industrial Engineering Degree and was drafted into the U.S. Army. He served in Vietnam and returned to complete his Masters of Industrial Engineering in 1977. During his career, Peters published multiple maintenance-related works, established his reputation as a leader in maintenance management consulting, and served 26 total years with the Army Corps of Engineers and Army National Guard.
He lives in Raleigh and Oak Island, North Carolina with his high school sweetheart and wife of 48 years, Joyce Bristow.
In his two year golf career at Brevard College, Tommy "Tiger" Jordan '71 was a two-time recipient of All-Conference and All-Region honors. He completed his career as a Tornado by finishing tied for 4th in the NJCAA All-American honors. Jordan remains the only golfer in Brevard College history to be named an All-American.
After Brevard College, Jordan continued his education and golf career at East Tennessee State University, where he led his team to the Ohio Valley Conference Championship and qualified for the NCAA Championship.
In 1972, Jordan pursued a professional golf career in Carolina's PGA Section Pro-Ams and Championships, during which he won several Pro-Ams and represented the CPGA at the first PGA National Assistants Championship. Jordan has been a Class A member of the PGA since 1977 and served on the South Carolina Golf Association's Board of Directors from 1989 to 2003.
Jordan and his wife Susan started the York County Chapter of the South Carolina Junior Golf Association in 1990 and continue the Junior Golf program to date.
During his cross-country and track and field career at Brevard College, Alexis Sharangabo '02 racked up six NAIA individual championships. He picked up his first outdoor track national title in 2000 before taking home one cross-country, two indoor track, and two additional outdoor track national titles during the 2000-01 academic year.
He competed in the 1996 and 2000 Olympic Games, the latter of which occurred during his time as a Brevard student. He represented his home country of Rwanda.
In 2001, Sharangabo was named Athlete of the Year by both the United States Track Coaches' Association and the Track and Field National Championships.  Brevard College also named him Most Valuable Athlete in both 2000 and 2001.
Sharangabo currently holds the all-time NAIA championship meet record in the 1500 meter, as well as five Brevard College records including the 1500 meter, 1600 meter, indoor 3000 meter, indoor 5000 meter, and distance relays.
Sharangabo graduated from Brevard in 2002 with a Bachelor of Arts in Business and Organizational Leadership, with a concentration in Management. His rigorous educational and athletic experiences at Brevard prepared him for a Hospitality and Hotel Management career. He currently holds the Assistant General Manager for Baywood Hotels Inc. He is also earning his Masters in Global Business Management.