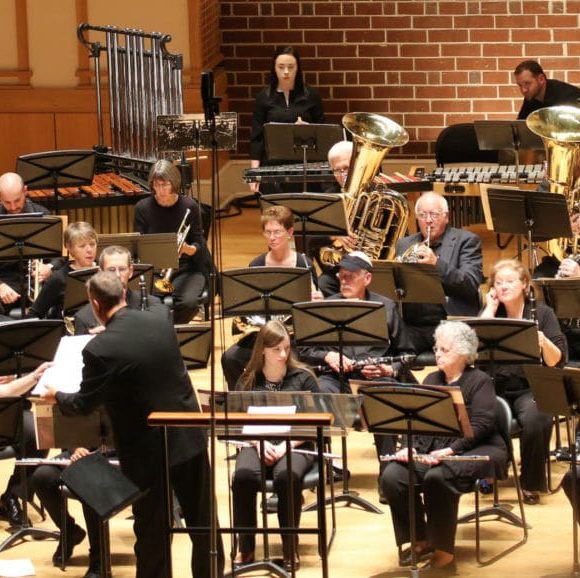 The Brevard College Wind Ensemble presents its last concert of the season on Thursday evening, April 25 at 7:30 p.m. The concert will also feature special guests the Blue Ridge Symphonic Brass (BRSB). The BRSB is a 28-piece brass ensemble with outstanding players from the Brevard, Hendersonville, Asheville, and Greeneville areas. This unique blend of professional and amateur musicians will offer a wide variety of musical selections. The concert is free and open to the public.
The concert program will open with Tyler Grant's award-winning Panoramic Landscapes followed by a wonderful concert band adaptation of excerpts from George Gershwin's Prelude Suite featuring Brevard College senior music major Daniel Etheridge-piano soloist. The Brevard College Wind Ensemble and Blue Ridge Symphonic Brass will combine to perform Samuel Barber's "Sure on this Shining Night", and Stephen Reineke's "The Witch and the Saint."
Maestro Jamie Hafner will lead the BRSB in an impressive array of selections for brass, percussion, and organ including Giovanni Gabrieli's "Canzoni Quarti Toni", which will feature three brass choirs playing from the balcony and the Porter Center's 3539 pipe Kirkpatrick-Coleman organ. Additional selections include Karg-Elert's "Praise the Lord with Drums and Cymbals" featuring Brevard College music faculty member Vance Reese-organ soloist, Chris Hazell's "Kraken" from "Three Brass Cats", and the "Vienna Philharmonic Fanfare" by Richard Strauss.
Brevard College is consistently recognized as one of the best liberal arts colleges. The College's focus on experiential learning, small class sizes, and location the mountains of Western North Carolina near Asheville makes Brevard a top choice college for students around the world.