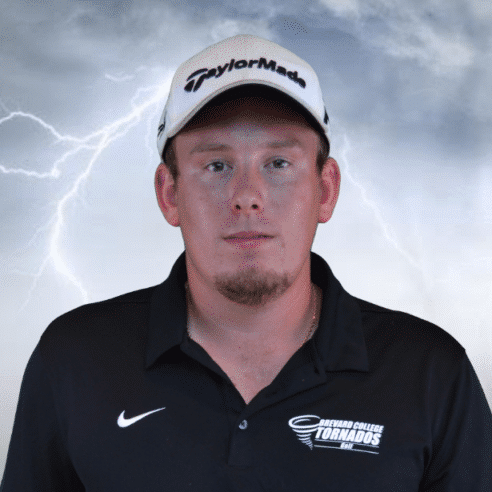 Senior Brevard College Men's Golf standout Austin Fisher has been selected to represent the Brevard College Tornados in the 2019 USA South Conference Men's Golf Championships, held at the Highland Country Club in LaGrange, Georgia. The three-round tournament is slated to begin on Thursday, April 25, and continue on Friday, April 26. The tournament will conclude on Saturday, April 27.
Fisher, a native of nearby Hendersonville, NC, earned entry as the top-ranking golfer entering in the tournament as an individual. The event features the top-nine Conference teams, as well as the top three individuals, according to Golfstat rankings (as of April 17, 2019), from teams not qualifying for the league tournament. Fisher ranks 60th amongst all NCAA DIII golfers in Golfstat's statistical rankings.
Fisher has enjoyed a banner year for the BC Men's Golf team, accruing six top-10 finishes that include five top-five finishes. Fisher has won two tournaments in the 2018-19 campaign, the Mars Hill Fall Invitational and the Cavalier Spring Invitational. Both victories came at Broadmoor Golf Links in Fletcher, N.C.
Fisher and the rest of the Brevard College Tornados Men's Golf team are set to conclude their regular season this weekend at the Emory Spring Invitational. The event runs from Saturday, April 20, to Sunday, April 21, and will take place at the Smoke Rise Country Club in Stone Mountain, Ga.

Brevard College is consistently recognized as one of the best liberal arts colleges. The College's focus on experiential learning, small class sizes, and location the mountains of Western North Carolina near Asheville makes Brevard a top choice college for students around the world.