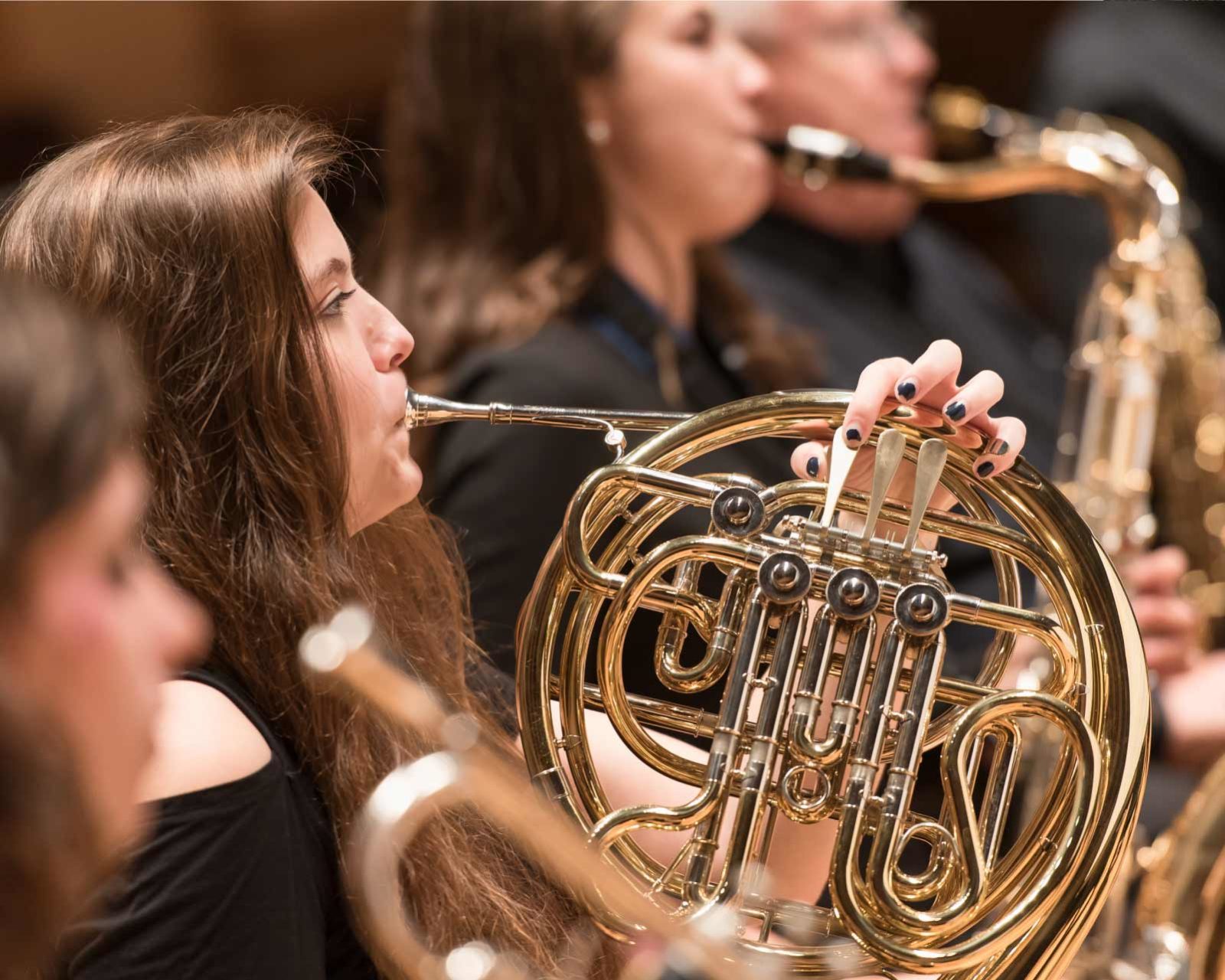 The Brevard College Wind Ensemble will join the Upstate Winds Concert Band for an evening of contemporary and classical music on Thursday, March 16 at The Porter Center for Performing Arts at 7:30 p.m. The concert is free and open to the public.The concert will feature a unique blending of both professional and amateur musicians in a night with a diverse variety of concert band repertoire.
From the BC Wind Ensemble program, music education major Chris Center will conduct a beautiful setting of "Somewhere" from Leonard Bernstein's famed musical, "West Side Story."
BC Director of Bands Dr. Eric Peterson will also conduct James Barnes' "Symphonic Essay," which will feature a muscular, brooding, and thrilling sonic exploration of the concert band's rich textures. Peterson said the piece is "composed by one of my mentors. I am thrilled to share Jim's powerful music with our audience."
The Upstate Winds, a community band from Greenville, South Carolina, boasts some of the area's finest music educators, business professionals, students, and even a retired fire chief. In addition to concert venues throughout the Upstate, the band has also performed aboard the USS Yorktown in Charleston, South Carolina.
The Upstate Winds recently commissioned a new work for solo trumpet and band entitled "Centennial Horizon" by Kevin McKee and David J. Miller. The band will feature professional trumpet player Chris Imhoff in one of the first performances of this piece. Just in time for St. Patrick's Day, euphonium soloist Andrew Young will bring some Celtic flare to the concert as he performs "The Green Hill," a beautiful and exhilarating work by Bert Appermont.
Both bands will combine to perform Christopher Nelson's stunning adaptation of the American spiritual, "Wayfaring Stranger" and Ira Hearshen's Symphony on "Themes of John Philip Sousa-After the Thunderer." The piece is cast in the style of the Finale from Gustav Mahler's "Third Symphony." Hearshen incorporates the bugle call and trio theme from Sousa's "The Thunderer March" to create a powerful and moving tribute to the great March King. The concert concludes with Sousa's "The Thunderer March."