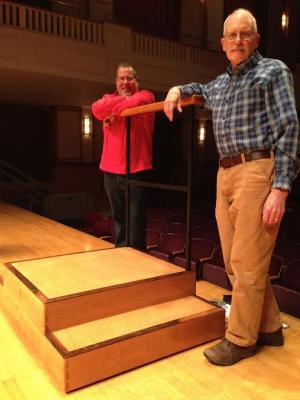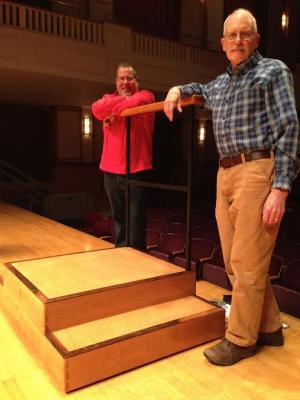 By Karen Cole
Stepping up to the podium took on a whole new meaning to Dr. Eric Peterson, Director of Bands at Brevard College, when he accepted delivery of an upscale custom-crafted conductor's podium designed and constructed by Bob Cole of the Brevard Community Band. The public is invited to view the new conductor's podium at the Brevard College Symphonic Winds' concert Thursday, March 16, at 7:30 p.m.
Peterson had long wanted a podium that would reflect the beauty of The Porter Center for Performing Arts and would be worthy of its elegance. He approached Cole last spring about the project. Cole, a clarinetist, is one of the many members of the Brevard Community Band who lends support to the Brevard College Symphonic Winds by filling in needed instrumentation.The base of the podium is made of warm, figured cherry trimmed with 50-year-old dried dark walnut. Two steps on either side lead to the platform. The steps and the platform are covered in sound-insulating cork, which has been sealed with six coats of finish. A safety back rail constructed of welded steel painted black is topped with a rich cherry wood handrail.
"This not just a conductor's podium," Peterson said. "It is a work of art."
Cole said that more than 200 hours of labor went into constructing the podium.
"The most challenging parts of the project were fitting the tenons, joining the corners with dovetails, and getting the perfect sheen for the finish," Cole said. "This podium is version 3.0. I wanted to get everything just right as this is my gift to the College."
Peterson remarked how deeply appreciative he was of the donation and how much he valued the special relationship between the Brevard Community Band and the College.
"These community members donate their time each week in rehearsals to assist our students," Peterson said. "Not many college bands have professional, semi-professional and advanced amateur musicians sitting side-by-side with their students, instructing them and mentoring them. Over the years, the BCB has also supported several of our students with music scholarships."
The relationship is reciprocal, as Petersen plays tuba with the BCB during the summer and BCB conductor Jamie Hafner plays tuba with the BCSW during the school year.