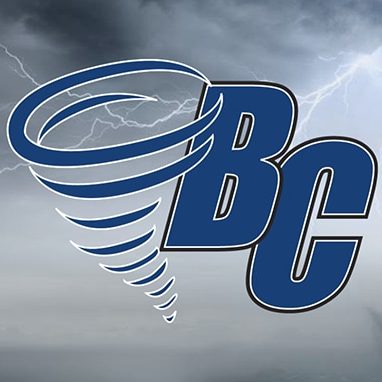 One year removed from its most successful season since 2011-12, the Brevard College women's tennis team – under the direction of first-year Head Coach Brad Jones – has released its full Spring schedule for the 2019-20 season.
The Tornados enter the 2020 Spring campaign after a monumental 2018-19 season that saw Brevard finish with a 12-6 record, its first winning record since 2011-12 while stringing together a 10-match win streak that tied the program's longest in the NCAA-era.
"I can't wait to pick up where our women's team left off from last Spring," said Coach Jones on the upcoming season. "We are replacing two starting seniors with five strong new additions to an already deep roster. I'm really looking forward to seeing what this year's women's team can accomplish together. They had a great individual and team fall season, so I'm hoping that success will carry over into the Spring."
Brevard's women's team opens up its Spring with three-consecutive home matches at the McCoy Tennis Complex. First, the Tornados face off against NCAA DII Southern Wesleyan University on Tuesday, February 11 at 3 p.m. that will serve as Faculty & Staff Appreciation Day for BC. The Tornados then host Spartanburg Methodist College on Saturday, February 15, which will be Brevard's White Out Match. Brevard then closes out the month of February on Saturday, February 29 for a 1 p.m. match against Pfeiffer University, which marks Family Day at the McCoy Tennis Complex. In the Fall portion of the season, the Tornados earned a commanding 8-1 victory over Pfeiffer on September 29, 2019.
USA South Conference action opens up for the Tornados in the month of March when Brevard travels to Berea College on Saturday, March 7 for an 11 a.m. match in Berea, Kentucky. Just two days later, the Tornados will embark to Orlando, Florida for a Spring Break Tournament featuring numerous NCAA DIII programs across the country. All start times are currently still to be announced for the action in Orlando.
The Tornados women's team first face Transylvania University on Monday, March 9 before a Tuesday, March 10 contest vs. Curry College. Brevard will then have a day off before competing in a doubleheader on Thursday, March 12 against Marywood University and St. Francis University (Indiana). BC will close out the tournament on Friday, March 13 against Colorado College. Brevard will then have eight days in-between contests before returning to conference play against Covenant College in Lookout Mountain, Georgia on Saturday, March 21 at 1 p.m.
Coker College is the opponent as the Tornados return home on Sunday, March 22 for a 1 p.m. non-conference match time at the McCoy Tennis Complex. There, BC will honor Military members and their families with Military Appreciation Day. Brevard will conclude the 2020 Spring season with six-straight USA South matches, beginning with a Saturday, March 28 matchup vs. Huntingdon College that begins at 11 a.m. Concurrent with BC's match with Huntingdon, the Tornados will celebrate Tennis Across America Day, where there will be a free community tennis clinic at the McCoy Tennis Complex. The Tornados wrap up the month of March with a 3:30 p.m. contest in Demorest, Georgia against Piedmont College on Tuesday, March 31.
The Tornados will then close out their 2019-20 road schedule with back-to-back weekend conference matches in the state of Georgia. Brevard will visit Agnes Scott on Saturday, April 4 at 2 p.m. in Decatur, Georgia before facing Wesleyan College on Sunday, April 5 at 1 p.m. in Macon, Georgia.
Brevard closes out its regular season with two matches at the McCoy Tennis Complex. BC hosts LaGrange on Saturday, April 11 at 10 a.m. for Youth Day before closing the season on Tuesday, April 14 at 1 p.m. against Maryville College. The Tornados will host Senior Day prior to their contest vs. Maryville.
To follow the latest news and updates surrounding Brevard College Athletics, follow the Tornados on Twitter and Instagram @bctornados, subscribe to 'Brevard College Tornados' on YouTube, follow 'Brevard College Tornados' on SoundCloud, or like 'Brevard College Athletics' on Facebook.  In addition, follow "brevardcollege" on Flickr for the latest photos from all Brevard College events.
Brevard College is consistently recognized as one of the best liberal arts colleges. The College's focus on experiential learning, small class sizes, and location in the mountains of Western North Carolina near Asheville make Brevard a top choice college for students around the world.