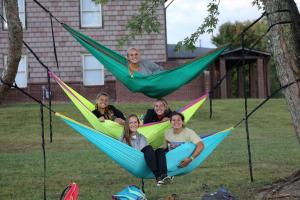 By Shannon Summitt, '19
The Student Government Association at Brevard College, made up of a variety of student leaders, recently took the opinions and desires of their peers to heart and led an effort to bring five ENOpod Hammock Stands to campus.
If you've ever walked across Brevard College's campus, chances are, you've seen ENO hammocks hanging between the trees by King's Creek. At a school made up of many outdoor enthusiasts, "hammocking" has become a common pastime. When the weather is nice, finding space on campus to hang out can be a challenge.
The student leaders that make up SGA were aware of this challenge when they discussed ways to improve the campus. The association exists to serve as the middle ground between students and administration in both academic and campus affairs. If a club needs funding, they look to SGA to be their voice and support to the administration. If individual students have concerns, SGAis there to listen and represent the students.
To get the ENOpod project started, a committee was formed during the Fall Semester, with student Liz Kitchens as its head. Budgets were made and goals listed. The committee even managed to obtain a 60-percent discount for the equipment, which allowed them to purchase a total of five hammock pods.
"I had the opportunity to work with faculty and staff all over campus for this project," said Kitchens. "Everyone I talked to was excited and helpful. I am proud to attend a college with such a supportive community."
ENO stands for Eagles Nest Outfitters, the original parachute hammock creator, a company that operates down the road in Asheville.Each pod adds three hanging spots for students with hammocks. Fifteen hammocks were also purchased so that students who do not own their own hammocks would be able to rent them from the school.
Campus Life, who, like SGA, works with students to plan events and projects, provided funds when the project went a little over budget. Kitchens' committee worked with Associate Dean of Students Michael Cohen to order and install the holders before the 2017 spring semester.
This entire project was a perfect example of how the Brevard students and faculty work together to continually improve the campus.
Brevard College is committed to an experiential liberal arts education that encourages personal growth and inspires artistic, intellectual, and social action. To learn more, visit brevard.edu.