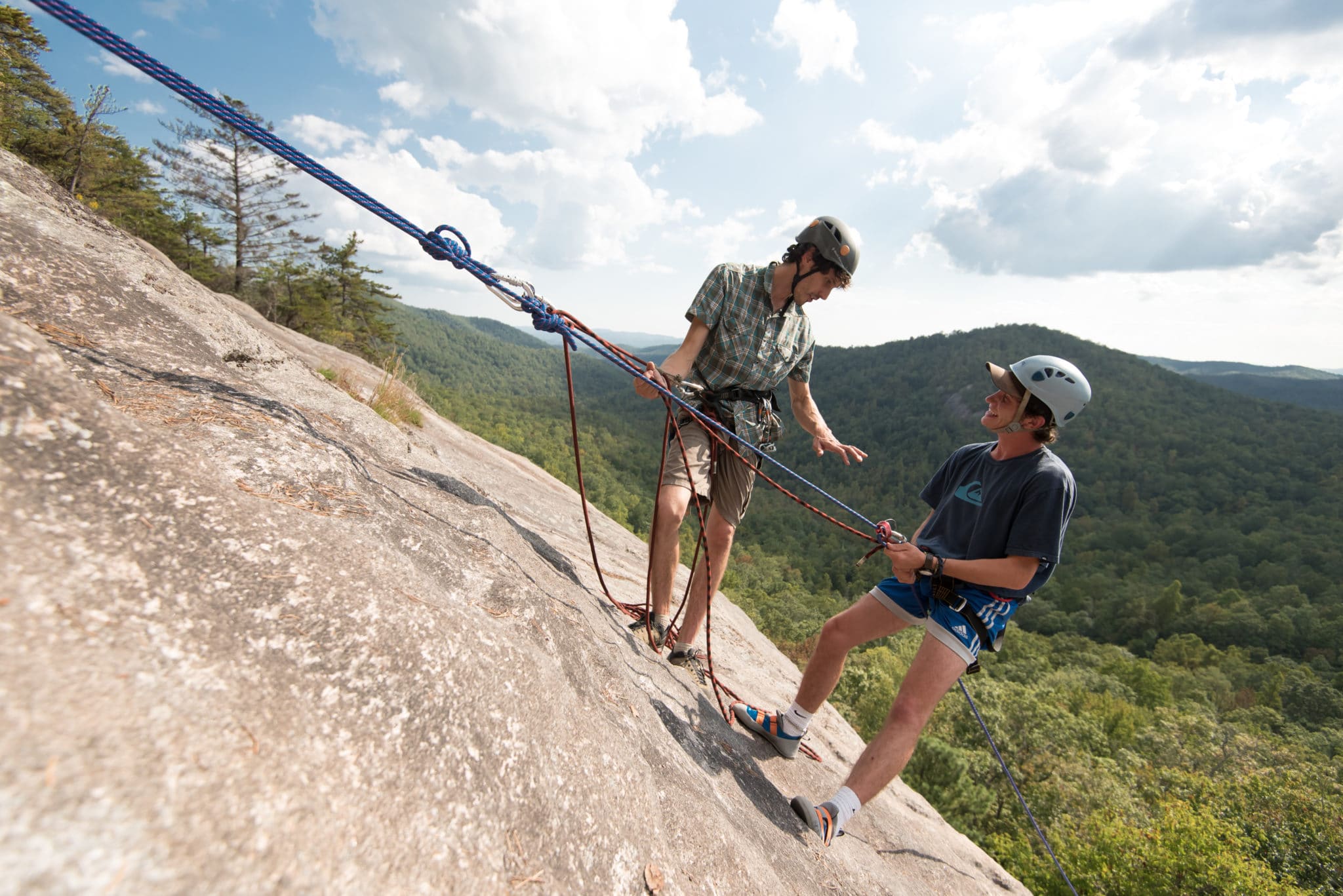 The Brevard College rock climbing team recently staked its claim as a force to be reckoned with on the national competition stage, and

USA

Climbing took notice.
On Feb. 6, the team of 18 students traveled to The Crag in Franklin, Tennessee, for the Nashville Collegiate Climbing Regional and scaled their way to second place.The win positions the team on track for a spot at the Collegiate Climbing Series National Championship April 22-23 in San Diego, California, according to team founder and staff advisor Travis Gray.
"(It will be) an opportunity to prove once again that we are a competitive collegiate rock climbing team on a national level," Gray says.
For the past three years, Brevard College Climbing has made a name for itself by pulling out wins in competitions throughout the Appalachian Region, the collegiate region under USA Climbing, which includes schools in North Carolina, Kentucky and Tennessee.
Despite Brevard College's small student body, the climbing team is one of the largest in the Appalachian Region, which, Gray says, gives them an edge over other schools.
"They have the numbers to certainly be competitive on a national level, not just within the Appalachian Region," Gray says. "They have a training facility that is conducive to remaining competitive, acquiring skills and knowledge from experienced staff and fellow competition climbers that also practice there."
The team practices at Brevard Rock Gym, just down the road from campus and owned by BC faculty member Cameron Austin. Austin's son, Kendrick, 13, competes for USA Climbing on the gym's Competition Team, a team with an impressive three appearances at national level competitions in as many years.
Gray adds that having truly world-class "real rock" climbing opportunities in Pisgah National Forest naturally lends itself to creating a stronger and more versatile rock climbing team. "They also have the passion and commitment to not only better themselves as competitive rock climbers but leaders on the campus and within the community, Gray says. "Brevard College Climbing brings all walks of life to each competition. These students aren't just outdoor junkies or enthusiasts but highly successful students and unique in their own respects as individuals."
Team President Audrey Ashburner is one such leader whose enthusiasm helped the team gain momentum after she took over the helm.One of Brevard College Climbing's biggest challenges is that it is a club and not an official Brevard College athletic team. The team is sponsored through the Student Government Association, and gets just $315.25 in funding. In contrast, Ashburner says it will cost around $7,000 for the team to compete this season.
"No one is getting anything from joining the team besides 'being on the team and competing,'" she says. "There are no scholarships or anything like that. Every member must give effort for everything to run smoothly, and that's all on their own accord, which I think is pretty amazing since we only have 730 students."
Ashburner says one of the team's strengths is a high level of organization.They have an office and manage their own bank account. They must solicit their own members, sponsors and additional funding. They have an elected executive board of six.
"Becoming president was the craziest and hardest thing I have ever had to do in my life, but I wouldn't trade it for anything. I love seeing the look on students' faces when we finally arrive at a competition after five hours of driving through the early morning – everyone is all tired, but as soon as we arrive, everyone jumps out of the car, ready to crush it!"
Team placements are determined by a combination of individual team member efforts and how well a team as a whole performs at a competition. Climbers compete in four categories: recreational, intermediate, advanced, and open. Climbers are allowed to climb any marked routes, but they must complete five routes within three hours for their score to count.
In Franklin, the top finishers for BC were Eli Hyatt, who placed third in the recreational category, and Luke Lundquist, who took home second.
Gray says this "grassroots" team has encountered an incredible amount of adversity, earning their success outright.
"These remarkable students are basically scraping change from their very own pockets to attend each competition, buy jerseys to represent the College and each other and to organize events to help keep funding their way," he says. "What makes me most proud is that this team always finds a way to keep moving the ball forward despite their financial troubles and still find a way to claw their way to success. It's truly inspiring to witness, and I wish more people could recognize their efforts and success."
The climbing team has four more competitions on the slate, including one at Brevard Rock Gym March 12. To learn more about the team, follow them at facebook.com/brevardclimbing.The climbing team will be holding a Coffee and Arts Fundraiser to support its expenses, including travel to and from competitions, on Sunday, Feb. 21 from 2 to 8 p.m. at the Coffee cARTS Studio, 1061 Rosman Highway in Brevard. Donations can be made at gofundme.com/brevardclimbing.