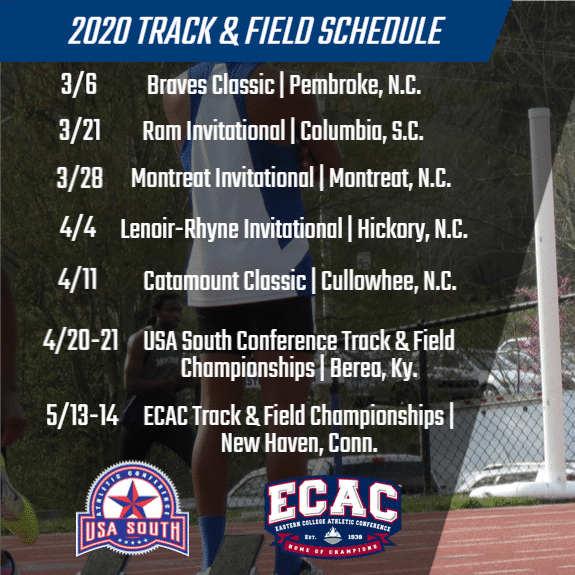 Head Cross Country/Track & Field Coach Darryll Patrick has set the 2020 Spring schedule for the Brevard College Track & Field program.
"We are really looking forward to getting things started this semester," commented Coach Patrick on the upcoming season. "We had some success last season at the conference meet and brought home some hardware at the ECAC Championships, and we look forward to building on that this Spring."
Coach Patrick fields a Track & Field team that made strides during the 2019 campaign. BC's 4×100 relay team, which featured returning senior Quentin Jackson, finished second at the 2019 USA South Conference Championships before taking home gold by winning the 4×100 relay race at the 2019 ECAC Championships last May in New Haven, Connecticut.
Looking ahead to the 2020 Spring schedule, Brevard opens action on Friday, March 6 when the Tornados travel to Pembroke to compete in the Braves Classic, hosted by UNC-Pembroke.
Following the Braves Classic, BC ventures to Columbia, South Carolina to take part in the Ram Invitational, which will be held by Columbia International University on Saturday, March 21.
A week later, the Tornados will head to local Western North Carolina-area institution Montreat College to compete in the Montreat Invitational in nearby Montreat, North Carolina on Saturday, March 28.
On the following Saturday, April 4, Brevard will race in the Lenoir-Rhyne Invitational in Hickory, North Carolina before heading to nearby Western Carolina University to compete in the Catamount Classic on Saturday, April 11.
From April 20-21, the Tornados will take part in the 2020 USA South Conference Track & Field Championships, hosted by Berea College in Berea, Kentucky. Members of the BC Track & Field team who qualify will be eligible for the 2020 ECAC Track & Field Championship, which will take place from May 13-14 once again at Southern Connecticut State in New Haven, Connecticut.
Brevard College is consistently recognized as one of the best liberal arts colleges. The College's focus on experiential learning, small class sizes, and location in the mountains of Western North Carolina near Asheville make Brevard a top choice college for students around the world.