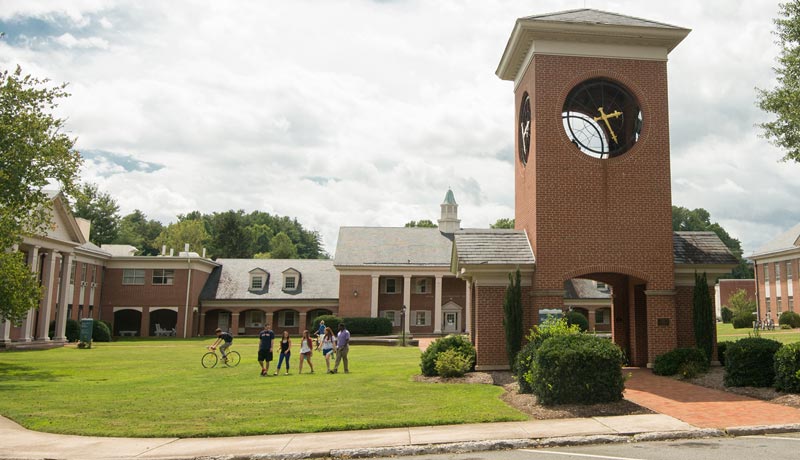 By Savannah Cox
Brevard College Sophomore Walker Shaw can't remember a time when he wasn't on a bike.
At age three, he started riding with his dad and younger brother and was racing BMX bikes by age nine.  Now, at just 19 years old, Shaw is a decorated cyclist with several national championships under his belt. He has raced his bike from New Zealand to South Africa to Scotland, but at the end of the day, he loves to call Brevard home.
"When I travel and come back here, it makes me love it even more," Shaw says.
Shaw doesn't look at training as training – cycling is what he wants to do in his free time. Brevard's experiential learning focus and 14-to-1 student-to-professor ratio helps students like Shaw do what they love while earning a degree they can be proud of.
Shaw, who grew up in neighboring Hendersonville, wasn't sure how he would juggle both cycling and classes at college, but he has found it easier than he thought to excel on and off the bike.
"I feel like I would like going to a big school, but having smaller classes forces me to concentrate," Shaw says. "I would zone out in a bigger class. It's cool to have professors that are hands on with you, know everyone's first name, and to actually have a relationship with your professors."
Allison Arensman, who is already a professional cyclist in addition to competing at the collegiate level, agrees that the engaging faculty is part of what makes Brevard special. She transferred to the College from nearby Mars Hill University. Arensman found Brevard to be the perfect fit both scholastically and athletically.
"The school embodies experiential education, and there are passionate, engaging faculty in every subject," Arensman says.
According to President David Joyce, Brevard College strives to connect knowledge to action for all of its students. The classrooms are student-centered, rather than teacher-centered. The goal is to look at real- world problems and learn how to fix them, rather than just obtaining the information for a test.  Professors develop students' ability to think, instead of teaching them what to think.
She has found her community within the exercise science major and the cycling team. She says she was challenged by her teammates to slow down and enjoy riding more.  Arensman considers her teammates to be her family, and they help her feel right at home.  Attending Brevard, Arensman says, will allow her to chase her dreams of becoming a professional rider.
"Brevard is a hidden gem," Arensman adds.
Brevard College's cycling team has won six overall team national championships in the past three academic years. On top of the team national championships, several riders have won individual titles in mountain, road and cyclocross events.
Janelle Cole is a perfect example of the quality riders Brevard is now able to recruit with the recent success within the program. Prior to arriving in Brevard, she won four national titles and eight national medals in cycling competitions and was the 2014 Michigan State Time Trial Champion. Most recently, Cole won an individual national championship in the women's criterium event at the USA Cycling Collegiate Road Nationals, helping the BC Cycling team place second overall.
When looking for a college, one of Cole's primary concerns was finding the feel of a community.  She came from a small sport community – inline speed skating – and a homeschool background, so finding a place where she felt connected was integral to her happiness in and out of the classroom.
"Brevard's size lends itself to sports success by fostering such a tight-knit community", Cole says.
Brevard College creates a community within their classrooms and sports teams, making it an ideal fit for any student who loves the mountains and the sense of family among both peers and teachers. For Shaw, Cole, and Arensman, Brevard College has given them a true shot at their dreams.
"Coming to Brevard College is the best decision I've made in my life", Arensman says.