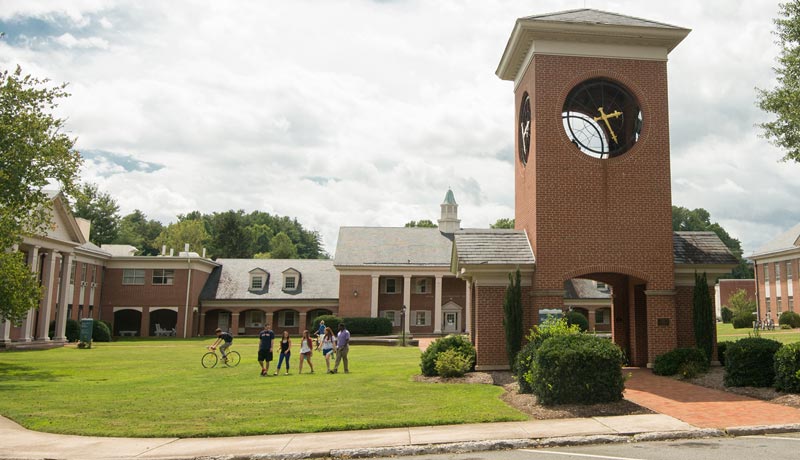 On Oct. 21, Brevard College students had a rare opportunity to get an inside perspective on what it's really like to be a teacher.
"A Day in the Life" brought local educators and Brevard alumni together to share their experiences at a panel organized by the College's Teacher Licensure Program.
"We're excited to provide students and community members a real-life peak into what it's like being a teacher today," said Megan Keiser, assistant professor of elementary education. "There is a wealth of talented, successful Brevard alumni who are locally employed in schools, nonprofits and alternative education settings serving as teachers. Their poise, passion, and professionalism is inspiring."
The veteran teachers came from a variety of school systems. Brevard alumni represented everything from a home day care business to Eliada Homes – a therapeutic school and home for at-risk children in Asheville.
In order to launch the conversation, panelists were asked to share examples of current joys and challenges they face. Responses included the joy of seeing high school students start to care about fitness, kids persisting with crafting better writing products, and students loving the chance to play math games. Alumni were asked to reflect on the experiences they had while at Brevard that helped prepare them for the classroom. The Differentiated Instruction class was a popular response, as the young teachers said they now face a diversity of needs from a range of students with special, exceptional needs.
Current Brevard students also appreciated the solid advice.
"The panelists' advice to find ways to make learning engaging was encouraging," said Susan Thrower, a post-baccalaureate elementary education student.
Several alumni are in schools that are implementing Stephen Covey's model, "The 7 Habits of Highly Effective Schools." They reminded attendees to "sharpen your own saw" by finding balance and ways to de-stress.At the conclusion of the panel, audience members offered thanks to the panelists. Dr. Betsy Burrows, director of Brevard's Teacher Education Program, shared that the evening and the panelists' stories "offered a beacon of hope in a sometimes challenging time."
The Brevard Teacher Licensure Program offers nine different licensure areas, as well as an option to focus on Early Childhood (pre-K education).
Other ways for students to learn if the world of teaching is for them is to visit schools, register for the College's intro EDU 205: Teaching in the 21st Century class, and talk to local teachers.
"The words of wisdom from our seasoned and newer teachers is invaluable," Keiser said.