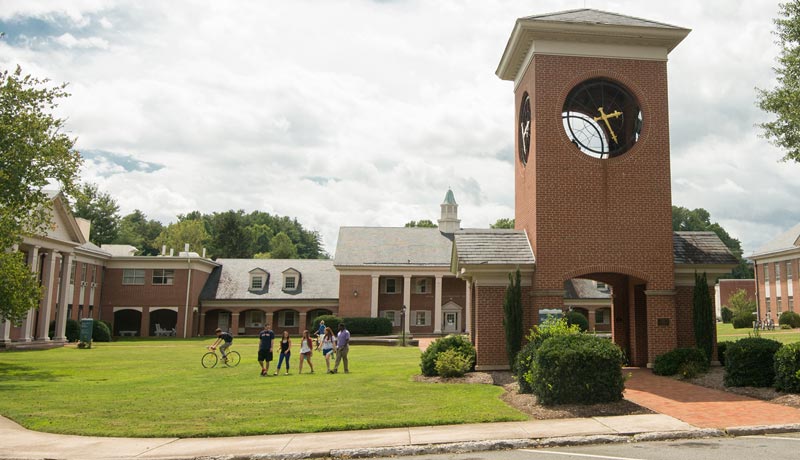 By Maddison Holt, '16
Lauren Fowler, a current Brevard College student, completed the full 2,185 miles of the famous Appalachian Trail.
She began her journey in Georgia and finished it in Maine when she was just 21 years old. She said her main inspiration for hiking the trail was her father.
"I was a couple weeks old when I first went camping. My dad and I went camping when I was young all the time. It was what we did. He did part the Appalachian Trail in college, and I wanted to as well," said Fowler.
Fowler added that as she got older, her and her father's relationship seemed to become more distant. There was not a strain between them, but like most teenagers, she and her father they were not as close as they used to be when she was young.
Nonetheless, her father helped her prepare for the trip, as she only gave herself a month to prepare before making the trek. Since he had hiked part of the trail before, he knew exactly what she needed to bring.
At first, Fowler had no idea what she was getting herself into. Carrying a 42-pound backpack, she began her journey on March 1, 2013. Within the first two weeks of Hiking, she had severe tendonitis and had to stop in Damascus, Va ., to recover. She stayed at a hostel where she worked various jobs in return for a place to sleep. While there, she began to do "trail magic" for other hikers on the trail.
"I met this guy called Nomad. We hung out with two other hikers that were injured and did trail magic for people for a while. Trail magic is when you give supplies and other help to hikers on the Appalachian Trail," said Fowler.
When she started Hiking again, it wasn't all fun and games on the trail for Fowler. She encountered a few experiences that were scary and challenging. Along the way in the Shenandoah Valley in Virginia, a man began to follow closely behind her. He was attempting to do "pink blazing," which is when another hiker follows a person in an effort to become friends or even romantically involved.
Fowler said she packed her gear in the middle of the night in order to out-hike him.
"He was pretty upset after I left him in the dust apparently. Some hikers caught back up to me later on the trail and explained that he left the Appalachian Trail after. That might be the strangest thing that's ever happened to me," Fowler said.
Fowler said that there was only one thing worse than that experience – the mosquitos in New Jersey and Maine. There were swarms of mosquitos that would follow Fowler on the trail. The clouds of them were so dense that not even bug spray would clear them from her. She would use 100 percent DEET, and the bugs would still follow her and manage to bite her.
"You would wipe your arm and tons of dead bugs and blood would just appear," Fowler said.
Luckily for Fowler, the black bears in New Jersey did not bother her like the mosquitos did. Fowler recalled that often the bears would look at her and continue on their route without any signs of aggression.
Before approaching Katahdin in Maine, Fow-ler's father came up from Georgia to finish the last 100 miles with her. By the time they finished, they were both so exhausted that they decided not to hike the Appalachian Trail back, which is referred to as "yo-yoing," which a number of hikers do. While the final miles were exhausting, the time together enabled the two of them to re-establish the same bond they had when Fowler was younger.
"You've accomplished something that I've dreamed of my entire life," Fowler recalls her father saying to her.
Fowler learned a lot during her experiences on the Appalachian Trail. She worked in retail before Hiking the trail, and as Fowler put it, that was the extent of her interactions with people. She said she learned to be more outgoing due to all of the people she met along the way and that she became more independent because she was Hiking and camping on her own. Best of all, Hikingthe trail was how she discovered Brevard.
"When I was Hiking through North Carolina, I found out about Brevard College through some other hikers and specifically the Wilderness Leadership and Experiential Education, or WLEE, department. I was going to school for art before, and by the time I got to Maine, I knew I wanted to be a WLEE major," Fowler said.
Fowler stops to enjoy a view in the southern Appalachians in the spring. Like most hikers who attempt to walk the entire Appalachian Trail, Fowler started as the southern terminus, Springer Mountain, Ga., in March. The weather can still be daunting at that time of year, as shown by the snow-capped peaks in the distance.
After her six month expedition on the Appalachian Trail, Fowler was ready to go home, and then she knew what direction she wanted to head in her life. Now that Fowler is attending school atBrevard College, she believes that Hiking the Appalachian Trail prepared her for the WLEE program.
Her experience on the Appalachian Trail is not something she says she can easily share, but the WLEE program has taught her how to communicate those experiences. She is able to communicate not only her experience Hiking the trail, but she is able to apply her experienced Hiking the trail in her WLEE classes and share that knowledge with her classmates.
Fowler's advice to anyone interested in Hiking the Appalachian Trail is to just do it.
"Everything will be there when you get back," she said. "Don't wait because then you might never go."