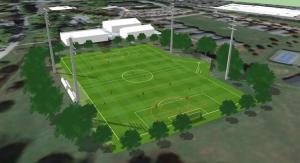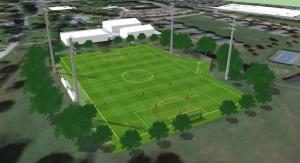 Plans for a new on-campus turf facility have been approved by a unanimous vote of the Brevard College Board of Trustees, giving several athletic programs a new home.
The facility will be built on land currently occupied by the college's soccer field.
In addition to hosting men's and women's soccer matches for both the first and reserves teams, the field will also become the new home of the men's and women's lacrosse and softball teams.
The uniquely-shaped field will see first and third bases and the pitcher's circle located on the soccer touchline opposite the bleachers.
The home plate area will protrude from the soccer field, with batters facing the new residence hall being constructed across King's Creek, giving the field a triangular hitch in its overall design.
The project includes the installation of lights, which will help athletic teams avoid scheduling issues and give Brevard the opportunity to host on-campus night games in outdoor sports for the first time in its history.
"I am incredibly thankful to the Board of Trustees for prioritizing and approving this project," said Athletic Director Juan Mascaro. "It's been a tremendous challenge to maintain our current athletic fields with the amount of rainfall we receive in this area. The new facility is going to alleviate all of these issues, become a centerpiece for our campus, and give us a field that we can all be proud of.
"A true home-field advantage has been hard for some of our sports teams to come by because of the weather," Mascaro continued. "This will be one of the best artificial surfaces in the region and will greatly enhance the student-athlete experience, giving them more tools than ever before to be successful."
Financing of the project will come from a mixture of private donations and savings from field maintenance and repair.
Construction will begin as soon as permitting and funding is secured with the goal of completion in August.