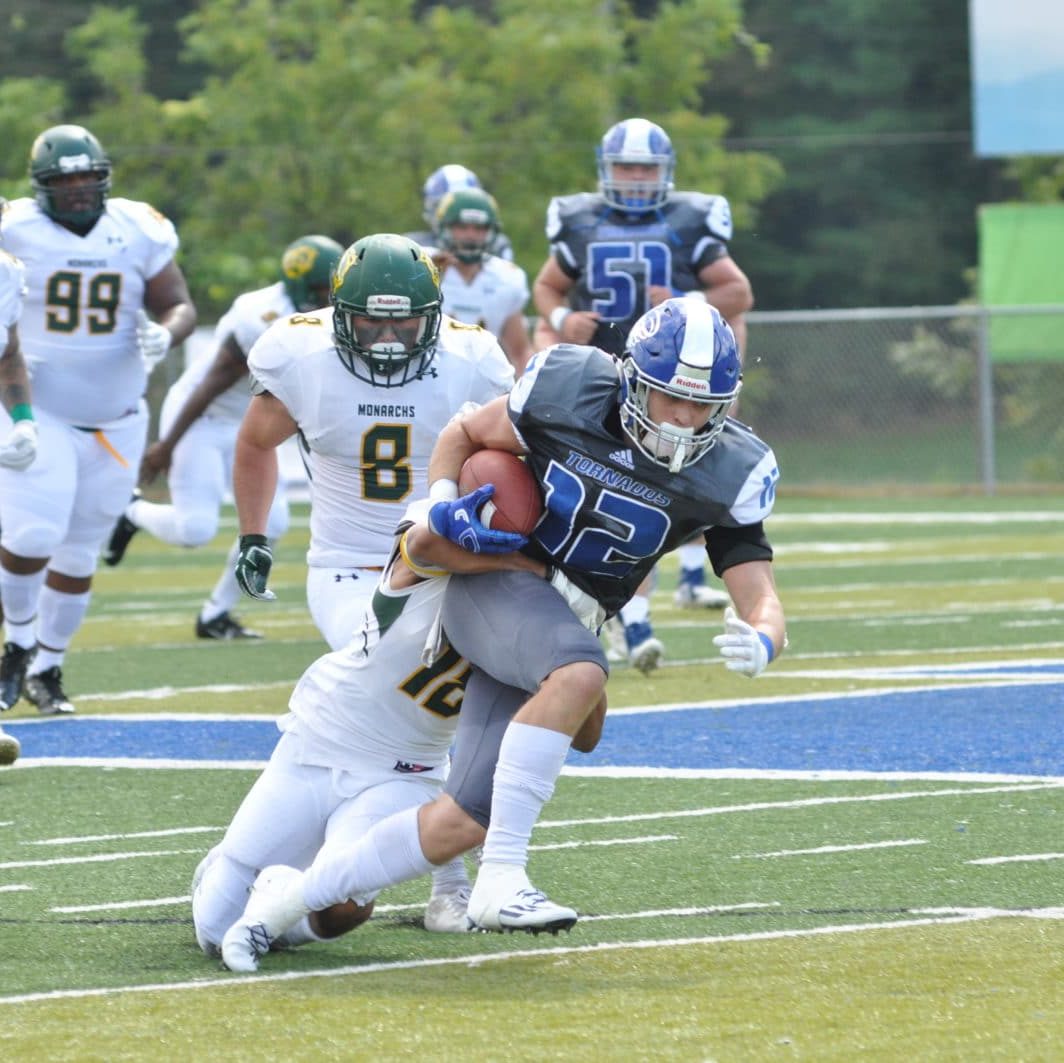 Brevard College Tornados Football team (2-5, 2-3 USAS) capped off a remarkable comeback effort as freshman quarterback Dalton Cole connected with senior wide receiver Bubba Craven for a 21-yard touchdown pass with just 19 seconds remaining in regulation to give Brevard a resounding 38-34 victory over the LaGrange Panthers (2-6, 1-4 USAS).
Cole enjoyed a fantastic outing individually, as he recorded 19-35 completions (54%) for 187 passing yards and four touchdowns. Cole added five rushing attempts for 68 yards, an average of 13.6 yards per carry.
Craven became the Brevard College all-time leader in career receiving yards after his seven-reception, 94-yard, two-touchdown outing on Saturday afternoon. Craven, who has recorded 1287 receiving yards in just two years, passed Eric Watts (1234, 2009-12) in the Brevard College record books.
Senior offensive weapon Tyler Gregory rushed for a Brevard College season-high 72 yards, adding a 12-yard touchdown run. Gregory also utilized his arm in the contest, throwing a five-yard pass to Bobby Clerisier to pick up a big first down.
Brevard's defense had a very opportune game, forcing four turnovers total in the contest. Quentin Jackson intercepted two Caleb Speir passes, which marked Jackson's first two career interceptions. Dante Anderson forced and recovered a fumble, and first-year Kaleb Woods recovered the game-sealing fumble on LaGrange's last-second effort.
The Tornados enjoyed its best rushing performance of 2018, compiling 279 total rushing yards in Saturday's contest. Brevard College's 471 total yards of offense was a season-high for the Tornados and ranks 12th all-time in Brevard College history for single-game total yards.
The Tornados hit the road one last time in the 2018 season as they travel to Danville, Va. on Nov. 3 for a 5 p.m. kickoff against the Averett Cougars (5-2, 4-1 USAS).