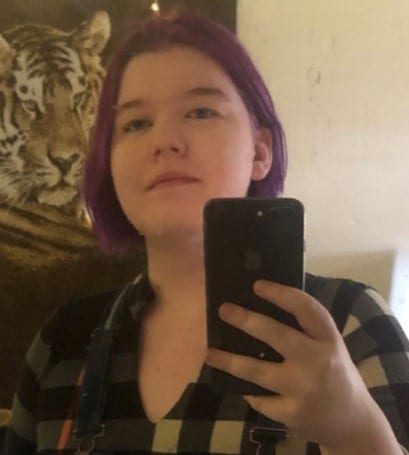 By Aia Andonovska, Copy Editor, The Clarion
Madison Ramsey, a history major from Swords Creek, Virginia, will be graduating in the spring 2021 semester. Ramsey came to Brevard College because of the school's class size and the opportunity to form close relationships with professors. "Swords Creek is so small and so far out in the sticks that I usually joke and tell people that I live in the middle of the woods, which is technically true given that my family's house is located at least a half of a mile up a holler," Ramsey said.
She continued: "Because I grew up in such an isolated place, I had initially wanted to go to a large college in a large city because I could finally leave Russell County and the woods behind. However, that thought process really changed when I went to Virginia Tech to participate in a Scholastic Bowl tournament and the tour guide told us that there were typically five hundred-plus students in a freshman survey course. I was attending Honaker High School during that time, and the school maybe had about four to five hundred students total, so the thought of five hundred other students in a singular class was really mind-boggling and anxiety inducing for me."
The next time Ramsey attended an open house, it was at Brevard College. "I remember someone saying to my group 'If you can't imagine yourself walking on this campus every day and being a part of this community, then you probably don't belong here at Brevard College.' Long story short, by the end of the tour I could see myself walking on the campus. Between that and the fact that the school had small class sizes with an opportunity to get to know your professors, it just felt right." Ramsey recalled.
Ramsey stated that her happiest memories at Brevard College have been hanging out with her friends on campus or going on trips with them over breaks. "My favorite trips with my friends so far have been going to a Bernie Sanders rally in Spartanburg, SC, where we were able to actually meet Bernie and take a photo with him, going to Atlanta to visit over Winter Break and going to Washington DC and sitting in the House and Senate Galleries," she said.
When asked what advice she would give to the freshman, Ramsey advised, "My main piece of advice to the freshmen would be not to be afraid to communicate with their professors if they are struggling. The one thing that I've definitely learned throughout the last three and a half years is that life is still happening while you're here studying for exams and there are some things that happen that you can't control, but you can still advocate for yourself and your needs. Chances are, if you reach out and communicate, your professors will more than likely be willing to work with you. It's very easy to build a good relationship with your professors by doing well in your classes, but it's also beneficial to be authentic and communicate when you're struggling."
Ramsey discovered new hobbies while at Brevard College. "Finally, if you had told me when I was a freshman that I would voluntarily take a creative art class, I would have told you that you were crazy. But I did, and those classes were Photography I and II with Jordan Whitten. I used to think that I did not have a creative bone in my body, but Jordan really encouraged me to express myself while making pictures and I ended up loving photography," she expressed.
During her time at Brevard College, Ramsey has received an award called "Rage Against the Machine," from Dr. Wilkey for her aggressive performance in the French Revolution Reacting to the Past game that she was a part of her freshman year. "Right now I'm involved with an internship in the library on campus where I'm primarily working with the archivist, Melodie Farnham. I love this internship because not only am I acquiring a lot of hands- on experience in the career of my choice, but also because Melodie and Marie have been supportive of my interests and are just great mentors to work with in general," she said.
Ramsey's senior thesis will be focusing on early-to-middle 1900s Appalachian folk music and its connection in the effort to unionize the coal mining industry in Southwest Virginia, West Virginia, and Eastern Kentucky during that time period. Specifically, her thesis will examine how these folk songs were used to garner support for the unions both in local communities and nationwide. After she graduates, Ramsey plans on moving to Atlanta with her friends. She hopes to be doing entry-level archival work there for a year or two before she starts graduate school.