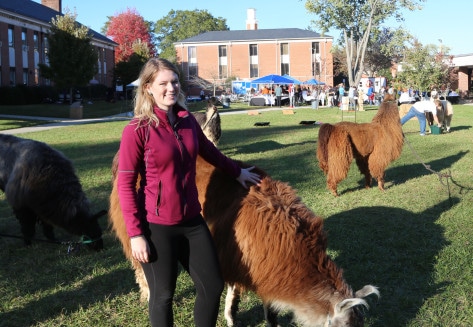 You Won't Be-Leaf the Fun That Was Had at the 5th Annual Harvest Festival
 BY SHANNON SUMMITT '19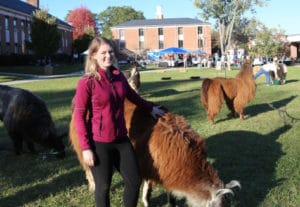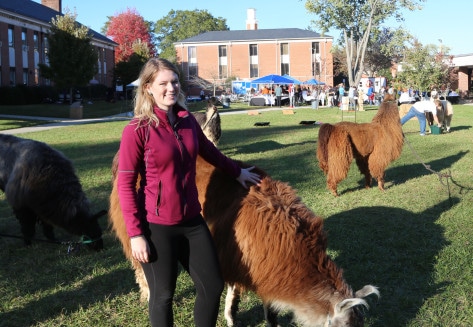 Llamas, food trucks, and a petting zoo, oh my! These are just a few things that Brevard students have come to expect at the Harvest Festival. This year's event certainly delivered these, and much more!
Around 650 community members and students combined came out to enjoy the various activities put on by Campus Life and the Campus Activities Board. Attendees had the opportunity to get food from Blue Smoke BBQ and Amazing Pizza Company food trucks, as well as grilled corn, funnel cakes, and pies from the Cafeteria. The music provided by Selina Hoxit and the Brevard Blue Boys, The Moon and You, and Pretty Little Goat kept things lively the entire night. Other features of this year's Harvest festival include face painting, lawn games, activity tables sponsored by different clubs, a fire pit, and a live pottery showing.
"My favorite part of the Harvest Festival is all the animals because we get to pet and play with them, and they're really cute!" said BC art major Katherine White.
Following tradition, students were able to get close and personal with Llamas, leading them from one grassy patch to the other, taking countless selfies along the way. If hanging out with llamas wasn't enough, the Jackson Farm brought a lemur, piglets, and several other animals.
"I love hanging out with friends because it brings us closer," said Rakeem Sweezy, a BC sophomore.
Building community and growing together is a common theme for most of Brevard College's events. The Harvest festival is no exception. The festival is a chance for Brevard students to take the school motto, "Learn in Order to Serve", to heart. Every year, a canned food drive is held for Bread of Life, a non-profit organization in Transylvania County. Bread of Life provides free, nutritional meals to those in need. Over 500 cans were collected, thanks to the generous, service-oriented mindsets of Brevard students!
Photos by Meagan Cole and Peter Trench