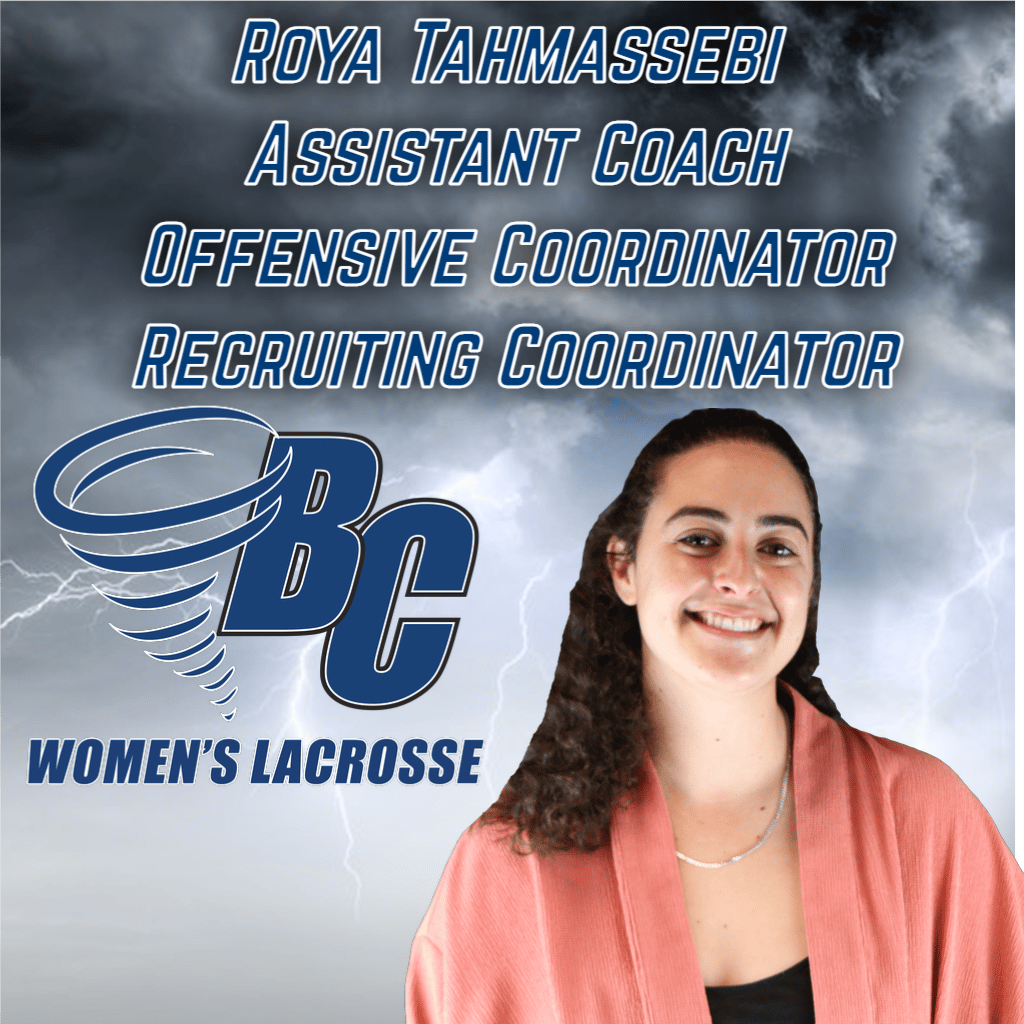 Roya Tahmassebi has been named Women's Lacrosse Assistant Coach, Offensive Coordinator/Recruiting Coordinator at Brevard College, announced Head Coach Kristin Rosato.
"Roya's dedication to the program and to our student-athletes is superb and well deserving of this promotion," said Rosato. "Roya has ignited new energy into our program, while maintaining her coaching philosophy of 'keeping it simple.' Roya's growth in these roles will help this program reach new heights on and off the field."
Tahmassebi began her tenure at Brevard College in the summer of 2021, arriving to the mountains of Western North Carolina from Colorado State University Pueblo. In short time, Tahamassebi has assisted Head Coach Rosato in enhancing recruiting efforts, while also implementing new offensive approaches on the field for the Tornados.
With Tahmassebi's offense, the Tornados averaged 18 goals-per-game in their six victories with four 20-plus goal performances in the 2022 season. Freshman Emily Denaga led the Tornados with 44 goals, while junior Parker Moore registered a team-high 59 points with 44 goals. Senior KC Collins led the team with 21 assists en route to 55 points. In total, five Tornados registered double-digit goal totals on the season. The totals of 165 goals, 74 assists and 239 points in 2022 were the second-highest offensive team totals in program history.
Prior to Brevard, Tahmassebi spent the 2020-21 season as Assistant Women's Lacrosse Coach at CSU Pueblo. In that role, she managed a 28-player roster, executed an innovative fundraising plan, recruited prospective student-athletes, and created scouting reports, among other duties.
In addition to her experience at CSU Pueblo, she served as a coach at the Xcelerate Nike Oregon Girls Lacrosse Camp at Oregon State University in 2018 and 2019. Over the years at the camp, Tahmassebi helped develop hundreds of youth lacrosse players.
A 2020 graduate of Pacific University in Forest Grove, Oregon, Tahmassebi was a first-team All-Northwest Conference Women's Lacrosse performer in 2018 and a second-team All-Conference selection in 2019. As a player in 2019, she led the Boxers with 29 goals to go along with three assists. In her collegiate career, she totaled 71 goals for Pacific.
A team captain in the 2018-19 and 2019-20 seasons, she also served as the Vice President of the Northwest Conference Student Athlete Advisory Committee (SAAC) in 2019-20.
Tahmassebi graduated cum laude with a Bachelor of Arts degree in Anthropology in 2020 from Pacific University.