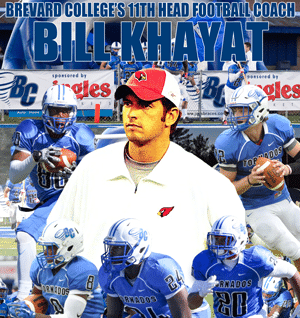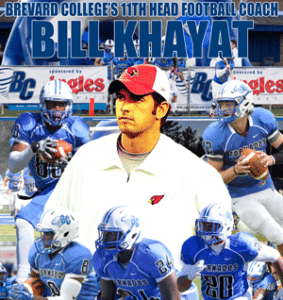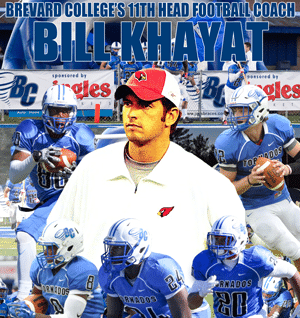 Passion, Pedigree and Success are three key elements in the Tornados inking former National Football League tight end and Washington Redskins assistant coach Bill Khayat as the 11th head football coach in Brevard College history. Vice President for Strategic Planning and Athletic Director Juan Mascaro made the announcement Friday and Khayat will be introduced at a press conference Thursday, Jan. 12.
"We are excited to have someone with Coach Khayat's vision, energy and charisma for the game of football," Mascaro said. "He brings a great deal of professional and collegiate coaching experience, along with the drive to make Brevard College a Division III powerhouse. Under Coach Khayat's leadership, I look forward to the success of our student-athletes in the classroom and on the field."
Khayat replaces longtime Tornados coach Paul Hamilton, who resigned in November, exiting the program as the all-time winningest coach in BC history. Hamilton was instrumental in re-establishing football as part of the athletic program at Brevard.
For Khayat, football is all in the family. His father, Ed Khayat, is a decorated NFL veteran with 35 years of coaching and playing experience. He has been inducted into six Halls of Fame and serves on the Former Players Board of Directors of the NFL Players Association. Ed's brother, Robert Khayat, is a former Pro Bowl kicker for the Washington Redskins and recipient of the NFL's Alumni Achievement Award. He is the Chancellor Emeritus of the University of Mississippi.
Bill Khayat arrives at Brevard following a brilliant record-setting playing career at Duke University, where the tight end set records for receptions and yardage in the 1995 Hall of Fame Bowl, along with Honorable Mention All-America honors in 1994. Khayat continued his playing career in both the NFL and NFL Europe, catching on with the Dallas Cowboys, Kansas City Chiefs, Baltimore Ravens and Carolina Panthers.
"Bill is a hands-on coach with a real commitment to academic and athletic success as evidenced in his record at Duke University," said President David C. Joyce. "He is well-grounded and sees his coaching as an opportunity to teach and mentor young men for lives of meaning and productive service. And he knows how to build a winning program."
Khayat has 16 years of coaching experience in the professional and collegiate ranks. He began his collegiate coaching career in 2000, serving as a tight ends coach and video coordinator with Tennessee State University. He was promoted to recruiting coordinator in 2003.
Khayat's coaching talents progressed quickly to the NFL, where he worked with the Arizona Cardinals as an offensive quality control and assistant offensive line coach from 2004 to 2006. In 2007, he signed on with the Washington Redskins and Hall of Fame head coach Joe Gibbs as an offensive quality control and assistant tight ends coach. He coached tight end Chris Cooley to two Pro Bowls before leaving in 2009.
Khayat returned to TSU from 2013 to 2015, serving as the run game coordinator, tight ends coach and assistant special teams coach over three seasons. His achievements included coaching an All-America running back and Walter Payton Award finalist, two All-America tight ends and four All-OVC tight ends.
"It is with great anticipation that I look forward to bringing a renewal of student and community enthusiasm to the football program at Brevard College," Khayat said. "It is with sincere appreciation that I thank Dr. David Joyce, Juan Mascaro, and the entire search committee for giving me the opportunity to do so."
For the past year, Khayat has served as the running backs coach and assistant special teams coach for the football program at Scottsdale Community College. Most recently, he was tapped as head coach for the Tropical Bowl, a premier FBS Division I level College Football All Star Game played in Daytona Beach, Fla., annually in mid-January. This year's game is set for Jan. 15, 2017.
"My goal, with the assistance of a staff of experienced, energetic teachers, is to assemble a group of young men who will be disciplined, prepared, competitive, and successful on the field and who will bring those same winning components to the classroom," Khayat said.
With Brevard's transition to NCAA Division III and the USA South Athletic Conference schedule to take affect for the upcoming 2017 season, Khayat will inherit a group of talented returners eager to make their mark at the Division III ranks and help Brevard rise as one of the top football programs in the USA South and Division III.
To keep up with all of the latest information about the Tornados, "Like" our Brevard College Tornado Athletics Facebook page and follow us on Twitter and Instagram at @BCTorandos.