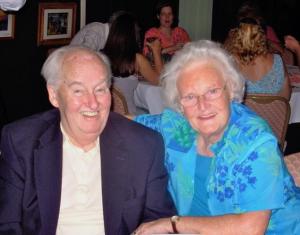 Students pursuing vocal studies at Brevard College will be eligible for additional aid thanks to a new annual scholarship funded by Janet Golden in loving memory of her parents, former Connestee Falls residents Tim and June Phillips. The scholarship will be available in Spring 2017.
"Tim and June were lovely people and, when they were well, attended all of the concerts our faculty and students presented at Connestee Falls. Tim always had a smile on his face, and June simply radiated joy," said Susan Cothern, executive director of development. "President Joyce and I are very appreciative to their daughter, Janet Golden, for creating this scholarship for vocal students. I look very forward to learning who the first scholarship recipient is, and to sharing Tim and June's life story with him/her."
The Phillips met on a blind date in the fall of 1953 and were married the following June in Liverpool, England. June loved to sing, and Tim loved traditional jazz. Throughout their lives, and in the many locations they lived, June sang in a number of musicals and with local opera groups.
After retirement, June and Tim moved to Connestee Falls in Brevard. June took up golf and began to sing with the Connestee Chorale. Tim became very involved with committees and boards at Connestee Falls, and continued to better his own game of golf. They lived in Connestee Falls until shortly after Tim's death in July 2011.
June passed away in October 2016 in Woodbury, Minnesota. It is the family's hope that this scholarship will support and encourage students in vocal studies to provide joy to others with their gift of song.
The family has asked that, in lieu of flowers, friends and family please send memorials to Brevard College, to the Tim and June Phillips Annual Scholarship in Vocal Studies.