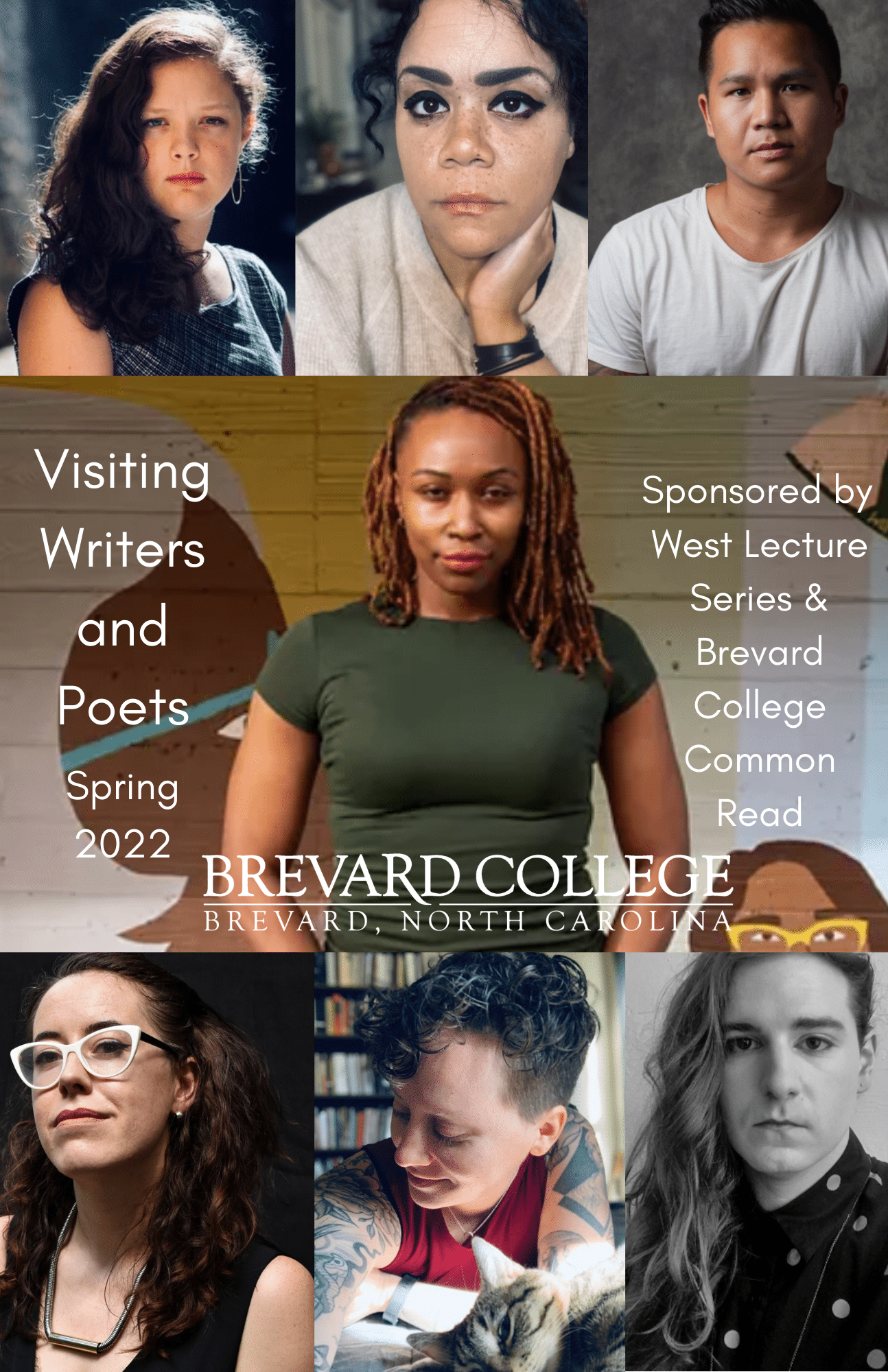 The Brevard College English program invites seven visiting poets and writers to read their works and share experiences and knowledge with the Brevard community. Over the course of the Spring 2022 semester, some poets and writers will be on-campus, while others will hold virtual readings. The program is sponsored by West Lecture Series and Brevard College Common Read.
Thursday, February 10, 2022, 4:00 p.m., McLarty-Goodson Hall, Room 125: Han Vanderhart and Eric Tran
Han Vanderhart is a genderqueer Southern writer living in Durham, North Carolina. Han holds an MFA in poetry from George Mason University and an MA in English from Georgetown, where they worked with Carolyn Forché at the Lannan Center for Poetics and Social Practice. In 2019, Han received their PhD in English from Duke University and defended the dissertation Gender and Collaboration in Seventeenth-Century English Poetry. Han's poetry, reviews, and essays have appeared in Poetry Daily, The Boston Globe, Kenyon Review, American Poetry Review, AGNI, Southern Humanities Review, Chattahoochee Review, Poetry Northwest, Poetry International, RHINO Poetry, Tinderbox Poetry Journal, The Greensboro Review and The Rumpus. Their works-in-progress include the poetry collection Larks and the essay collection Confederate Monument Removal. Han is the reviews editor at EcoTheo Review, edits Moist Poetry Journal, and hosts Of Poetry Podcast. Han is the author of the poetry chapbook Hands like Birds (Ethel Zine Press, 2019) and the poetry collection What Pecan Light (Bull City Press, Spring 2021). https://hanvanderhart.com/
Eric Tran is the author of Mouth, Sugar, and Smoke (Diode Editions, Spring 2022) and The Gutter Spread Guide to Prayer (Autumn House Press, 2020) as well as the chapbooks Revisions (Sibling Rivalry Press, 2018) and Affairs with Men in Suits (Backbone Press, 2014). He is an Associate Editor for Orison Books. He is a resident physician in psychiatry at the Mountain Area Health Education Center, graduated from the UNC School of Medicine, and holds an MFA from UNC Wilmington. https://veryerictran.com/
Tuesday, March 15, 2022, 7:00 p.m. (Virtual Reading): Simone Savannah and S. Brook Corfman Simone Savannah is a Black feminist writer and teacher born and raised in Columbus Ohio. She is the author of Uses of My Body (Barrow Street 2020) and Like Kansas (Big Lucks 2018). She is the winner of the Barrow Street Poetry Book Prize chosen by Jericho Brown. Her work has been published in Apogee, The Fem, Powder Keg, GlitterMob, Shade Journal, BreakBeat Poets, and several other journals and anthologies. She earned her M.Ed and B.A. from Ohio University. She holds a PhD in Creative Writing from the University of Kansas. She is currently teaching and writing as a Post-Doctoral Fellow at the University of Cincinnati. https://www.simonesavannah.com/
S. Brook Corfman is the author of My Daily Actions, or The Meteorites, one of The New York Times' Best Poetry Books of 2020, a finalist for the Publishing Triangle's Trans & Gender-Variant Lit Award, and the winner of the Fordham University Press POL poetry prize judged by Cathy Park Hong. They are also the author of the collection Luxury, Blue Lace, chosen by Richard Siken for the 2018 Autumn House Rising Writer Prize, and the chapbooks Frames (Belladonna* #256), Meteorites (DoubleCross Press), and The Anima: Four Closet Dramas (GaussPDF). Born and raised in Chicago, they now live in a turret in Pittsburgh. http://sbrookcorfman.com/
Monday, March 21, 2022, 7:00 p.m. (Virtual Reading): LaTanya McQueen
LaTanya McQueen's novel When the Reckoning Comes was published with Harper Perennial, an imprint of HarperCollins. She is also the author of And It Begins Like This, an essay collection published with Black Lawrence Press (listed by Electric Literature as one of the 46 books by women of color to read in 2018). She's recently started work on another book supported through a grant from the Elizabeth George Foundation. She received her MFA from Emerson College, her PhD from the University of Missouri, was the 2017-2018 Robert P. Dana Emerging Writer Fellow at Cornell College, and is currently an Assistant Professor of English and Creative Writing at Coe College. https://latanyamcqueen.com/
Monday, April 4, 2022, 7:00 p.m. (Virtual Reading): Molly McCully Brown
Molly McCully Brown is the author of the essay collection Places I've Taken my Body—which was published in the United States in June 2020 by Persea Books, and released in the United Kingdom in March of 2021 by Faber & Faber—and the poetry collection The Virginia State Colony For Epileptics and Feebleminded (Persea Books, 2017), which won the 2016 Lexi Rudnitsky First Book Prize and was named a New York Times Critics' Top Book of 2017. With Susannah Nevison, she is also the coauthor of the poetry collection In The Field Between Us (Persea Books, 2020).
Brown has been the recipient of the Amy Lowell Poetry Traveling Scholarship, a United States Artists Fellowship, a Civitella Ranieri Foundation Fellowship and the Jeff Baskin Writers Fellowship from the Oxford American magazine. Her poems and essays have appeared in The Paris Review, Tin House, The Guardian, Virginia Quarterly Review, Vogue, The New York Times, Crazyhorse, The Yale Review and elsewhere.
Raised in rural Virginia, she is a graduate of Bard College at Simon's Rock, Stanford University, and the University of Mississippi, where she received her MFA. She teaches at Old Dominion University, where she is an Assistant Professor of English and Creative Nonfiction, and a member of the MFA Core Faculty. https://www.mollymccullybrown.com/
Thursday, April 14, 2022, 5pm, McLarty-Goodson Hall, Room 125: Caroline Crew
Caroline Crew is a writer, teacher and editor. Currently, she is a Visiting Professor of Creative Nonfiction at Warren Wilson College. She is the author of Other Girls to Burn (University of Georgia Press, 2021), which won the 2020 AWP Prize for Nonfiction selected by Alexander Chee. Her full length poetry collection, PINK MUSEUM, is out from Big Lucks, and she has written several chapbooks. Her poetry and essays have appeared or are forthcoming in POETRY, Kenyon Review and Conjunctions, among others. Caroline holds a PhD in English and Creative Writing from Georgia State University, as well as degrees in English Literature from the University of St Andrews and the University of Oxford. She received the Robert T. Jones Scholarship to study at Emory University, and completed her MFA in Creative Writing at the University of Massachusetts-Amherst. http://www.caroline-crew.com/
Each reading is free and open to the community. Community members can request links to the virtual visits by sending an email to benselak@brevard.edu, and when attending in person, must follow Brevard College COVID-19 protocols. Masks are required indoors, regardless of vaccination status.