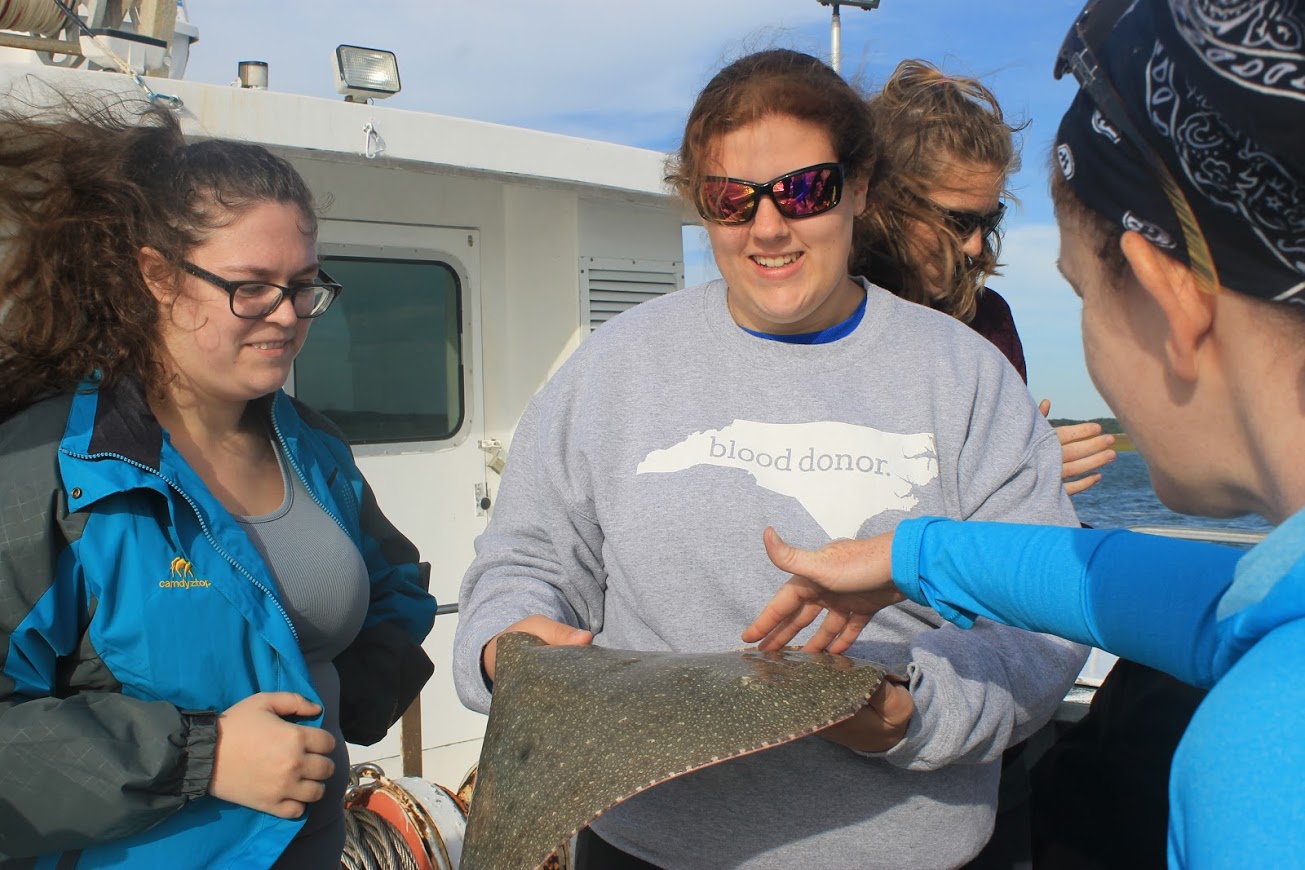 By Jeni Welch '19*
Over fall break, students in Dr. Tina Bell's Marine Biology class visited Morehead City in North Carolina to study marine organisms with hands-on experience at the University of North Carolina Institute for Marine Sciences (UNCIMS). This is the first time the class has been offered at Brevard College in 12 years.
A total of nine students were on the trip as a requirement for the BIO 350 course. "The trip was necessary since we do not have a lab for the class because of our location," said student Hayleigh Mann. "We could have the sea creatures shipped to us, but that isn't as environmentally friendly since we don't have the ability to keep the saltwater creatures alive."
UNCIMS took the class out on a research vessel where three trawlings and one dredge were completed.
Mann said, "Trawling and dredging are extremely harmful to precious ocean community habitats and should be prohibited or regulated. The Captain of the research vessel was a native whose family had relied on commercial fishing industry and he was convinced that benefits instead of harms existed from using these practices. It put into perspective how much more activism needs to be done, especially at this point in history."
"Our trip was based around low tide," said Mann. "One time we went out on the coast with these PVC pipe things and sucked worms from the beach." Students also scraped the floating docks and took the barnacles back to UNCIMS for identification.
Approximately 80 different organisms were identified on the trip even though more were collected. Students found and identified every species of common crab local to the area.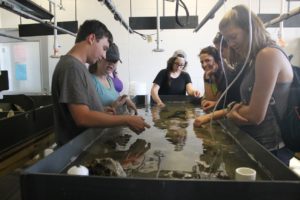 "We had caught a starfish in the beginning of the week but it had broken off one of his limbs," said Mann. "It was neat because the limb was already regenerating by the time we left." Students also studied a Butterfly Sting Ray and watched a Boreal Squid use chromatophores to change colors.
Students also toured the Duke University Marine Lab and visited the Pine Knoll Shores Aquarium to learn more about oceanic habitats.
Students studied wetlands, salt marshes, and seagrass beds. At the Pine Knoll Shores Aquarium students were permitted on the docks that are not normally open to the public.
Mann said, "My favorite part was the scraping the floating docks because we got to break the rules in the name of science. I am not a fan of the ocean because I was raised in the mountains so this trip was a little bit of me facing my fear by hanging my head over that floating dock."
Students were able to listen to scientists explain their current research at UNCIMS during their first day. "One was trying to save the oyster reefs by using a new habitat structure for them to form on. Running burlap through watered down concrete mix and leaving them in the ocean for the oysters to sit on," said Mann. "He is going to California to try and have companies start helping produce them."
BC students also put out a fish trap on the first day outside UNCIMS but did not catch anything before the end of the trip. Other activities included taking a ferry to the Cape Lookout Lighthouse which was unfortunately closed for renovations and witnessing some of North Carolina's wild horses. Mann said, "the trip was really beneficial because we would have never gotten that experience in a lab."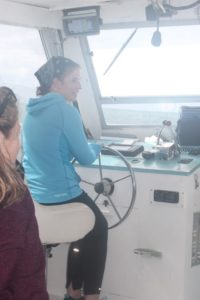 *originally published in The Clarion student newspaper