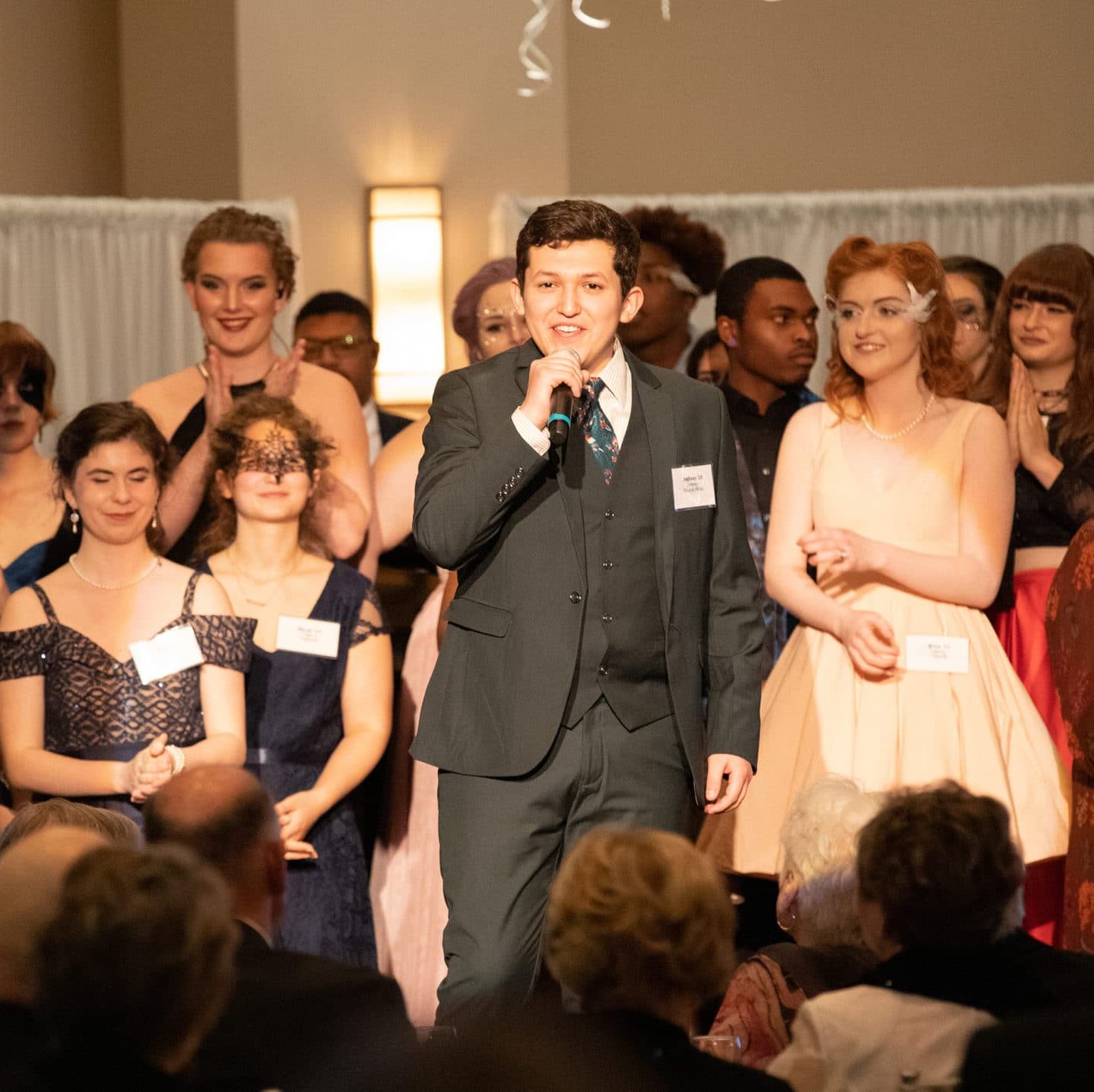 Brevard College hosted its 9th annual Fine Arts Gala at the Paul Porter Center for Performing Arts. Over 170 faculty, students, Friends of Fine Arts (FOFA), and community members attended the gala to raise funds for the Fine Arts Division. The event raised $103,000 in funds to support fine arts students in their academic pursuits.

"This year's gala was the best yet in terms of flow, fun, and dollars raised," said Kathryn Gresham, Chair of the Division of Fine Arts and Associate Professor of Music. "Students did a great job of articulating their gratitude to the Friends of Fine Arts and the impact their financial support has had on their journey."

The 9th Annual Fine Arts Gala was a full weekend of events, beginning with the senior art exhibit on Friday night, the Gala on Saturday, and culminating with an incredible Sunday afternoon concert by the Calidore String Quartet, underwritten by FOFA Diamond Sponsor, Preston Athey. The annual Fine Arts Gala is Brevard College's largest fundraising event of the year. Save the date for next year's event on March 28th, 2020!

The Fine Arts Gala began with hors d'oeuvres in the Porter Center portico. Donors mingled with college faculty and fine arts students to the smooth sounds of the Brevard College Jazz Combo. Gala co-chairs, Art Fisher and Lynne Joyce welcomed the guests when the dinner began. As dessert was served, the silent auction ended and the live auction began.

Duke Domingue and Bird Bartlett from Duke Says Sold led the live auction. There was robust participation for live auction items such as the Kiawah Island Paradise and other getaways, peeks and perks for behind the scenes at Brevard College theatre, music and sporting events, and an exclusive Golden Ticket to fine arts events.

After the live auction, attendees had the opportunity to directly support students through the Fund a Dream program. This year, Fund A Dream raised $20,000 during the Fine Arts Gala.

Anthony Zuniga, (Double major in Theatre and Music, 2020) addressed donors with his heartfelt story about the ways in which Friends of Fine Arts has shaped his path toward a career in the arts. First, the Chamber Singers came to his high school on a concert tour (funded by FOFA). Then he was admitted to the Brevard Choral Institute. A FOFA member funded a scholarship for him to attend. His experience at the Brevard Choral Institute prompted him to choose Brevard College. His college career has been filled with experiences funded by FOFA, from auditions to a Summer Study Stipend that allowed him to attend the Open Jar Broadway Intensive. Anthony concluded his story with these words: "Thank you, FOFA, for changing my life."

The FOFA Summer Study Stipend was instituted last year as a result of the Fine Arts Gala record-breaking totals. The Fine Arts Division awards up to $1,000 each summer to an Art, Theatre, and Music student to assist them in paying for summer study in their field.

"This summer," Gresham said, "we will help Olivia Murray (Art major, 2019) go to Gournia, Crete as a research assistant to Dr. Anne Chapin at the Minoan Archeological site. They will be collecting and analyzing plaster samples from the Late Bronze Age. We also will support Sydney Windham (Music, 2021) in her participation in the Young Artist Program at the Harrower Summer Opera in Atlanta, and we will support Sarah Haga (Theatre, 2019) in her participation at the Williamstown Theatre Festival."

In addition, Fund A Dream resources raised during April's Gala will help purchase digital media equipment, a table saw, and upgrade practice rooms in both Dunham and the Porter Center. The funds are also used on an annual basis to compensate guest artists and support student travel to art museums, performance tours, and audition trips.

"Funds raised that evening go toward expanding experiential education opportunities that transform the lives of our students," states Lynne Joyce, Gala Co-Chair.

"We are so grateful to Lynne Joyce and to the Friends of Fine Arts for the incredible success of this gala! These funds are a lifeline for our students and faculty," said Gresham.

Brevard College would like to thank the 2019 Arts for Life Sponsors: Diamond Sponsors, Preston and Nancy Athey; Jack and Reed Parker. Platinum Sponsors, Art Fisher; Robert Lawrence '59 and Sue Rossman '64. Gold Sponsors, Barbara '75 and Bo Hulsey '74. Bronze Sponsors, Marvin and Michele Barg; Barbara Boerner; Kathryn Holten and Wayne Clark; Paul and Cathy Cooper; Elizabeth "Binky" Curwen, Jan and Mary Dryselius; Bill and Laurie Johnson; Peter and Judith Johnson; David and Lynne Joyce; Bruce and Sandy Kirkman; Jack McGoldrick; Manuel Reyes-Otálora and Elisabeth Illg-Reyes; The Honorable Charles Taylor and Betty Taylor; Bill and Judy Watson; Robert and Elaine Wilkerson.

Brevard College would also like to thank all the faculty, students, and the FOFA Gala Committee members who poured their hearts into creating a memorable and successful event. FOFA Gala Committee: Marvin and Michele Barg, Andrea Boccanfuso, Christie Cauble '04, Paul and Cathryn Cooper, Jan and Mary Dryselius, Co-Chair Art Fisher, Kathryn Gresham, Kathryn Holten, Co-Chair Lynne Joyce, Sue Macoy, Bob Lawrence '59, Jack Parker, Reed Parker, Katherine Parnell '11, Sue Rossman '64, Sarjit Singh, Bill Watson, Mary Wellborn, and Elaine Wilkerson.

Brevard College is consistently recognized as one of the best liberal arts colleges. The College's focus on experiential learning, small class sizes, and location the mountains of Western North Carolina near Asheville makes Brevard a top choice college for students around the world.