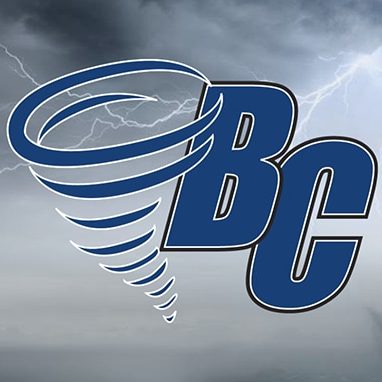 The Brevard College football team (5-2, 3-2 USAS) held the LaGrange College Panthers to just a field goal as the Tornados claimed a 21-3 victory in a shutdown defensive effort on Saturday afternoon in LaGrange, Georgia.
The victory marked the team's fifth win of the 2019 campaign, guaranteeing Brevard's first winning season since 2009. The five wins are also the most by the Tornados in the last ten seasons.
Brevard's defense stifled the Panthers' offense throughout the contest, stopping LaGrange on four fourth-down attempts in the game.
Brevard College's offense rushed for a season-high 223 yards, led by sophomore running back Damon Rouse. The Charlotte, North Carolina native set his new career-high with 113 yards, averaging 7.1 yards-per-carry.
Sophomore quarterback Dalton Cole threw for 166 yards and added 28 yards on the ground for a total of 194 total yards. Cole connected with junior wide receiver Jamerial Parks (2 catches, 44 yards) for a 42-yard touchdown reception on the Tornados' first drive of the afternoon. Sophomore running back Aaron Bennett added a late touchdown score on the ground to help seal Brevard's victory, while fellow sophomore wide receiver Brandon Norris led Brevard with three catches for 51 yards.
Brevard's defense was paced by junior defensive back Dante Anderson and sophomore linebacker Chris Diaz, who each collected seven tackles. Anderson added a sack, two tackles-for-loss, and a pass breakup to his ledger. BC's Jerome Bass, Isaac Crisp, Toby Naylor, and Wesley Ross tallied a tackle-for-loss, while freshman defensive back Joc Pledger intercepted LaGrange quarterback Brevin Linnell's last-ditched pass on the game's final play to wrap up Brevard's 21-3 triumph.
The Tornado defense proved dominant once again in Saturday's battle, holding LaGrange's offense to an average of 3.8 yards-per-play. Brevard stifled the Panther rushing attack to 125 yards on the ground as well.
Brevard now sets its sights on Senior Day, where four Brevard College seniors – Brandon Crawford, Quentin Jackson, Ralph Roman III, and Josh Romero – will be honored for their time as BC student-athletes. The Tornados will square off with USA South foe Averett University (6-2, 4-1 USAS) on Saturday, November 9 at 5 p.m. at Brevard Memorial Stadium.
Brevard College is consistently recognized as one of the best liberal arts colleges. The College's focus on experiential learning, small class sizes, and location the mountains of Western North Carolina near Asheville makes Brevard a top choice college for students around the world.