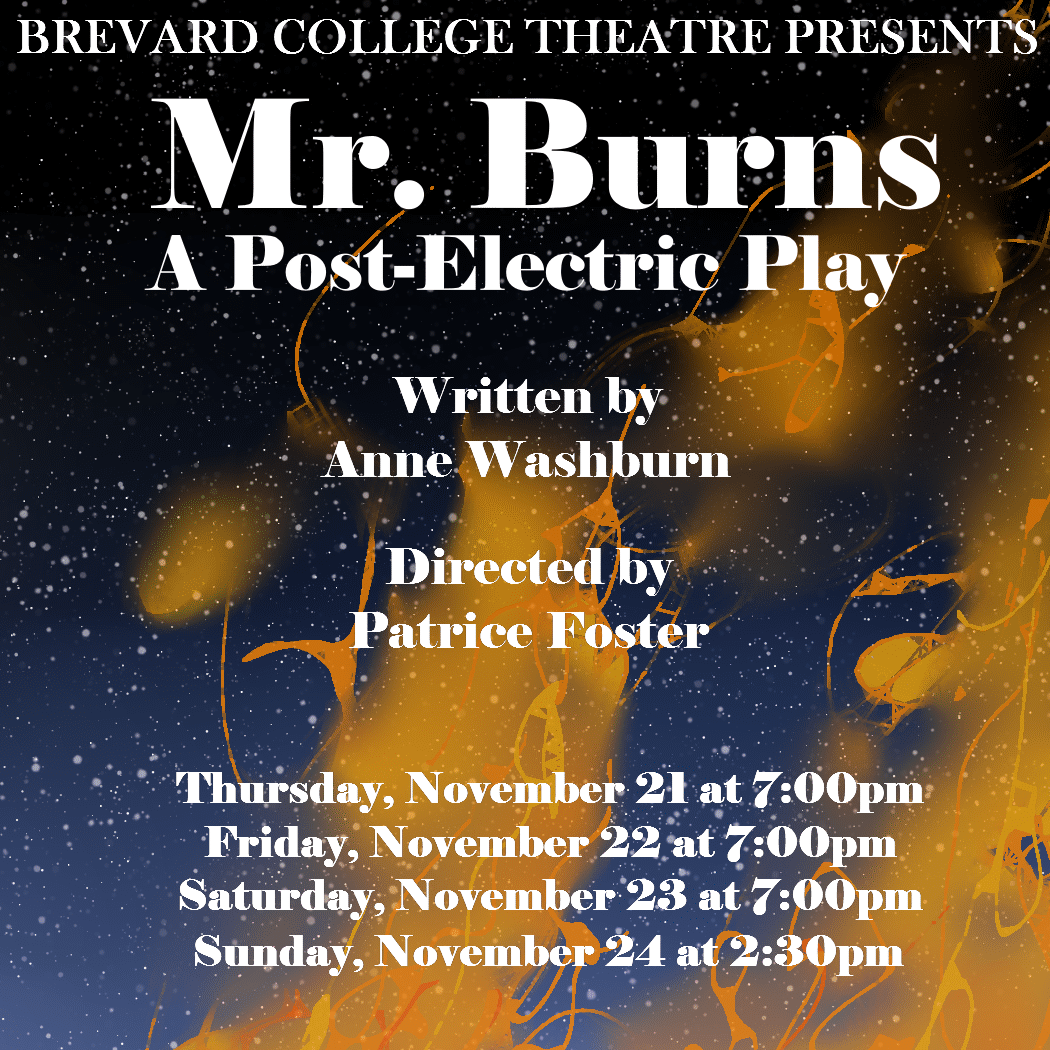 Brevard College Theatre will open its second production of the 2019-2020 season with Mr. Burns, A Post-Electric Play. The show runs from November 21-23 at 7:00 p.m. with an additional matinee performance on November 24 at 2:30 p.m. Adult tickets are $10 and student tickets are $5. Tickets are available for purchase online at brevardcollege.eventbrite.com and at the box office an hour before each performance.
Director Patrice Foster, Assistant Professor of Theater, says she was drawn to this play because she is fascinated by apocalyptic stories and oral history.
"Anne Washburn doesn't write about the typical narrative," says Foster. "Instead, she chooses to explore how media makes the transition from visual to spoken, which is why this play is based on an iconic TV show like The Simpsons."
Washburn's imaginative, dark comedy propels us forward nearly a century, following a new civilization stumbling into its future. After the collapse of civilization, a group of survivors share a campfire and begin to piece together the plot of "The Simpsons" episode "Cape Fear" entirely from memory. Seven years later, this and other snippets of pop culture (sitcom plots, commercials, jingles, and pop songs) have become the live entertainment of a post-apocalyptic society sincerely trying to hold onto its past. Seventy-five years later, these are the myths and legends from which new forms of performance are created. A paean to live theater, and the resilience of Bart Simpson through the ages, Mr. Burns is an animated exploration of how the pop culture of one era might evolve into the mythology of another. – Samuel French
Brevard College is consistently recognized as one of the best liberal arts colleges. The College's focus on experiential learning, small class sizes, and location the mountains of Western North Carolina near Asheville makes Brevard a top choice college for students around the world.