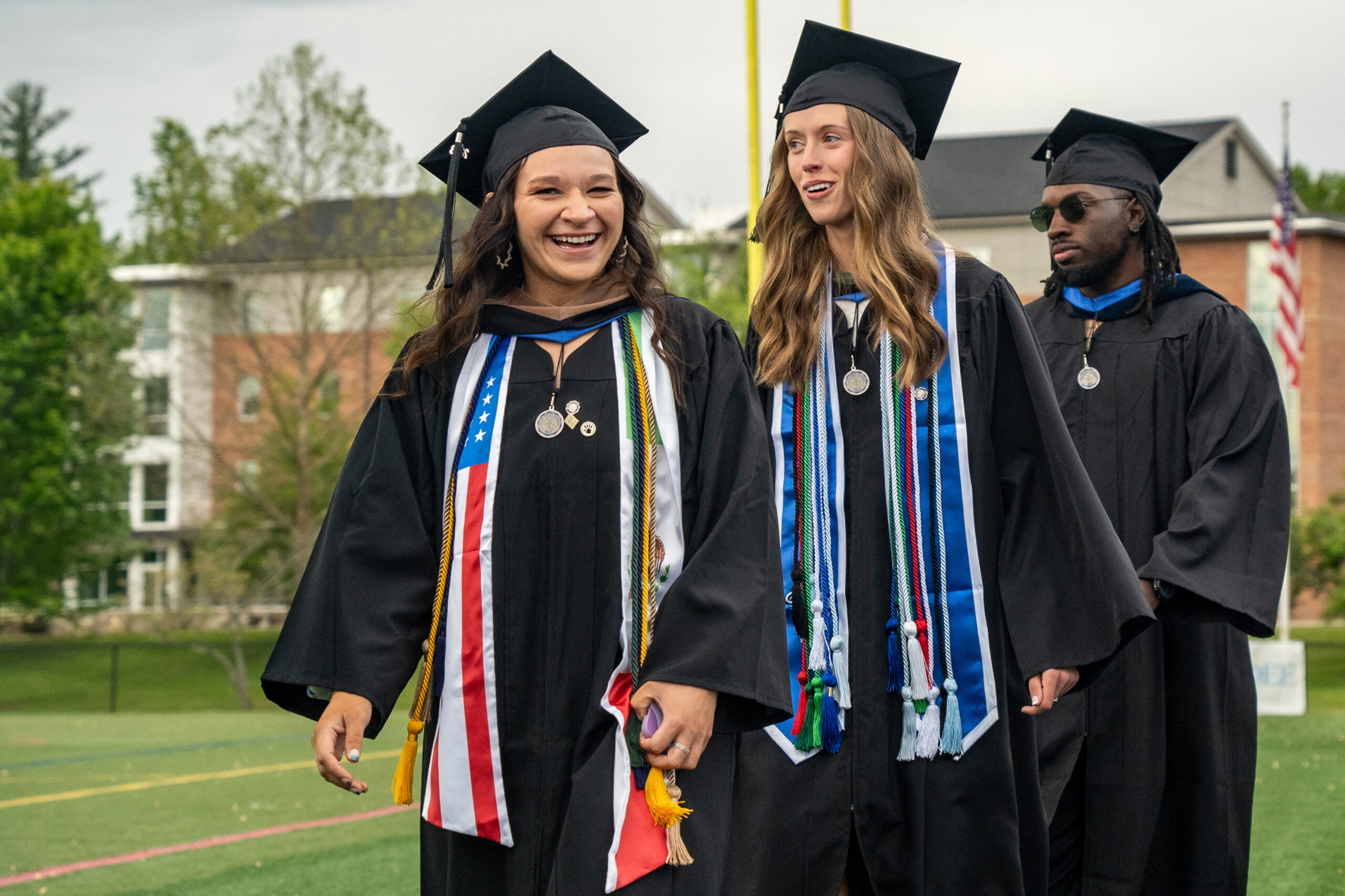 Brevard College held itsCommencement Exercises on Saturday, May 6th. A total of 158 Bachelor's students and 7 Master's students graduated. It was the largest graduating class in the history of the institution.
"Graduates, I commend you. You have worked hard to be here today," said Dr. Bradley J Andrews, President of Brevard College. "Your dedication to your studies, your passion for academics, athletics and the liberal arts have led you to this day."
The festivities began with a traditional Baccalaureate & Hooding Ceremony held on Friday afternoon, May 5th, in the Porter Center for the Performing Arts. The graduation ceremony on Saturday morning took place on the Ives-Lemel Family Field. Both events were live-streamed, allowing family members and friends to enjoy the events from afar.
President Andrews welcomed everyone and then the campus minister, The Rev. Dr. Sharad H. Creasman, gave an invocation to open the proceedings. Chair of the Board of Trustees, Heath Weldon '75, offered greetings from the Board, followed by the Announcement of Honors & Awards by Vice President of Academic Affairs & Dean of Faculty, Dr. Jennifer Frick-Ruppert.
Three students received Presidential Awards for Distinction: Rosa Eberhardt, Wesley Fletcher and Sarah Hajkowski. The award recognizes graduates who demonstrate remarkable leadership, service, and academic achievement.
Alydia Monahan was honored with the C. Edward and Brona N. Roy Good Citizenship Award for exhibiting a record of moral character, citizenship, leadership, and a positive influence on campus.
Jessica Garland, Christian Humphries and Gabriella Herbertz each earned the Presidential Award for Scholarship which honors the graduating seniors with at least 62 hours of coursework at Brevard College, with the highest academic rank, based on the cumulative grade point average for all coursework completed.
President Andrews also presented the inaugural Brevard College Lifetime Leadership Award to Ray Henley, who has been an advocate for the College for many years.
Unlike many colleges who invite a well-known guest to speak at the ceremony, Brevard College engages its students in the process and encourages personal growth by choosing two outstanding seniors to speak at Commencement. Graduating seniors Gabriella Galvan and Scott Douglas delivered thoughtful and heartfelt commencement speeches, encouraging their fellow graduates to unapologetically be themselves and to never give up.
"The 2023 graduating class joins a group of esteemed alumni of Brevard College who all have one thing in common, the basis of Brevard College's motto: learn in order to serve," said President Andrews.
Following the awards and speeches, the names of 136 Brevard College graduates were announced to cross the stage and receive their diplomas from President Andrews. More than 40 of the newly-minted graduates hail from Western North Carolina, while the rest traveled from 14 states and 4 foreign countries to make Brevard their home.
To conclude the ceremony, President Andrews offered a charge to the graduating class, followed by the traditional Brevard College hymn "Guarded Well By Mountains" led by Sarah Hajkowski. Graduates and faculty processed in and out to bagpipe music, a tradition at College.
"Keep in touch with your mentors as you navigate your next steps and beyond. We are here to support you and we will always be eager to acknowledge your achievements," declared Andrews. "Starting with your achievement today: I celebrate each of you as you graduate from Brevard College."
The following list includes Fall 2022 graduates, Spring 2023 graduates, and Summer 2023 candidates:
*** Summa cum laude, ** Magna cum laude, * Cum laude, ‡ Institute for Women in Leadership, † Honors Program Graduate
Master's Graduates:
Gabriel Christian Covington
Brittany Alicia Franks**
Destiny Lynn Hall
Holden Michael Turner
Emma Christine White
Destiny Alexis Williams***
Sarah Brook Woodbury
Bachelor's Graduates:
Freddie Lee Aiken III
Trenten Lee Anderson**
Caroline Graylin Andrews**
Kendrick McClain Austin***
Zion Matthew Barjolo
Jerome Louis Bass
Ann Marie Horner Bates***
Gabriel Albert Bernhard*
Savannah Elizabeth Blankenship
Elijah Caine Bloom
Bryant Joseph Bole
Francesco Bonometti**
Bryce Eugene Bowers
Victoria Dola Brayman
Cedric Charles Brooks
Meredith Beard Brown*
Bethany Lynn Bryan***†
Blake Jeffrey Burchett*
Brett Thomas Burchett*
Lindsey Gail Burgess***
John W Burton III
Aaron Lee Butts
Daquan Jamaal Cain
Zion Tyler Cain
Owen Reid Campbell
Giuseppe Capello Real
Brian Cardona
Hannah Marie Carpenter*‡
Ashton Elaine Cashwell
Hayden Seth Cassell
Iulia Cerguta*
Dalton Avery Cole
Savannah Marie Colliver
Paris Idris Crawford
Carl Stanley Cressman
James Parker Crews*
Stamati Antonio Damalos
Benjamin Douglas Davis
Cassandra Nicole Dayton
Luis Guilherme Dos Santos
Scott Kennedy Douglas*
Raleigh Jordan Durham
Alexander McClellan Eaton*
Rosa Alicia Eberhardt
Jael Rennee Ehman*
Reginald Maurice Everett, Jr.
Michael Allen Fader
Kaitlynn Jule Farmer‡
Reese Morgan Finnie
Wesley Bryce Fletcher**
Haley Marie Flippin†
Reed Michael Forman
Mary Margaret Frail
Dylan Boyce Freeman
Riley Thomas Freeman
Peter A Fumero
Jacob Riley Funderburgh*†
Adan Gallardo-Ortiz
Gabriella Ariana Galvan
Jessica Brooke Garland***†
Alex Christopher Glaze
Emma Grace Gooch*†
Kimberly Morgan Graham
Michaela Roseanna Gray***†
Sarah Nicole Hajkowski***†
Jakob Alexander Hamilton
Tyler Glenn Harrison
Autumn Marie Hegner
Alyssa Lynn Hetherington**
Damon Matthew Hewitt
Caroline Marie Hoy
Christian Cheyenne Humphries***†
Sarah Jane Hutchens*
Tayla Len Hutchings*
Tammie Elizabeth Hyatt
Jarrett Carl Isaac
Gwyn Piper Jennings**‡
Casey Durham Jones*
Taylor Zane Kennedy**
Elijah Thomas Kessinger
Allison Louise Kogoy
Autumn Jay Kraemer
Reagan Ashley Lane**
Yuri Tortoza Leal
Ann-Renae Paige Lewis***‡†
Mary Margaret Lewis
Corinne Louise Lipman
Noah Christian Martin
Anthony Joseph Martino, Jr. ***
Timiah Alazae McGhee
Martin Phillip McMahon***
Colin Patrick Miller
Tyler Patrick Miranda**†
Ashley Marie Mitchell
Joshlyn Nicole Mitchell
Alydia Yvette Monahan**†
Parker Elizabeth Moore**
Toby Benjamin Naylor
Samuel Graham Denis O'Callaghan*
Jaden William O'Leary
KateLynn Abigayle Olive*
Jesus Antonio Olmedo Martinez
Agustin Onetto Ithurbide
Breanna Nichole O'Shields**
Landon Jason Perlman
Mary Waite Perry
Chandler Seth Phillips
Jah'Quih Bernard Pledger
Sara Gray Poss***
Shyvonne Kathryn Potter***†
Alexandria Ann Proksch
Grace Alyssa Pukas***†
Breanna Paige Queen
Christian Alexander Ramsey*
Joshua Alan Rankin
William Cody Reep
Nicole Resendiz Trejo
Daniel Raposo Martins Ribeiro
Serena Pearle Rodgers-Luckey
Nisa Fernanda Rosales***
Reece Torres Rubio*
Nathan Eugene Sanders**
Amber Nicole Saunders**
Miles William Schafer
Martin Laundy Schroeder**
Annsley Elizabeth Schwab**†
David Immanuel Sealy
Daniel Jeremiah Shook**
Hannah Michelle Stepp*
Jami Rene' Stewart***
Starling Allison Sturm*
Aurora Grace Teague
Jessica Sierra Tenjhay
Kymberlie Nicole Thacker
Lindsey Renee Tolle***
Hannah Elizabeth Treglia
Caleb Michael Trent
Zachary Denton Trent*
Jamie Kenneth Turner
Journey Nichelle Tyler**
Brandon Edward Unangst
Joel Anthony Vacchiano
Elizabeth Marie Vassey***
Aliyah Alexandria Belle Vaughan
Keydy Lizeth Vergara* **†
JaMarcus Devon Walker
Trystan Kohl Wallace**†
Elizabeth Nicole Weathers***‡
Joshua Cole Whetstone
Maverick Shane Whitley
Jonte Hazel Wilkes, Jr.
Joseph Daniel Wilkinson, Jr.
Samantha Marie Wilson
Curtis Reed Windham
Zachary Ernest Wolfe
Quincy Keshawn Yancey Carter
Mitchell Kweku Yoder
William Taylor Young
To learn more about Brevard College visit brevard.edu.
Brevard College is consistently recognized as one of the best liberal arts colleges. The College's focus on experiential learning, small class sizes, and location in the mountains of Western North Carolina near Asheville makes Brevard a top choice college for students around the world